Greenpoint Cocktail Recipe
Christina Musgrave/Mashed
If you're looking for a cocktail recipe that is easy to make at home but still tastes totally classic, this Greenpoint Cocktail recipe from recipe developer Christina Musgrave is just what you're looking for. Originally developed by Michael McIlory at New York's famous Milk and Honey bar, the Greenpoint cocktail gets its name from the Brooklyn neighborhood of the same name (via Liquor.com). The Greenpoint continues a long tradition of naming cocktails after New York City locales: You may think of the ubiquitous Manhattan cocktail recipe.
"I love the balance of this cocktail," Musgrave says. "It has notes of sweet and spice and is very well-balanced. It's a deliciously boozy cocktail and perfect before a big meal." All you need to make this cocktail is 5 minutes, a couple of basic home bar tools, and a few different spirits. Let's start mixing!
Gather your ingredients for the Greenpoint cocktail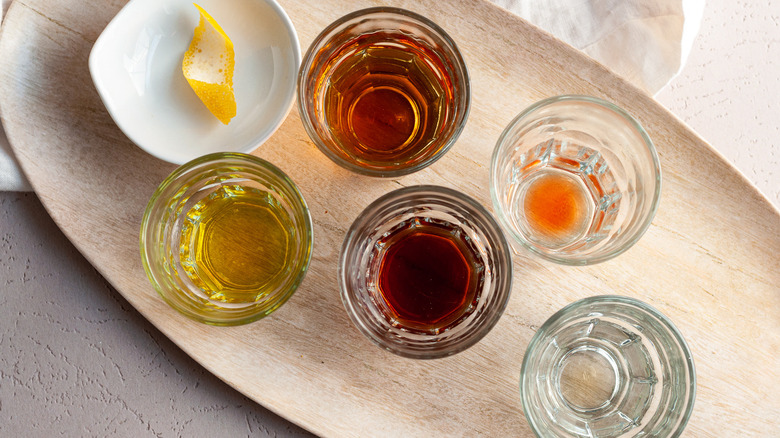 Christina Musgrave/Mashed
To make this cocktail, you'll need rye whiskey, sweet vermouth, yellow Chartreuse, orange bitters and Angostura bitters. Feel free to use whatever whiskey, vermouth, and bitters that you might already have or that you like, but if you're not sure what to buy, Musgrave does have a few suggestions. "I love Noble Oak Rye and Willet Rye, Antica Formula vermouth, and I always use House of Angostura bitters," Musgrave says.
You'll also need lemon peel for garnishing.
Start mixing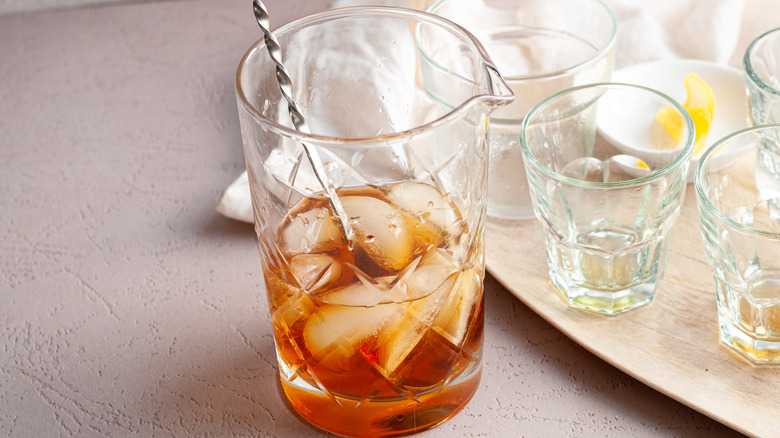 Christina Musgrave/Mashed
Add the rye whiskey, yellow Chartreuse, sweet vermouth, and bitters into a mixing glass. Add ice to the glass and stir until chilled. This is a cocktail that should be stirred, not shaken, as should all cocktails that consist entirely of spirits, except for those that contain cream liqueurs (via Wine Enthusiast). Stirring is more gentle than shaking, and makes it easier to control the level of dilution while still chilling and combining ingredients.
Strain into a coupe glass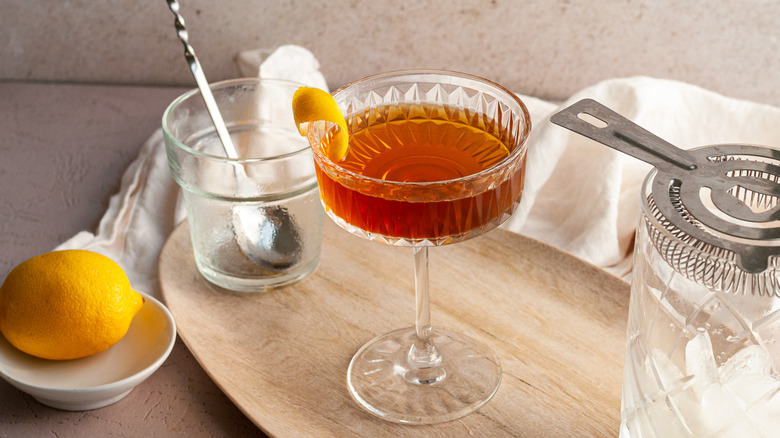 Christina Musgrave/Mashed
Once you've finished stirring the cocktail, strain it into a coupe glass. A coupe glass, martini glass, or any other stemmed glassware will prevent your guest's hands from heating up their drink, keeping a cocktail as frosty as possible for as long as possible.
Garnish and serve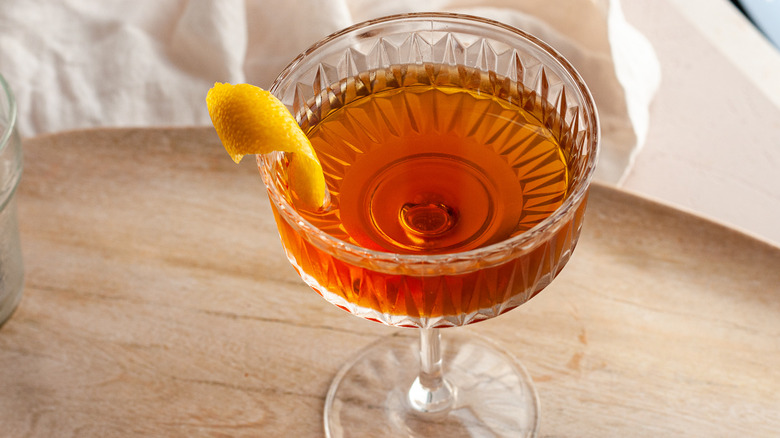 Christina Musgrave/Mashed
Garnish your Greenpoint cocktail with a lemon peel and it is ready to serve! "This cocktail is easy enough to make at home or for a casual gathering with friends. But it's also elevated enough to serve at a holiday party," Musgrave says. "This would be a great cocktail before a Thanksgiving meal!"
Greenpoint Cocktail Recipe
For an easy-to-make drink with a classic taste, you should try making this Greenpoint cocktail recipe that is named after the Brooklyn neighborhood.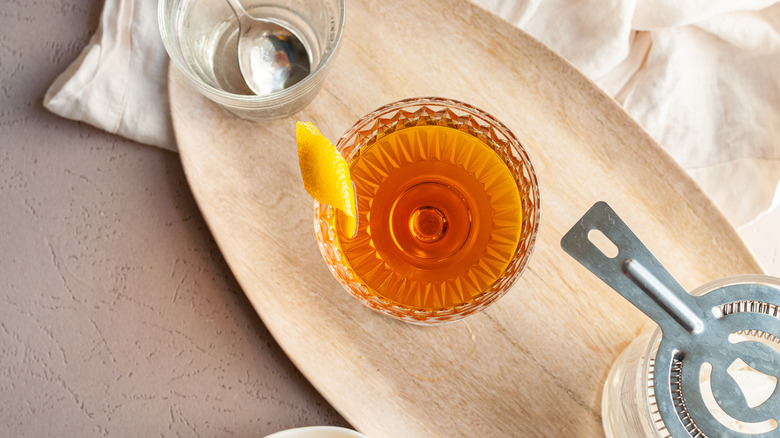 Ingredients
2 ounces rye whiskey
½ ounce sweet vermouth
½ ounce yellow Chartreuse
1 dash Angostura bitters
1 dash orange bitters
1 lemon peel
Directions
Add rye whiskey, yellow Chartreuse, sweet vermouth, and bitters into a mixing glass.
Add ice to the mixing glass, then stir the ingredients together until they are mixed and chilled well.
Strain the cocktail into a coupe glass.
Garnish the cocktail with a lemon peel and serve.
Nutrition
| | |
| --- | --- |
| Calories per Serving | 205 |
| Total Fat | 0.1 g |
| Saturated Fat | 0.0 g |
| Trans Fat | 0.0 |
| Cholesterol | 0.0 mg |
| | |
| --- | --- |
| Total Carbohydrates | 6.9 g |
| Dietary Fiber | 1.3 g |
| Total Sugars | 5.2 g |
| Sodium | 2.6 mg |
| Protein | 0.2 g |