Best Manhattan Cocktail Recipe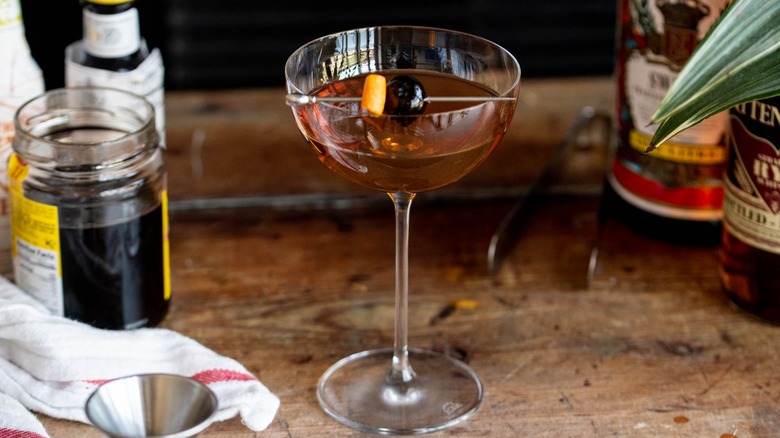 Michelle McGlinn/Mashed
Recipe developer Michelle McGlinn brings us this recipe for a classic Manhattan that is simple to make, but rather impressive to gaze upon. While the cocktail is traditionally made with rye whiskey, you could certainly substitute bourbon, if you prefer. McGlinn says "a rye will offer a spicier, sharper flavor, which pairs really nicely with the Angostura [bitters] and [sweet] vermouth."
As for when to enjoy this cocktail, McGlinn appreciates the "slow, sophisticated way of drinking whiskey that makes it feel most fitting for drinking at the end of the night, when things slow down and you're enjoying late night conversation." She notes that "it is also very rich, aromatic, and strong," meaning "it is much more suitable as a digestif than an aperitif." That said, if you decided to serve it before a meal rather than after, we wouldn't say no.
This classic cocktail is best paired "with chocolate and red meats," according to McGlinn, so go ahead and serve one up alongside your steak in red wine sauce or chocolate pecan pie. Let's dive in and make this classic cocktail.
Gather your classic Manhattan ingredients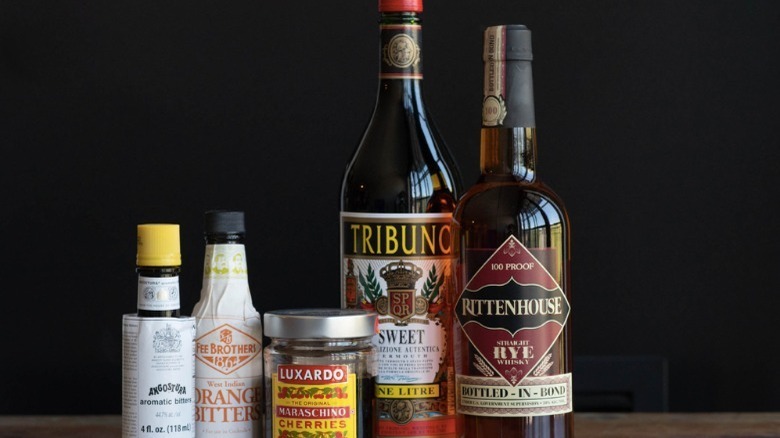 Michelle McGlinn/Mashed
Before making this Manhattan cocktail, make sure you have the proper ingredients. For this recipe, you will need rye whiskey, sweet vermouth, Angostura bitters, orange bitters, and brandied cherries (for the garnish).
Why two different kinds of bitters? We asked McGlinn; here's what she had to say: "Angostura bitters are faintly citrusy with a strong profile of cinnamon and clove — it adds a spiced flavor to drinks, albeit quite subtle. The orange bitters enhance the citrusy orange flavor more than using Angostura alone would do."
Chill your glass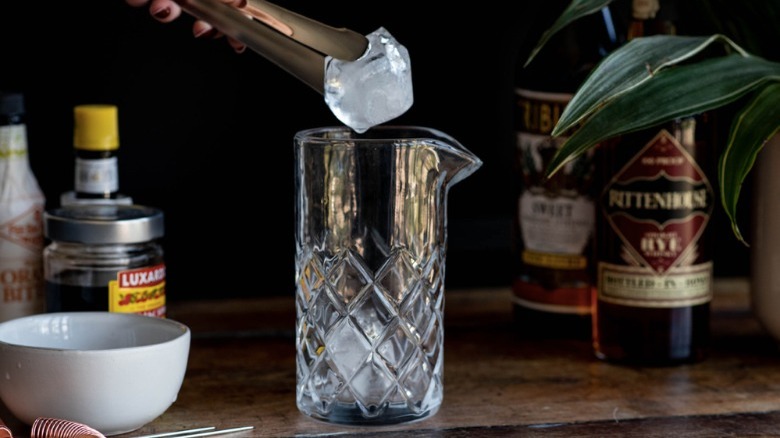 Michelle McGlinn/Mashed
To start, chill a coupe glass in the freezer. McGlinn notes that "the drink is often served in a martini glass, which would likely be considered the more 'traditional' serving glass, though coupes are often used and currently very popular." We'll stick with her suggestion and use a coupe glass. Then, take a mixing glass and add a couple large ice cubes. That's what we'll actually construct the drink in.
Add rye, vermouth, and bitters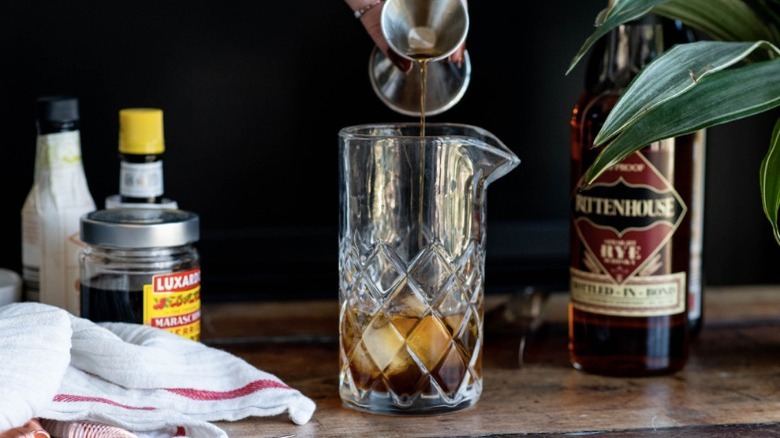 Michelle McGlinn/Mashed
Add 2 parts rye whiskey, 1 part sweet vermouth, and a few dashes of the bitters into the mixing glass. Stir the mixture together until it is chilled well.
Strain and garnish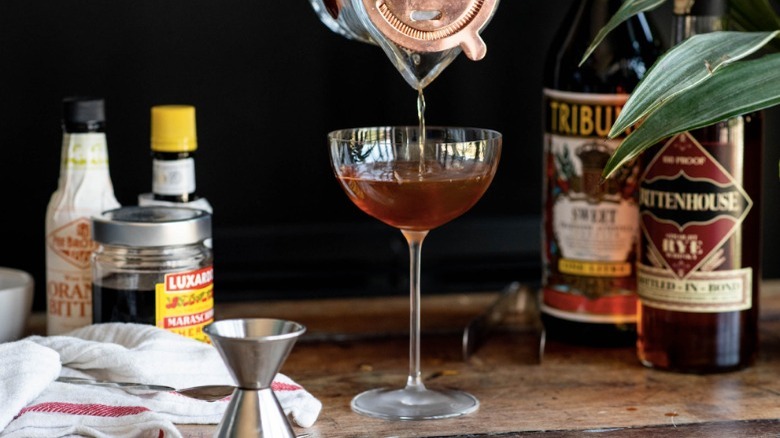 Michelle McGlinn/Mashed
Lastly, use a cocktail strainer to pour the Manhattan into the chilled coupe glass. Add a brandied cherry and, if you're feeling festive, an orange peel for garnish. "If you really love your Manhattan to taste citrusy, you can garnish with orange or lemon peel and either swipe it along the rim or squeeze the rind over the drink before dropping it in," McGlinn suggests.
Best Manhattan Cocktail Recipe
A Manhattan is simultaneously sharp, sweet, and bitter. It's an elegant sipper that's perfect alongside a rich meal or as an digestif. Here's how to make it.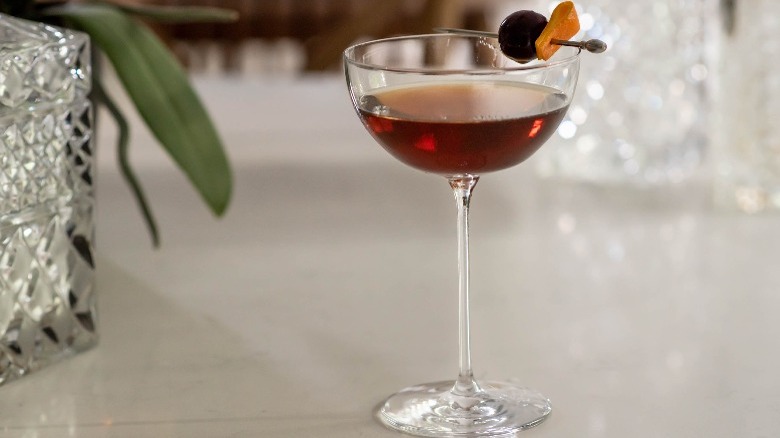 Ingredients
2 ounces rye whiskey
1 ounce sweet vermouth
2 dashes Angostura bitters
1 dash orange bitters
1 brandied cherry, for garnish
Optional Ingredients
orange or lemon peel, for garnish
Directions
Chill a coupe glass in the freezer while building the cocktail.
To build, add 3 large ice cubes to a mixing glass. Pour rye and vermouth over the ice. Shake bitters into mixing glass.
Stir ingredients until mixed and chilled well.
Strain cocktail into the chilled coupe glass.
Garnish with brandied cherry and, if using, the citrus peel.
Nutrition
| | |
| --- | --- |
| Calories per Serving | 174 |
| Total Fat | 0.0 g |
| Saturated Fat | 0.0 g |
| Trans Fat | 0.0 |
| Cholesterol | 0.0 mg |
| | |
| --- | --- |
| Total Carbohydrates | 2.1 g |
| Dietary Fiber | 0.2 g |
| Total Sugars | 1.3 g |
| Sodium | 1.4 mg |
| Protein | 0.1 g |