How To Nail The Bake Off, According To GBBO's Crystelle Pereira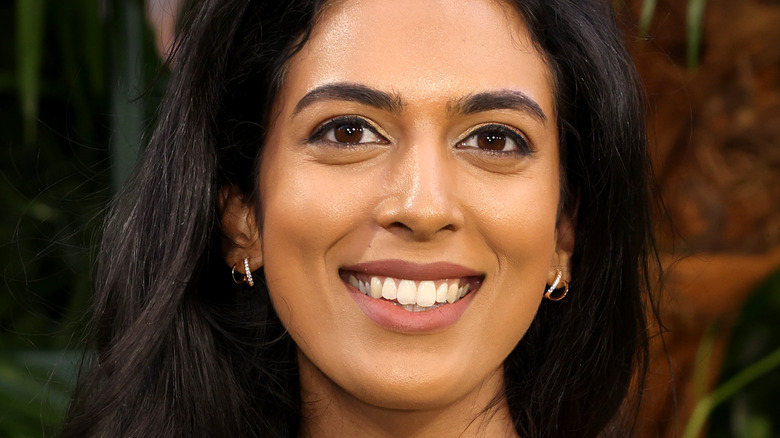 Tim P. Whitby/Getty Images
"The Great British Bake Off" dropped its latest season, making now the perfect time to catch up with some of the great contestants from seasons past. 2021 winner Giuseppe Dell'Anno has just released a new cookbook, "Giuseppe's Italian Bakes," and will soon be on tour (via Instagram), while 2019 finalist Steph Blackwell released her second cookbook, "Bake Yourself Happy," in May (via Instagram).
Rahul Mandal, winner of the 2018 season, also has a new baking cookbook, "Showstopping Cakes," out this fall in both the U.K. and U.S. (via Instagram). He had some words for GBBO fans as the new bakers take to the screen. "Today for the first time we are going to see them in action! ... I hope you all will love them and shower with #positivity and #kindness! Remember it is a big day for them and an event to remember for the life time," Mandal wrote in an Instagram caption.
2021 GBBO finalist Crystelle Pereira has also been rather busy, appearing on the TODAY show, Good Morning America, and even meeting Prince Charles. But none of these exciting things would have happened if Pereira hadn't nailed the Bake Off, and, in a recent interview with The Independent, she shared her secrets for success.
Pereira advises to keep those nerves in check
Speaking with The Independent, Crystelle Pereira stressed the importance of not worrying about whether you're the best baker in the batch, but rather focusing on not putting pressure on yourself. "If you have a true passion for baking, food, and flavours, that will be more than enough to help you thrive under the pressure and churn out some incredible bakes — and it will also be your passion for baking that will make you want to learn from your mistakes and become a better baker, rather than letting them knock you down," Pereira said.
Pereira also took to Instagram to wish the new 2022 generation of GBBO bakers well and to reminisce on her own days filming the show. "I am so so so excited to watch the new season of the bakers absolutely SHINE ... I'm feeling emotional thinking back to what was, hands down, the best experience of my LIFE — and one that I will be forever grateful for," Pereira wrote.