Instagram Is Loving Giada De Laurentiis' Italian Take On Iced Coffee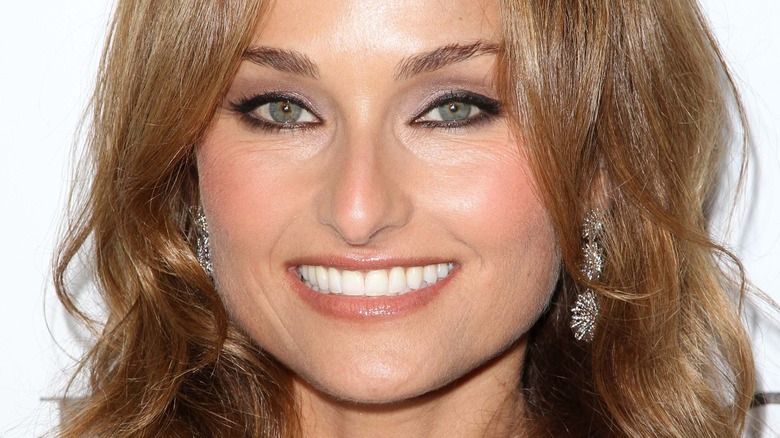 s_bukley/Shutterstock
No matter where you are in the world or what season it is, you will always find iced coffee. While the love for iced coffee is universal, the icy drink takes different forms around the globe. Portugal adds lemon, mint, and a cheeky shot of rum to its mazagran iced coffee, Brazil adds a can of cola and chocolate milk to its mocha cola, Indonesia uses a mixture of avocado and condensed milk in es alpukat kopi, Cubans add milk and cinnamon to their iced cafe con leche, and the Greeks enjoy frappes made from instant coffee powder (via Homegrounds).
Iced coffee in Italy also looks a tad different than the ice, espresso, and milk beverage that most associate it with. Much like an iced coffee, the Italian shakerato is a chilled espresso-based coffee except, it's shaken till light and frothy and served in a martini glass (via Waka Coffee). In addition to espresso and ice cubes, shakerato also uses a sweetener which is typically some simple syrup unless, well, you're Giada De Laurentiis.
Not one to stick to the basics, De Laurentiis recently took to Instagram to share her version of the classic shakerato. Not only does her version lack simple syrup, but it also has a secret ingredient.
Giada De Laurentiis' shakerato has a secret ingredient
Sharing the recipe for the Italian iced coffee on Instagram, the Food Network star wrote that shakerato is "an iced coffee drink from Italy that's literally shaken until frothy." While simple syrup is typically added to sweeten the drink, the "Everyday Italian" host uses another ingredient in its place: melted chocolate! Safe to say, fans are loving De Laurentiis' take on iced coffees and shakeratos but some have their own little tips for the chef.
The Italian hazelnut liqueur Frangelico was first to comment on the recipe, cheekily hinting that it would be the perfect addition to her chocolatey shakerato: "chocolate + hazelnuts sounds like a match made in heaven, why don't you give it a try?" Others suggest that the shakerato with a twist seems like the perfect iced coffee to add a splash of booze. "So is this where I add a shot of Grey Goose to the shaker as well ???" wondered one fan as another shakerato drinker added that they "make extra coffee on Saturdays and in the afternoon I put in a shaker with ice, vodka and a little maple syrup."
As it turns out, De Laurentiis may very well be in agreement with her fans. The culinary star does have a boozy version of the Italian iced coffee on Giadzy and it involves adding another ingredient on top of vodka: limoncello.