Best Coffee And Tea Gifts In 2022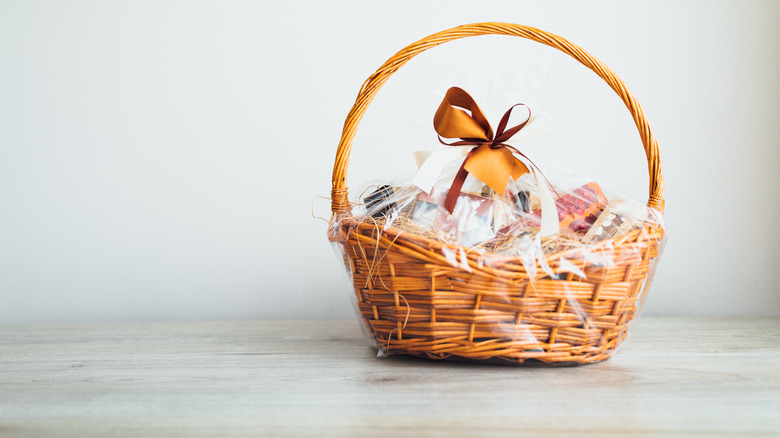 Nikky Tok/Shutterstock
We may receive a commission on purchases made from links.
For any holiday or occasion, whether it's a birthday, reunion, divorce party, and everything in between, food is the ultimate gift. The best food gifts arguably have to be delicious but they should also be personalized to your giftee's preferences. There are foodies at heart, home chefs, wannabe world travelers and influencers, and kitchenware connoisseurs looking for the next best conversation piece. However, we can't forget about our loyal tea and coffee buffs who are always searching for the next best caffeine blend or smart gadget for easy home brewing.
A good coffee or tea gift doesn't only have to come once or twice a year. It can be the perfect anytime gift that says anything from "I don't think this is going to work out" to "I'm sorry you accidentally broke your ankle trying to learn to skateboard at 40 years old." That being said, this list won't be a cornucopia of different kitschy tea and coffee mugs with cringey Home Goods-style quotes. Even if that's your thing, we scoured the Internet for some of the best tea and coffee brands and goods for every craft coffee and tea aficionado to judge, hyper-analyze, and appreciate throughout the year.
How we selected products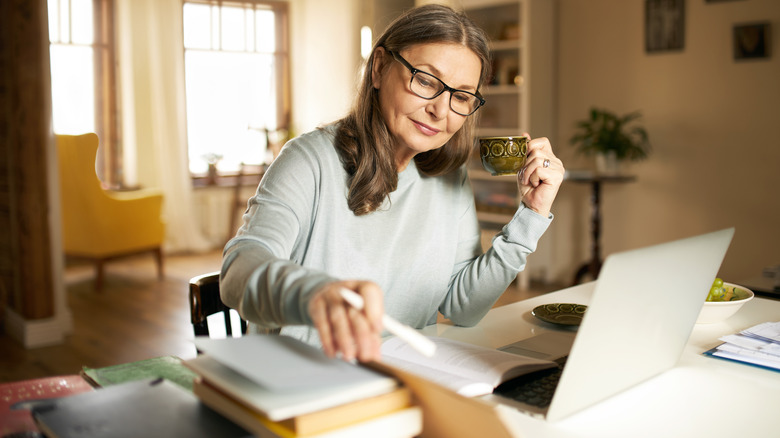 Shurkin Son/Shutterstock
Finding the perfect coffee and tea gift can be exhausting and time-consuming due to the hundreds and thousands of potential options. We wanted to ensure that we showed enough love to both coffee and tea buffs by including options that suited both categories of beverages. We only did joint best coffee and tea gifts when the item could be interchangeably used for either drink.
Naturally, we wanted to include various price points to accommodate different incomes so that everyone is able to give a great gift regardless of the status of their bank account. Not only did we want to include an assortment of tea strains and coffee beans, but we also wanted to offer a selection of kitchenware for those looking to gift an upgrade to that old Mr.Coffee machine. We also included subscription boxes for the gift that keeps on giving (or doubles as a personal gift to treat yourself). When narrowing down the final options, we referenced celebrity endorsements, customer reviews on platforms like Amazon and Reddit, press releases, and taste tests from various outlets.
Best overall coffee gift
It's almost paralyzing to think of how many types of coffee beans there are in the world, which makes it even more impressive that we named Counter Culture one of the ultimate options. Counter Culture's coffee selection is ever-expanding, with coffee beans sourced from across Africa, Asia, and the Americas. Not only does Counter Culture offer single-serve coffee packets but it also has an expansive line of organic, decaf, and single-origin beans. Plus, a gift subscription delivers popular coffee blends starting at around $14 a month. 
As well as brewing guides and resources on its website, the brand is very open about its sustainability efforts, thanks to its yearly transparency report. That being said, this isn't just fancy marketing tactics and greenwashing — people (including us) love the coffee. Reviews on Reddit explain that the Apollo beans sourced from Ethiopia offer a nice balance of citrus and fruitiness that pairs well with lemony baked goods. 
Other fans on Reddit said that Hologram with its chocolate-covered fruit notes is another great option, while Fast Forward is a lighter and nuttier alternative still packed with flavor. An Amazon reviewer explained that the Big Trouble beans felt like something you would get at an artisan coffee shop, making this gift the perfect cup of escapism for every coffee snob and budding connoisseur.
You can purchase a 12-ounce bag of Counter Culture coffee beans starting at $16 on the brand's website as of September 2022.
Best overall tea gift
Vahdam isn't just a tea brand — it's a tea empire that blends itself into a lifestyle. All Vahdam teas are sourced from local farmers throughout India, ensuring that traditional tea-making practices are respected and valued. Not only does Vahdam strive to create an ethical brand but it also works to create delicious teas. Its best-selling 30 day turmeric wellness kit has over 6,000 five-star reviews on the product's page and features four popular turmeric tea blends. Vahdam's tea selection is limitless with options like oolong, black tea, or loose tea, as well as instant chai, turmeric, matcha, and golden milk latte mixes. Conveniently, it also offers beautifully packaged holiday and occasion gift boxes perfect for every season and reason.
There are over 10,000 five-star reviews on Vahdam's website that praise products like the tea mugs and chai sampler, all of which are perfectly giftable for any style of tea lover in your life. Vahdam celebrates its wide reach of customers, from everyday tea lovers and influencers to celebrities like Oprah Winfrey, Martha Stewart, and Drew Barrymore. A review in The Kitchn describes Vahdam's masala chai blend as the perfect embodiment of the traditional cups of chai the writer grew up drinking in India. Full of aromatic spices, you can be confident that this is the optimal tea gift for even the most die-hard coffee lover.
You can buy a 15-count of assorted Vahdam tea bags for $17.99 as of September 2022.
Best budget tea and coffee gift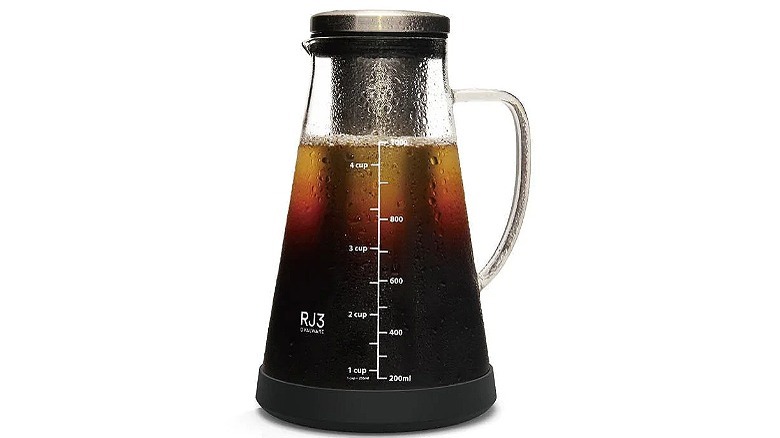 Ovalware
You don't need to break the bank in order to get the ideal joint tea and coffee gift. Ovalware offers a sleek cone-shaped cold brew and iced tea maker that will suit all of your needs. It couldn't be easier to use — just fill the steel filter with your choice of ground coffee or tea, steep for at least 12 hours, and enjoy. This coffee and tea maker is dishwasher-safe with easy-to-read measurements and a non-slip bottom, and it can easily make four or five cups of either cold brew or iced tea.
The Ovalware cold brew and tea infuser has over 12,000 reviews on Amazon, and around 9,000 people give it five stars. Many comments on Amazon praise the sleek and sturdy design but note it is difficult to store due to its towering height and large size. Meanwhile, a few reviews found that the filter let some coffee grounds escape through when steeping, so you'll have to watch the ground size. 
Coffee Addiction reviewed the product and loved its ease of use and air-tight lid that keeps liquids fresh for up to two weeks. However, the outlet thought that the vertical filter led to uneven coffee extraction. It may not be the perfect brewer but it is an ideal tea or coffee gift for anyone looking to expand their brewing knowledge in style.
Purchase the Ovalware 1-liter cold brew maker for $35.99 as of September 2022.
Best splurge tea and coffee gift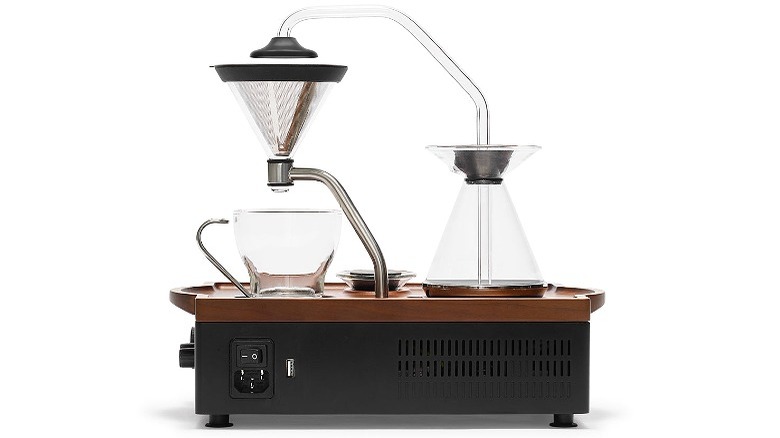 Joy Resolve
One of the biggest struggles in the morning is not only waking up but having to escape the coziness of your bed to brew your morning cup of coffee or tea. The people behind the Barisieur tea and coffee alarm clock have made this a non-issue. This device offers features such as a built-in cooler for milk, a compatible tea and coffee two-layered filter, a coffee storage drawer, and a USB port for easy charging.
Amazon reviews rave about the polished design and compact format which is great for small apartments or houses. Meanwhile, other reviews love the nostalgia of having a bedside alarm clock but with a modern and convenient twist. A review by Trouble Coffee commented that this coffee and tea alarm clock stands out for its ability to stimulate all the senses in a pleasing and invigorating way. On the other hand, the outlet felt that the brew size was small even for a single serving and required extra clean-up given its many parts. 
In our humble opinion, it's worth the splurge for the gratification of giving a gift that will be talked about for years. Or better yet, you could pre-order the 2.0 Barisieur alarm clock with wireless phone charging, immersion brewing, and larger serving sizes for an enhanced experience (via Kickstarter).
Buy the Barisieur tea and coffee alarm clock on Joy Resolve for $445 as of September 2022.
Best trendy coffee gift
We have all seen it trending on social media or via that friend who incessantly talks about how it changed their life. Yes, it's MUD\WTR — the mushroom coffee alternative that gives you that same pep-in-your-step without the caffeine crash. The ingredients in MUD\WTR range from common flavors like Masala chai, cacao, and turmeric to lion's mane, chaga, cordyceps, and reishi. The result is a healthier coffee alternative that gives you a more natural and energetic boost.
Alongside the classic MUD\WTR morning and nightcap blend, the brand also sells a mushroom boost to naturally support immunity and mental clarity, in addition to an MCT oil creamer and a coconut sugar and lúcuma sweetener. Vice tried this experimental not-coffee drink, noting that it initially took a try or two to blend and perfect. The outlet describes it as a "chai-cocoa bomb that tastes like a cinnamon-rich mocha" with a very earthy flavor and little-to-no sweetness. After adding some honey, it was surprisingly enjoyable and offered a nice trickle of energy similar to drinking black tea without the shock to the system experienced with coffee. While this may not be the right gift for everyone, it's perfect for that funky friend who's always trying trendy and slightly questionable products, or else someone trying to break free from the clutches of constant over-caffeination.
You can purchase a 30-serving container of MUD\WTR: rise for $50 as of September 2022.
Best trendy tea gift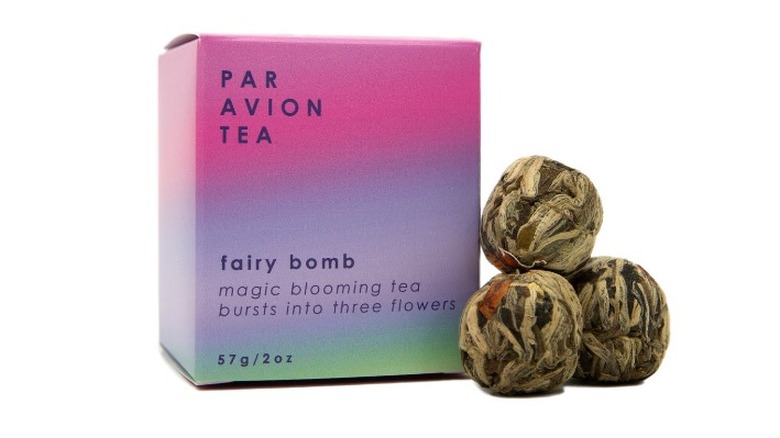 Par Avion Tea
We fondly remember the viral TikTok tea bomb trend and its small blip of Internet fame. Don't fret though, you can relive it over and over again with Par Avion Tea's Fairy Bombs. They look like colorful tumbleweeds that bloom into a tea-infused flower when dunked into hot water. This makes for a highly picturesque tea gift for people who are constantly looking for the next Instagrammable moment and who prioritize aesthetics over practicality.
Other Par Avion Tea bestsellers include the color-changing Unicorn Tears blend, the mental-sharpening Focus Pocus, and the Pink Mermaid. Spiritual Binding Herbs tested and reviewed the Fairy Bomb tea, explaining that it was a blend of green tea, chrysanthemum, jasmine, and osmanthus flowers. Though the price is a little steep (five tea bombs cost around $26), the outlet concluded that it was an ingenious idea that demonstrates the creativity of the tea-making world. The show featuring the flower opening is not especially spectacular, but the tea itself has a wonderfully earthy and full-bodied flavor that leaves you wanting more.
You can buy Par Avion Tea's Fairy Bombs for $26 as of September 2022.
Best coffee subscription gift
Food subscriptions are by nature, the gift that keeps on giving. The recipient gets a present every month and can repeatedly experience the same joy and adrenaline wondering what lies inside. Atlas Coffee Club provides that Christmas morning feeling over and over with new and unique coffee beans delivered to your giftee's doorstep (or your own). Atlas Coffee Club prides itself on sourcing some of the best and most flavorful coffee beans in the world. Each box includes your choice of beans from places like Costa Rica, Brazil, and Indonesia, as well as a summary of the coffee's tasting notes and origin story.
Customizing each box to your desirable coffee preferences couldn't be easier. First, you pick your preferred brew method, grind type, roast preference, number of bags per box, and how often you want to receive each gift box. There is even a six-month gift subscription option for around $120 that makes the perfect present for every world traveler with a taste for unique coffee. 
Home Grounds reviewed this popular coffee subscription and praised the constantly-rotating coffee selection and customizability. On the other hand, shipping isn't free with subscriptions and can add up quickly, especially if you are shipping it internationally. That being said, it's a foolproof gift that keeps the giftee happy and caffeinated long after the first sip.
You can purchase an Atlas Coffee Club subscription starting at $9 per month as of September 2022.
Best tea subscription gift
Art of Tea is unlike many tea brands, offering not only individual artisan teas and thoughtfully-curated gift sets but also a tea of the month subscription box. With the variety available, it's effortless to explore your tea ambitions and pleasures. When tailoring your tea subscription, first pick a style of tea based on your preferences — caffeine-free, classic, single origin, explore, and pyramid sachets meant for on-the-go tea drinking. Next, you choose from a three, six, and 12-month subscription that delivers between 2 to 4 ounces of tea every month.
Subscriboxer tested Art of Tea's tea of the month box and appreciated how it expanded their palate and allowed them to try teas they never knew existed. Initially, they felt the subscription was expensive but eventually calculated it out to around $0.75 per cup of tea. However, the biggest cons were the inability to choose a month-to-month subscription option, and the fact that you only receive one type of tea per month instead of a variety. Also, according to Art of Tea's website, it only ships within the U.S. territories and cannot accommodate substitutions for allergy purposes or pickiness. However, that shouldn't be a deal breaker in most cases since it's still a fun and interactive tea gift for every tea devotee looking for the next best thing.
As of September 2022, you can purchase an Art of Tea subscription for $74 for three months, $121 for six months, and $231 for 12 months.
Best boozy tea gift
The never-ending fad of spiked seltzers continues to increase in popularity as alcohol brands jump on the fizzy booze-fueled train. Now, brands like Pabst Blue Ribbon, Bud Light, and Coors, have seltzer products and there are even alcoholic teas and kombuchas on the market. Among them, Owl's Brew Boozy Teas came into the picture to show White Claw that it's time to change the seltzer game.
Owl's Brew is a female-founded company that prioritizes clean and transparent ingredients that don't skimp out on the good stuff ... like booze. Each spiked sparkling tea is vegan, gluten-free, and calorie-conscious and made with fresh fruit and tea. Meanwhile, the alcohol content sits at a comfortable 4.8%. There are some incredible flavors available that could rival most Starbucks teas or homemade concoctions, such as white tea and watermelon, green tea and peach, matcha and pineapple, spiced chai and cranberry, hibiscus and black tea, and many more.
Reviews on Total Wine claim these are the best spiked teas on the market and describe them as refreshing, light, and perfect for summer. On UNTAPPD, Owl's Brew has over 27,000 check-ins with a 3.4-star rating. The spiced chai and cranberry flavor even earned top marks as the highest-rated seltzer. Overall, this is a boozy tea gift for that bubbly friend who needs to switch up their hard seltzer game. 
Buy an Owl's Brew regular or Partea pack starting at $15 as of September 2022.
Best boozy coffee gift
We couldn't be happier that the espresso martini is coming back in style since it's arguably one of the best cocktails humans have ever invented. There's something about the combination of booze and coffee that titillates the senses — just consider a hot coffee with a shot of Jameson. Coffee and liqueur mixed into a single bottle is unbelievably delicious, which is why Mr. Black's cold brew coffee liqueur is the king of cordials.
Mr. Black was conceived by an award-winning distiller and a designer aiming to create a true unicorn in the world of mixology. It's handcrafted, distilled, and roasted in Sydney, Australia, using Arabica Veritas coffee beans. In addition to the classic Mr. Black cold brew flavor, as of publication, a limited edition rum cask flavor, mezcal cask cordial, and coffee amaro are available to step up your espresso martini game.
Described as a "cold brew liqueur for coffee purists," it tastes more like coffee than cordial thanks to rich notes of roasted coffee and nuts and secondary aromas of cherry and vanilla (via Drinkhacker). BBC Good Food likens it to a pleasurable wave of unsweetened espresso flavor with a lovely vanilla, cocoa, and citrus balance. It's an indescribable libation that surpasses Kahlúa in taste and mixability, making this the ideal boozy coffee present for bartenders, baristas, and wannabe home mixologists.
Purchase a 750-ml bottle of Mr. Black cold brew liqueur for $39.99 as of September 2022.
Best coffee and tea kitchenware gift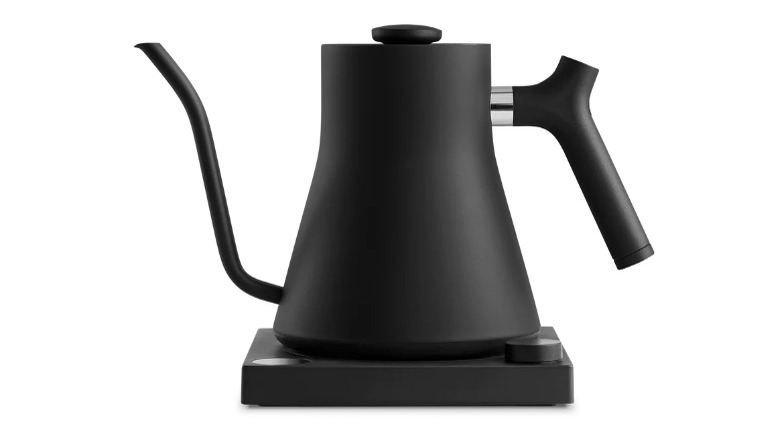 Fellow
It's no surprise that we love all of Fellow's products, like the Clara French Press selected in our list of best French Press coffee makers of the year and the Ode Brew Grinder we chose among the best coffee grinders. With that being said, the Stagg EKG electric kettle is about as seductive and pleasing to look at as any kitchen appliance can be. In an array of photogenic colors and wood finishes, this electric kettle has a slender gooseneck spout for optimal pouring and flow, precise electric temperature control, and a 1-liter water capacity.
We aren't the only ones raving about the Fellow kettle. Wired went crazy for the sleek perfectly designed spout that makes it a breeze to pour boiling water into small containers without any spillage. The outlet also loved the accuracy of the temperature control which simplified pinpointing the ideal heat for various teas and pour-over coffees. The only minor complaints were that the cord was a bit short and the LCD display sometimes turns off unexpectedly. 
Meanwhile, Gear Patrol relished in its easy-to-use functionality and incredible design but conceded that the price was slightly extravagant for an electric kettle. Nevertheless, this is the ultimate gift for tea, pour-over, and French press fanatics or anyone who just needs an appliance upgrade.
You can buy the Stagg EKG electric kettle from Fellow for $165 as of September 2022.
Best giftable coffee and tea drinkware
There's almost nothing more disappointing than forgetting about your piping hot cup of coffee or tea and taking a big sip of the ice-cold contents. Ember changes the game for us forgetful and busy people with the world's first temperature-controlled mug. With just a tap or swipe of your smartphone, you can regulate your drink's temperature to your preference and it will stay hot for hours. Ember used to only offer its classic Ember mug but it now includes an espresso cup, travel mug, and a line of wedding-themed and metallic-colored mugs.
The newly-revamped Ember Mug² has all the desirable elements of the older model with a few new bells and whistles. It still has a smart LED light to notify you when your drink reaches the optimal temperature before it shuts off by itself via an internal sensor. Now, it comes in a 10-ounce or 14-ounce cup size that keeps drinks hot for up to 90 minutes. Home Grounds enjoyed the new color options as well as the different mug sizes but wished that the charger had a USB option. Another minor inconvenience is that the product is not dishwasher-safe, though its sleek and easy-to-use design makes up for its shortcomings. While it may not be the ideal gift for those who inhale coffee or tea, it certainly makes a great present for the forgetful people in your life.
You can purchase the 10-ounce Ember Mug² for $129.95 as of September 2022.