The Best Food Gifts In 2022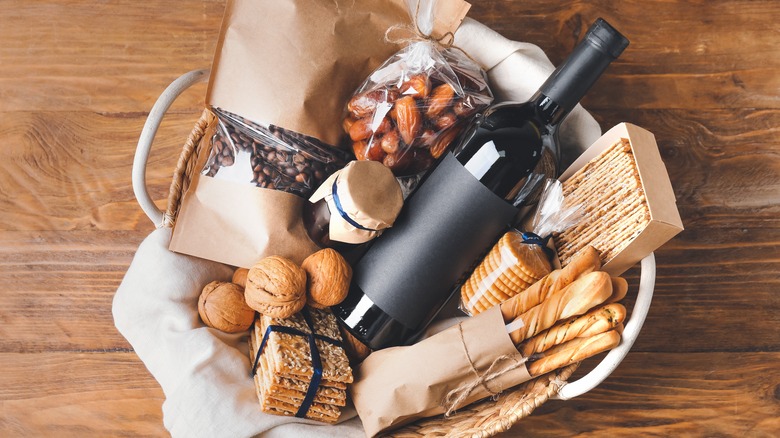 Pixel-Shot/Shutterstock
We may receive a commission on purchases made from links.
Nothing simultaneously says "I love you" and "I forgot to buy something for your aunt's new boyfriend" like the gift of food. It's actually the perfect present thanks to an ever-expanding selection, since there are literally thousands of food options available for even the pickiest eaters. Sure, a gift card is a perfectly casual yet practical food gift but it seems more appropriate for distant work acquaintances at a white elephant exchange. You could also spend hours baking dozens of different Christmas cookies — but you might accidentally burn them into inedible little lumps of coal.
That being said, there are presently millions of food gift options just waiting at our fingertips to be added to a metaphorical cart. From gift baskets for the food critic in your life complete with artisan cheese, jams, and charcuterie to other decadent items, the choice is wide. We've selected the best food gifts of the year that display the perfect mixture of traditional, extravagant, and in some cases, off-the-wall. 
How we selected products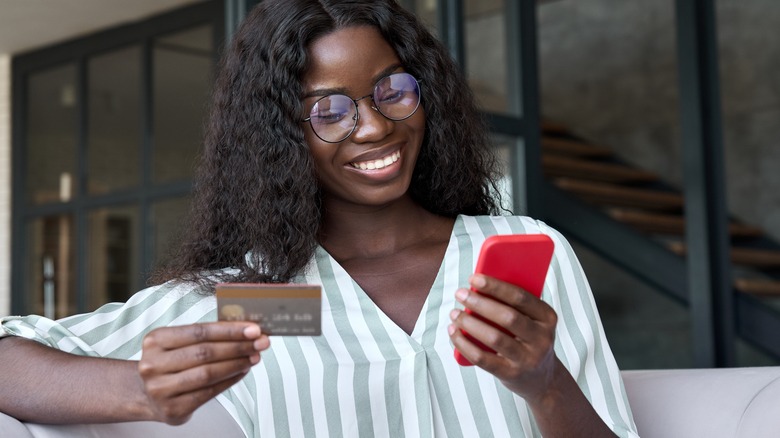 Ground Picture/Shutterstock
When perusing different food gift products, there were multiple factors we assessed to come up with this list. Firstly and most importantly, having a wide range of different items for a range of tastes and preferences was important. We wanted to include as much variation as possible, from sweets and baked goods to savory gifts like cheese, meat, spices, dips, and even drinks.
Another aspect we considered was the type of gift. Many of these products are one-off purchases or single products meant to pack a punch, but we also wanted to include gift boxes, food subscription kits, and even meal delivery packages for a wider range of preferences. Price is also crucial since we wanted to make sure our list had affordable options, while still keeping some fancier items. When picking the final products, we consulted press reviews, product reviews from customers, and even celebrity endorsements.
Best overall food gift
SnackMagic is the first of its kind, being one of the only gift boxes that allow the giftee to choose the presents inside. The company launched in 2020 and took the struggles of a worldwide pandemic and used it to model SnackMagic into the pioneer that it is today (via TechCrunch). Not only is it the perfect gift for people who are impossible to buy for and anyone with extensive food allergies, but it is also a great option for forced corporate gifting.
The idea for the customizable gift boxes is simple –– the gifter picks a budget and sends a gift link to the giftee so they can select snacks within the allocated price point. These aren't just normal snack brands you would find at the grocery store –– there are hundreds of different items like cookies, nuts, protein bars, chips, drinks, jerky, and even pantry staples.
SnackMagic also offers curated boxes and goodie bags for low-effort yet thoughtful gifts tailored to every season, holiday, and life event. Honest Brand Reviews loved the novelty behind the concept, not to mention the vast assortment of over 600 different products tailored to every food need and desire. The biggest con was the cost of international shipping, but it's still a matter of the positives outshining any negatives.
Purchase a SnackMagic box from the company website starting at $45 as of September 2022.
Best budget food gift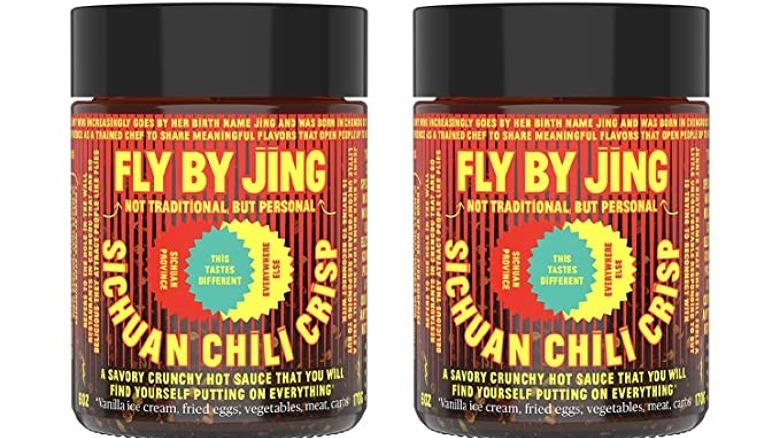 Fly by Jing
If you think that chili oil isn't a good gift, then you are wrong on so many levels — especially when it's made by Fly By Jing. The brand also offers other sauces but the Sichuan chili crisp is the ultimate food gift for spice lovers. Made from all-natural Erjingtao chilis from Guizhou, the rare Tribute pepper, and nutty Sichuan Caiziyou, this 100% Sichuan chili sauce is nothing short of an umami adventure. Try these chili crisps with noodles, dumplings, and everything under the sun like eggs, pizza, and even ice cream, per the manufacturer's recommendation.
Over the past couple of years, this product has developed an almost cult-like following. Reviewed investigated whether Fly By Jing's chili crisps lived up to the hype. The outlet taste-tested it alongside a wide variety of foods like grilled cheese, ice cream, and salad dressing, finding that each combination was just as delicious as the last. Meanwhile, Taiwanese writer Nina Huang called it "one of the most mouth-watering condiments I've ever come across" with an explosion of umami, sweetness, and lingering smokiness that "leaves you wanting more," (via Food & Wine). The higher price is worth it for the quality of ingredients used, and a 6-ounce jar should last a month with continuous use.
Buy a jar of Fly By Jing Sichuan chili crisps for $15 on the brand's website as of September 2022.
Best splurge food gift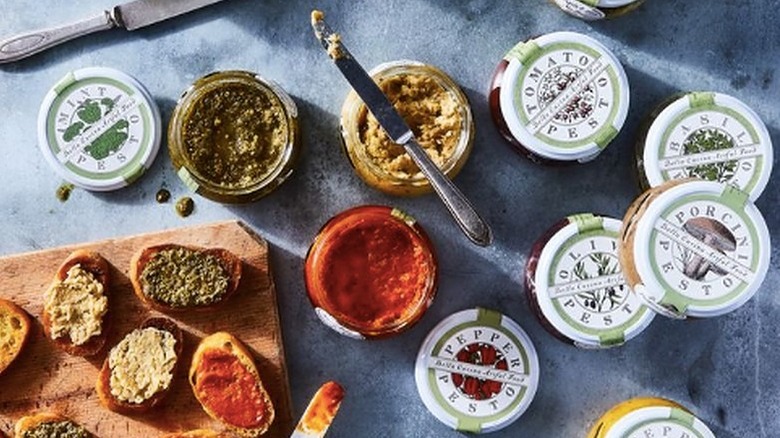 Bella Cucina
If someone said they didn't like pesto, we would question all of their life choices, since pesto makes everything taste better. From scrambled eggs and raw vegetables to accidentally-bland meal preps, pesto adds a burst of flavor to every bite. There are times in life when you might feel like buying almost $200 worth of pesto. Yes, it seems impractical and luxurious at the moment but it's the gift that keeps giving.
Bella Cucina creates artisan kitchenware and pantry staples like savory salts, pasta, and boutique pestos. Bella Cucina's pesto sampler offers a selection of 12 types of pesto, making it an elegant, tasteful, and splurge-worthy food gift for the extravagant gifter or giftee. Each flavor is more complex and original than the last, ranging from classics like fresh basil and sun-dried tomato to olivada, sweet pepper, arugula, golden pepper, walnut sage, pumpkin, porcini, mint, eggplant, and artichoke lemon.
Its antipasto party basket includes the artichoke lemon pesto and was featured in Oprah's Favorite Things of 2018 –– a high-brow list that is highly desirable for brands. Reviewers on Influenster raved about the fan-favorite artichoke and lemon pesto, explaining that it added a nice pop of citrus to salads, while another review mentioned using it to season chicken, fish, and roasted vegetables, or as a sauce for pasta.
You can purchase the 12-pack pesto sampler for $185 as of September 2022 on the Bella Cucina website.
Best giftable spices
We love gifts that give back to the community and support workers with livable wages. Diaspora Co. is paving the way for a new type of spice company, one that is both more conscious of its production methods and farmers and pays homage to the history behind the spices. Not only is it a company that makes a small but noticeable difference, but it also opens up a new world of rich and flavorful spices that doesn't even compare to the grocery store alternatives. Diaspora Co.'s best-selling spices like chai masala, Pragati turmeric, and Peni Miris cinnamon are worth the double-digit price tag. In addition, it offers flavor-packed spice seeds like fennel, nutmeg, fenugreek, chilis, and coveted Kashmiri saffron.
Infatuation reviewed Diaspora Co.'s popular turmeric and Sivathei chilies to see if this up-and-coming spice company exceeded the rave reviews. The Sivathei chilies — the seventh hottest pepper in the world — are so fresh that sprinkling too much on your dish could light a fire in your mouth, putting conventional dried chili flakes to shame. The turmeric has a beautiful color and sharp flavor that will make your mouth tingle slightly –– a sign that it's fresh. Any of the options are the perfect food gift for home chefs looking to spice up their spice cabinet.
You can buy individual spices starting at $10 or a sampler pack starting at $67 as of September 2022 from Diaspora Co.
Best baked good gift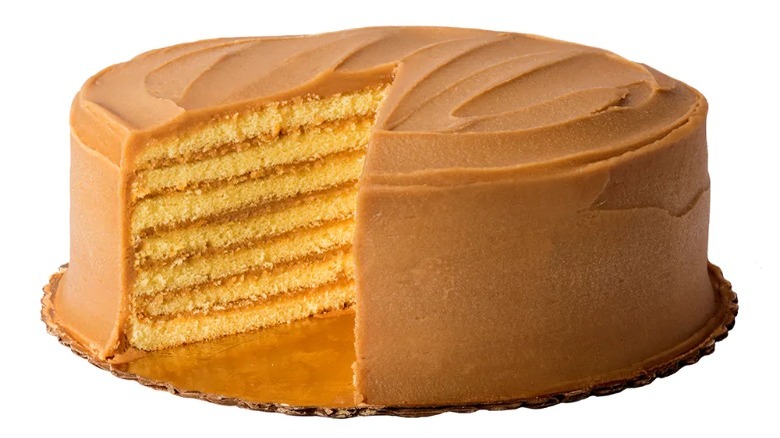 Caroline's Cakes
This may be an unpopular opinion but cake is an inferior dessert. The cake-to-icing ratio is often off-putting, and the cake itself is frequently dry and crumbly. However, Caroline's Cakes can turn a cake hater into a cake believer, specifically its original and best-selling 7-layer caramel cake. The owner and founder, Caroline Reutter, made her first caramel cake in 1982, quickly spawning a bakery that ships cakes all across the country.
There are a plethora of other baked goods and 7-layer cakes, such as the chocolate caramel cloud and red velvet cake, as well as gluten-free options in all the popular flavors. But, nothing will live up to your first bite of that 7-layer caramel cake. It was named one of Oprah's Favorite Things in 2017, and Winfrey said that Caroline's coconut cake took her back to Sunday afternoons baking with her grandmother. 
Another review on Amazon described Caroline's Cakes as "a taste of nostalgia," that was just like their grandmother's. It's so good, you'll be asking for it year after year as a birthday cake or just as a heartfelt dessert.
Purchase a 7-layer caramel cake from the Caroline's Cakes website for $70 as of September 2022.
Best candy gift
Candy is a highly desirable gift — just look at every holiday celebrated by Western society. We get candy in our stockings for Christmas, confections at Halloween, and candy hidden in plastic eggs from the Easter bunny. However, it's nice to have a candy upgrade for the adults craving a sugary treat with a sophisticated twist. That's where Sugarfina comes in –– a "candy boutique for grown-ups" that makes for a luscious food gift for anyone with a sweet tooth (via Insider).
What set it apart from other candy brands are the picture-perfect packaging, high-end imported ingredients, and unique range of flavors (via HuffPost). Sugarfina struck gold with its line of cocktail candy –– booze-flavored renditions of childhood favorites like truly passion fruit gummy bears, maple bourbon caramels, champagne gummy bears, and single malt scotch cordials. Alongside cocktail candy, Sugarfina offers hundreds of candies like kombucha gummy bears, coffee-flavored items, and seasonal sweets, as well as kosher and vegan candy options.
One of Sugarfina's biggest attractions is the customizable bento box that can include between three and 20 different candy flavors and combinations of various trendy designs for every holiday and giftable occasion. Insider remarks that Sugarfina is the easiest way to obtain fun and elegant artisan candies that make a great food gift for all the candy lovers in your life.
Shop Sugarfina's candy gift box selection starting at $10 as of September 2022.
Best food gift for carnivores
Meat is a great idea for a food gift, especially for those picky people in your life who constantly tell you they don't need anything. ButcherBox revamps the meat-giving concept as a food subscription kit that takes beef, chicken, pork, and wild-caught salmon from the land or sea straight to your door. You can choose from a wide variety of custom or curated subscription plans, as well as high-quality gift boxes.
The popular ButcherBox Favorites offers a medley of different meats like ground beef, pork chops, sausage, filet mignon, and even bacon. There are meat-specific curated boxes but also event-specific ones like a game day box with chicken wings and baby back ribs, an Instant Pot box, and a fall favorites box with chuck roast and ground sausage.
A Food Lover's Kitchen reviewed the subscription service and commented that it was an easy and convenient way to get delicious butcher-quality meat without breaking the bank. It may not be cheaper than the grocery store alternative but at least you know you are getting quality meat and seafood with no additional grocery trips. 
You can buy a Butcher Box gift box on the company website starting at $109 as of September 2022.
Best international food gift
It's easy to end up in a snack rut. The same flavors of potato chips taste bland and everything in the grocery store blends together in an explosion of processed mediocrity. Universal Yums is a food gift for travelers at heart; snacks from around the world come together in one shippable and convenient subscription box. All you do is pick the size of the box, how often you want to receive shipments, and which country you want your first snack box to come from. Before you know it, you'll be taking a journey of flavors without having to leave your couch.
Some of the past boxes have included snacks from countries like India, Thailand, United Kingdom, Scandinavia, and Egypt. If you like a particular snack, such as tikka masala corn chips or caramel and garlic crisps, you can purchase them individually on Universal Yums' snack page. Subscriboxer tried the subscription box and loved its affordability, cute packaging, and the magazine explaining the snacks from the countries in question. 
The biggest complaint was that there was no way to filter snacks based on known allergens. Many reviews on Trustpilot also commented that the customer service was lackluster. Despite its pitfalls, Universal Yums makes for a great gift for adventurous snackers wanting to expand their palette.
You can purchase Universal Yums boxes starting at $15 as of September 2022.
Best cheese gift
Cheese Brothers keeps things simple and in the family, using the secrets and traditions passed down from a line of cheese makers. Its variety ranging from cheese curds and gouda to aged cheddar and smoked cheese comes from all-natural Wisconsin cow milk from family farms.
In addition to delicious cheese, Cheese Brothers has an amazing selection of gift baskets suited for every cheese lover. There are incredibly affordable options like the hot and spicy cheese pack with signature honey sriracha gouda, Three Amigos spicy gouda, scorpion pepper gouda, and mango habanero gouda. Or, you can take the fancy fork in the road and go for the ultimate Wisconsin sampler with spicy gouda, aged cheese, dill Havarti, smoked cheese, and bourbon gouda.
Reviews on Amazon rave about the jam and sausage options that make for a well-balanced cheese and charcuterie board. Meanwhile, other Amazon reviewers loved the smoked and spicy cheeses that had just the right amount of heat. You can't go wrong with this lactose-filled food gift for the aspiring cheesemonger in your life.
Purchase Cheese Brothers gift packages on the company website starting at $29.95 as of September 2022.
Best charcuterie gift
You can't have a cheese board without some charcuterie and we aren't talking about your average pepperoni or sausage roses. Mercado Famous is serving up charcuterie shaved and sliced to perfection, produced by the finest Ibérico pigs Spain has to offer. The pigs are fed a diet of acorns and grassy pastures in La Alberca, Spain, to achieve a light texture and buttery taste high in omega-3 fatty acids.
Mercado Famous offers a small yet rich selection of à la carte cured meats, such as the jamón Serranía deli-style ham or the almighty 100% Ibérico jamón. There are also different types of sausage and chorizo including cured pork loin, chorizo Ibérico, and Ibérico salami. Of course, you could buy bundles based on your favorite cuts or you could get the ultimate charcuterie lover in your life a gift that keeps on giving –– a whole leg of cured Ibérico.
The Quality Edit indulged in the chorizo and jamón varieties and cherished the quality of meat, knowing that each slice was artfully cured and prepared. The chorizo Ibérico was their favorite, even though the jamón exceeded their wildest expectations, making it a no-brainer food gift to round out a perfect cheese and charcuterie board.
You can buy single-serve charcuterie packs starting at $8.95 or a whole leg of jamón on the Mercado Famous website for $300 as of September 2022.
Best DIY food gift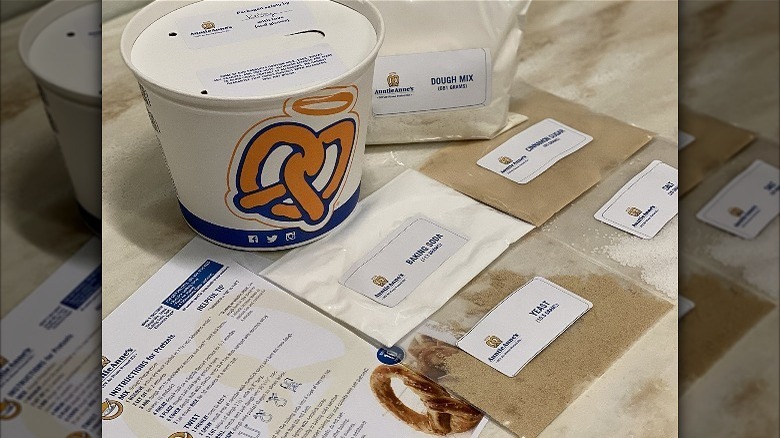 Auntie Anne
There's almost nothing better than the smell of a freshly baked pretzel. It's one of the most appealing parts of malls –– the ability to walk around and smell freshly baked pretzels coming from Auntie Anne's stores. However, if you don't live near Auntie Anne's, you have to resort to bland and slightly-off smelling malls with no soft baked pretzel reprieve in sight. Never fret, as Auntie Anne's brought back its DIY pretzel kit in 2020 after originally launching the at-home kit for National Pretzel Day (via PR Newswire).
Now, you can buy the food gift that provides a constant supply of pretzels at home with all the same deliciously familiar smells. Each kit comes with the signature Auntie Anne's dough mix, yeast, baking soda, and cinnamon sugar dusting for its signature sweet pretzels (via Harry & David). Trying New Food put their baking skills to the test by making these pretzel doppelgängers following thorough instructions. The result was delicious pretzels that tasted like the real thing, making this kit the perfect DIY food gift for aspiring bakers.
You can purchase Auntie Annie's DIY pretzel kit on Harry and David.com for $44.99 as of September 2022.
Best food gift for people who hate cooking
Goldbelly is a food platform like no other, with hundreds of chef-made meals and delicacies available at your fingertips. It bridges the gap between food and emotion, allowing people to be connected to their favorite restaurants even from thousands of miles away. Goldbelly has been critically raved by publications like The Washington Post, Fast Company, Forbes, and The New York Times as the food escape that comes right to your doorstep.
Any purchase from Goldbelly would make for the perfect food gift for foodies who either hate cooking or who want to travel without having to leave their kitchen table. It lays out an expansive spread of curated food gifts, from Centerville Pie Co.'s chicken pot pie to Martha Stewart's legendary banana pudding. There are also restaurant meal kits from some of the most iconic eateries in the world, offering various cuisines like Mexican, BBQ, pizza, sandwiches, and more.
Reviewed took a deep dive into Goldbelly to see if it lived up to the hype, trying various comfort foods like cookies, Southern food, and even Margherita pizzas. They explained that Goldbelly was a way to connect to one's childhood or hometown restaurant favorites, making it the next best option to dining in the restaurant itself. In a sense, it relieves the kind of homesickness that can only be cured with comfort food.
Buy Goldbelly meal kits on its website ranging from $55 to $389.99 as of September 2022.