Instagram Is Divided Over In-N-Out's Savory Meal Selection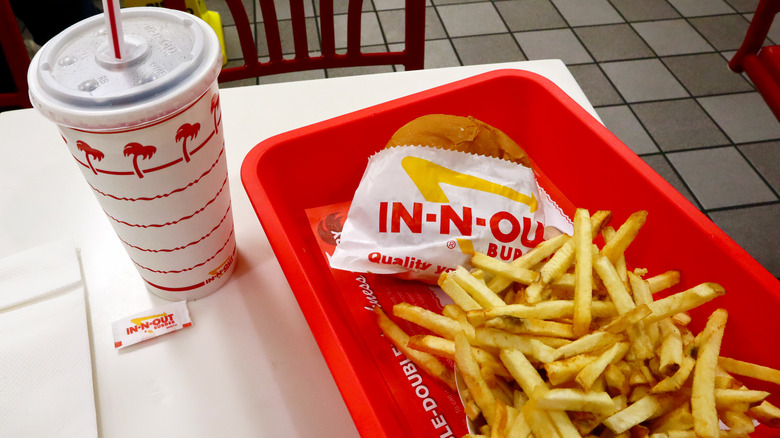 Walter Cicchetti/Shutterstock
In-N-Out is one of the most popular fast food chains in the country. Per Restaurant Business, the restaurant was the top pick for families, with 76.9% of survey respondents with kids giving it positive ratings. Known for its fresh, made-to-order burgers and fries, the chain has a steadfast following of loyal fans. The burger joint took to Instagram to ask its fans what their preferred meal is: the Double-Double Meal, Cheeseburger Meal, or Hamburger Meal. The post quickly amassed over 23,000 likes along with hundreds of comments from fans passionately choosing their favorite meal.
The Double-Double Meal consists of two burger patties and two slices of cheese, while the Cheeseburger Meal includes one burger patty and one slice of cheese. The Hamburger Meal, as you might have guessed, includes just a burger patty. All of the combo meals are served with a drink and In-N-Out's delicious, fresh-cut fries. While commenters were adamant about their love for the iconic franchise, when it comes to choosing the perfect meal, it's clear that fans of the restaurant are quite divided.
Order Up!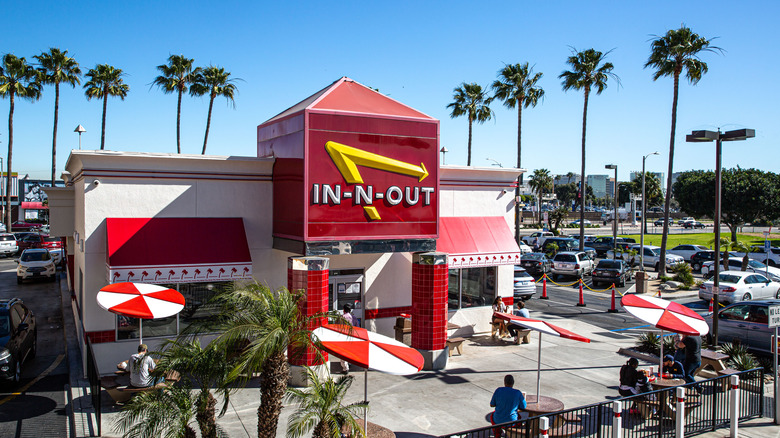 George Rose/Getty Images
Although the comment section of any post can often devolve into chaos, the In-N-Out Instagram debate was surprisingly civil. Most people were quick to share why their preferred meal was the best option, with some even going as far as to outline the specific reasons why the other meals didn't quite measure up. Most commenters, however, simply rattled off their own go-to order from In-N-Out.
"#2, animal style with animal style fries and a vanilla shake. Heaven.," wrote one fan referring to the Cheeseburger Meal as their choice. "#1," wrote another, "with grilled onions and chopped chiles." Some commenters didn't even adhere to the available options, choosing instead to write in orders from the Not-So-Secret Menu, such as, "Grilled cheese with both onions, extra lettuce and tomatoes, add chilies and pickles." Another fan wrote, "Off the menu. I'll take a 3x3 please!"
At a glance, scrolling through the comments will return nearly all wholesome and positive responses. No matter what your preferred order is, one thing is for sure: In-N-Out's fans can all agree that the chain knows how to make delicious burgers and fries.