Alex Guarnaschelli's Favorite Dessert Is Endlessly Relatable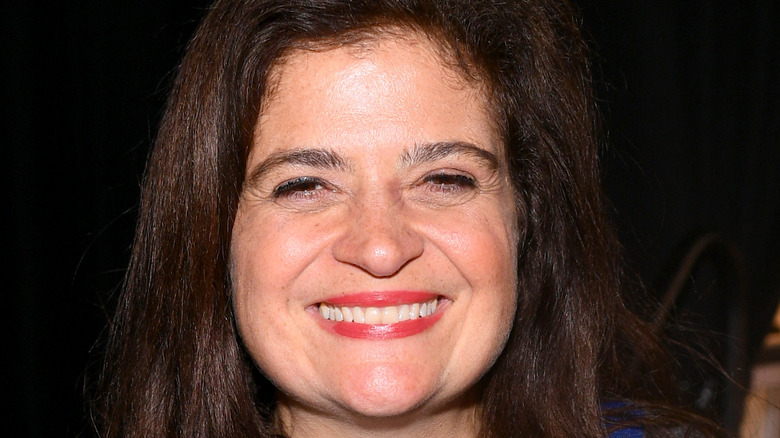 Dave Kotinsky/Getty Images
Who doesn't love dessert? An excellent dessert can complement a meal, turn dinner into a special event, or just satisfy your sweet tooth. Some prefer the simplicity of sliced fruit or the challenge of a prinsesstårta. But sometimes you want something so rich, decadent, and sinful that surely — it must be forbidden. And folks, Alex Guarnaschelli gets it.
In a video posted to the Food Network's Twitter feed, Guarnaschelli is seen chatting with fellow chef Eric Adjepong about their favorite chocolate desserts during an episode of "Alex vs. America."
Guarnaschelli doesn't take long to declare that her favorite chocolatey dessert is "a perfectly made [...] devil's food cake" with chocolate frosting "that tastes chocolatey beyond." She upped the ante by adding that she enjoys it with "a big mound" of unsweetened whipped cream on the side. And Alex, we feel you.
Adjepong, on the other hand, appreciates a light, delicate crepe with chocolate or hazelnut spread.
The devil's favorite food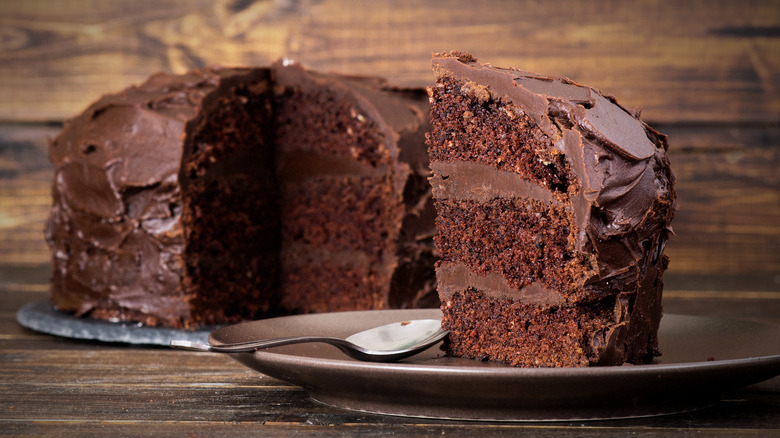 Kattecat/Shutterstock
The difference between Devil's food cake and chocolate cake isn't much, but it's enough. It's a lighter yet richer version of chocolate cake. It's been compared to a chocolatey angel food cake. In fact, that's how it got its name, a cake so indulgent and seemingly sinful that it must be the devil's favorite food. Its intense chocolate flavor is due to the extra oil and baking soda in the cake batter.
In many cake recipes, butter and sugar are creamed together to result in a moist crumb, but doing so would dull the chocolatey-ness of this cake. In devil's food cake, the use of a neutral flavored oil lets the complex cocoa flavors shine (via MyRecipes).
In the video, Guarnaschelli notes that the cake shouldn't have too much baking soda, which is a leavener. Devil's food cake uses more baking soda than regular cakes to make it extra light and fluffy. But if you use too much, it can leave a bitter, metallic tang and ruin the chocolatey richness of your devil's food cake.
There are plenty of ways to zhuzh up your devil's food cake, and the delicious simplicity of Guarnaschelli's idea is one of them.