Rachael Ray's Newest Cookbook Is Also A Work Of Edible Art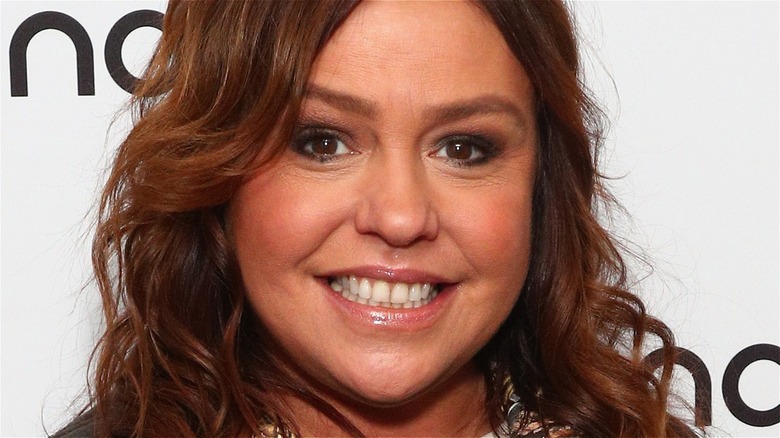 Astrid Stawiarz/Getty
We may receive a commission on purchases made from links.
Rachael Ray's latest cookbook, "This Must Be the Place," has been out for nearly one year now. It's graced The New York Times Bestsellers list, and has been named one of Food Network's "best cookbooks of the year." The book is chock full of recipes, more than 125, to be exact, that Ray unveiled on her show while it was shot from her upstate New York home during the height of the pandemic. The book is not only informational but also artistic, containing both photographs and drawings of some of the ingredients Ray uses in the dishes (via Amazon).
Now, "This Must Be the Place" has taken on a new artistic form: that of one incredibly creative cookie. The cookie, baked and decorated by baker Emily Henegar takes innovation to a whole other level with minute, intricate details resulting in a cookie whose "cover" looks just like that of the real "This Must Be the Place" cover, only in tiny, edible form (via Instagram).
This Must Be the Place was transformed into an icing illustration
Baker Emily Henegar is no novice when it comes to knowing her way around the kitchen and how to decorate cookies. The college senior has owned the company Cookie in the Kitchen since she was just 11 years old, through which she makes and decorates — in extreme detail, might we add — sugar cookies. Henegar loves what she does, sharing, "I think my favorite part about it is just being able to celebrate and illustrate unique lives with an edible art form that is cookies and just getting to represent those significant moments or people or relationships." Henegar was featured on The Rachael Ray Show on which she did a tutorial on how to make and decorate her sugar cookies, creating an edible copy of "This Must Be the Place."
Henegar posted a pic of the cookie on Instagram with a caption reading in part, "thank you so much to @rachaelrayshow for taking time out of your episode to feature me, I've so enjoyed getting to work together!" Fans took to the comments to exclaim how amazing the cookie looks and to offer congratulations for appearing on the show.