GBBO Winner Giuseppe On The Part Of The Tent You Don't See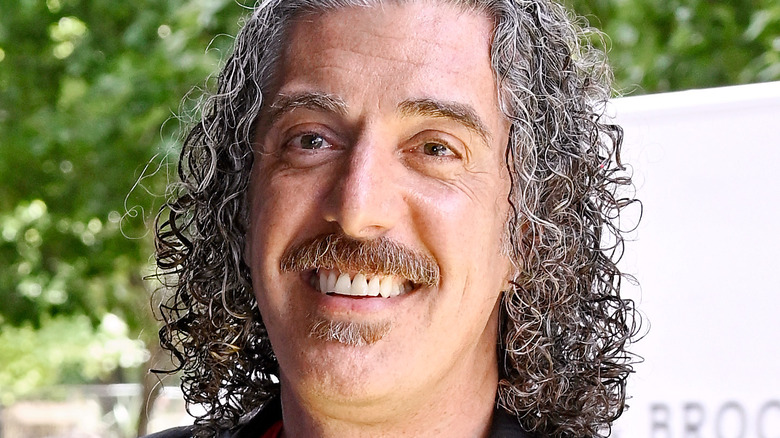 Gareth Cattermole/Getty Images
We may receive a commission on purchases made from links.
Winner of "The Great British Bake Off's" 2021 season Giuseppe Dell'Anno has certainly kept himself busy after he won the coveted glass plate and left the tent. The star baker, who originally hails from Italy, splits his time between Bristol, England where his family lives, and Milan, Italy, where he works as an engineer (via Vulture). He has just written his upcoming baking cookbook, "Giuseppe's Italian Bakes," which will be released in early December, just in time for the holidays. The book details some of the recipes Dell'Anno learned as a child from his father, also a baker, including focaccia, panna cotta, and tiramisu (via Amazon). Dell'Anno will be embarking on a book tour next week (via Instagram), and as if that's not all enough, the baking star just teased a new project with GBBO 2018 winner Rahul Mandal, hinting it will have something to do with vegan bakes (via Instagram).
In an interview with Radio Times, Dell'Anno takes GBBO fans back into the tent to share a few behind-the-scenes production team tricks, including how they keep the tent looking so clean.
The GBBO production team includes cleaning elves
Naturally, with sometimes nearly a dozen bakers whipping up complicated recipes simultaneously, things are going to get messy in the GBBO tent. Think: flour flying, sugar spilling, and baking powder ending up well, err, just about everywhere. 2021 GBBO winner Giuseppe Dell'Anno says before appearing on the show, he hadn't thought much about how the tent is magically cleaned up between shots, but he says watching the process reveals it's quite the production, saying sometimes it takes hours.
After the bakes are complete, while the bakers relax on the sofa on the lawn outside the tent, the clean-up staff gets to work. "So we sit there while a swarm of 30 Bake Off elves come over and make the place spotless, they preserve our cakes, moving them around and making sure that nothing is broken in the process. It's like a clockwork mechanism behind closed doors that happens and they do it masterfully!" Dell'Anno said (via Radio Times). According to Amazon, Dell'Anno's new book features a section on kitchen tools to help keep your bakes — and your kitchen — looking as clean and crisp as possible.