Reddit Exposed What Duff Goldman Is Like In Real Life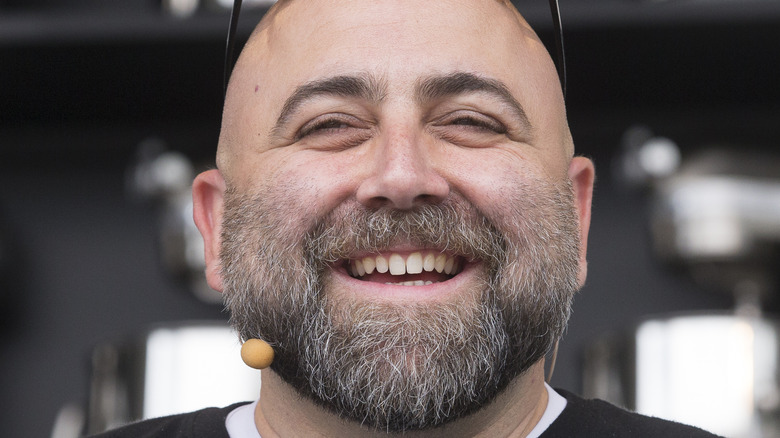 Sterling Munksgard/Shutterstock
Duff Goldman comes across as a pretty happy guy. The baker, business owner of Charm City Cakes, television personality on Food Network's "Ace of Cakes," and cookbook author (via Food Network) recently moved himself and his family, wife Johnna and daughter Josephine, to Topanga, California, an area close enough to Los Angeles to be convenient, yet far enough away to have an in-the-country feel. Domestic bliss feels good to Goldman, who told People about their home life after the move, stating, "My wife and I are just insanely in love. We're crazy about each other. We're always together ... We're really goofy with each other, and now the baby's really goofy, too."
Whether Goldman's family is busy making appearances on his show "Ace of Taste" or Johnna and Josephine are joining him on the road while filming "Baking Championship," they're clearly super tight-knit and Goldman is clearly quite the family guy.
Duff Goldman is one cool dude
While Duff Goldman might be great with his family, the question remains: Is he as good with fans and the public as he is behind closed doors and as cool as he appears on his TV shows? According to one Redditor, the answer is: absolutely. Redditor u/theworldtonight posted a pic in the r/Baking forum of himself and Goldman with the caption "Just met Duff Goldman! Super nice guy, seemed really down to earth."
The Reddit user continued to write about what a great guy Goldman is in one of the threads below: "He was way nicer than I thought he would be — just had in my mind this image of some tv star diva. He had a kind of Steve Wozniak vibe to him, where he just sort of existed in a state of childlike wonder and was really fun to watch. He was great with the kids too!"
In another AMA thread on Reddit, one fan described how inspirational Goldman has been for her daughter, writing, "I want to thank you for being the cake guy on tv that wasn't a total a**, and for inspiring an entire generation of kids," to which nice guy Goldman responded, "man, i can't tell you how nice it is to hear comments like that. thank you."