The Time A Man Got Arrested For Having Krispy Kreme
Being hungry for your favorite food isn't a crime, but surprisingly, many crimes have been centered around food. You may have heard of one incident in 2011, when an intoxicated man broke into a Minnesota Pizza Hut to fry a batch of boneless chicken wings (via CBS News). Officers from the St. Cloud Police Department responded when the business alarm went off at 1:25 a.m. and transported the man to the Stearns County Jail. Another incident occurred when a customer fired a BB gun at a Taco Bell employee after learning of a price increase, per NBC News. The man then fired an assault rifle at San Antonio police officers, which led to a three-hour standoff as he hid inside a hotel room.
But what if you were arrested during a food-related crime that wasn't actually a crime at all? That's exactly what happened to a Florida man in 2015, who was interrogated for simply enjoying a donut, according to NPR.
Officers thought the glaze was a controlled substance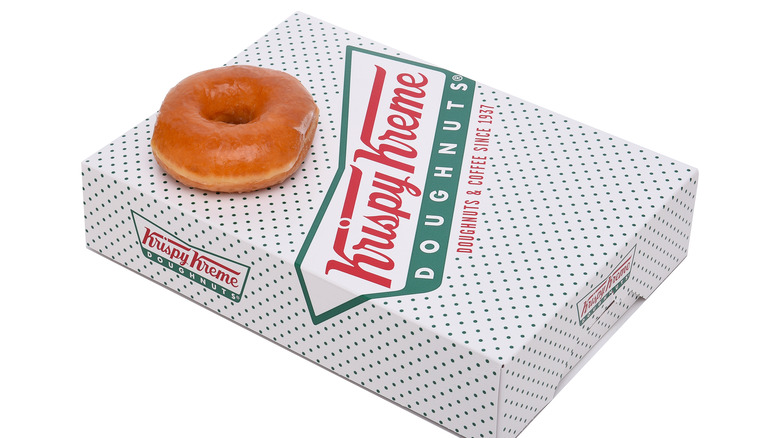 Steve Cukrov/Shutterstock
When 64-year-old Daniel Rushing was pulled over for speeding near a 7-Eleven, he probably wasn't expecting the great deal of trouble that ensued. According to NPR, police officer Shelby Riggs-Hopkins asked Rushing to step out of the car after he revealed that he was carrying a pistol in his vehicle. Rushing agreed on a vehicle search in exchange for a dropped speeding ticket, which is when officers found crystals that field tested positive for methamphetamine. Rushing attempted to explain it was simply Krispy Kreme donut glaze, but he was still arrested and charged with methamphetamine possession while armed with a weapon.
After further testing was conducted, it was revealed that the substance was in fact, not methamphetamine. At this point, though, Rushing had already spent 10 hours in jail, prompting him to file a lawsuit against the city of Orlando. The police officer who arrested Rushing received a written reprimand for her mistake, according to Daily Mail. "I recognized through my eleven years of training and experience as a law enforcement officer the substance to be some sort of narcotic," she wrote in her defense.
Eventually, Rushing was awarded $37,500 in settlement money (via NPR). The man's takeaway? Well, he still loves his donuts, but he now jokes that "[He doesn't] eat them in the car."