What You Need To Know About Subway's $1 Soup Deal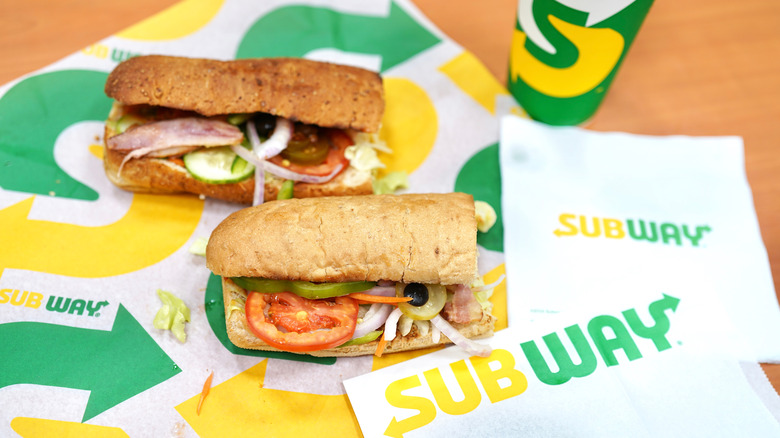 Prachana Thong-on/Shutterstock
Now that Indigenous Peoples Day weekend (formerly Columbus Day) has come and gone, it's safe to say that fall is officially in full swing. That means it's time for cider, sweater weather, and pumpkin spice everything (okay, so some of us have been pumpkin spice-ing since the first leaf turned in August, but whatever). It's time to spend a chilly afternoon outside raking leaves, then come in to spend a warm, cozy evening trying to figure out all the ways you're screwing up your pumpkin pie.
Another way to celebrate the season that may not so immediately jump to mind is to up your soup game. Aside from the obligatory seaside clam chowder and maybe a chilled gazpacho here and there, who really wants to heat a steaming bowl of soup in the summertime anyway? Plus, soup is easily the coziest food. Subway agrees, that's why the sandwich chain is helping to get soup into the mouths of its customers all month long — or even just the mouths of people who appreciate really well-priced soup. So grab your favorite throw blanket and get ready to get cozy with Subway this October.
Souped Up Weekends at Subway
Fall isn't the only thing being celebrated with this month-long promotion at the chain, it's also ringing in the big change that's coming to the Subway soup menu. Soups are the last stop on Subway's Eat Fresh Refresh campaign, which "refreshes" menu items and improves ingredients. The three soups to get the Refresh treatment are Homestyle Chicken Noodle, Broccoli Cheddar, and Loaded Baked Potato Soup (via Brand Eating). 
According to Restaurant Business, Subway worked with its "culinary team" for over a year to create the perfect flavor balance in the new iterations of these fan-favorite flavors. The new Homestyle Chicken Noodle will have more white meat chicken chunks as well as chunky cut carrots, onion, and celery, as well as "a deeper chicken broth flavor." The new and improved Broccoli Cheddar boasts more boosted cheddar flavor and visible broccoli florets to up the aesthetic appeal. Lastly, the refreshed Loaded Baked Potato Soup attempts to live up to its name with more cream cheese, more bacon, chopped red potatoes, and more rich smoky flavor.
Fans can try the revitalized soups for themselves for $1 off the regular price during the weekends all October long. According to Real Menu Prices, the regular price for Subway soups is only $2.50, so the new promo price should ring in at a super affordable $1.50. Prices may vary regionally, and while this promotion is available nationally, it's important to note that not all Subway locations carry soups.