The Carl's Jr. Secret Bread Hack Fans Swear By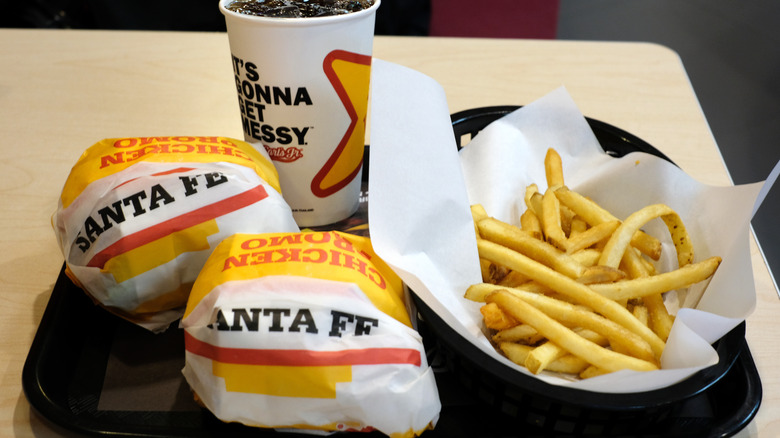 ephst/Shutterstock
With over 80 years of service, Carl's Jr. has been providing quality, charbroiled burgers to happy customers since 1941. From its classic famous star burger to the spicy jalapeno Angus burger, the fast food chain's menu is filled with beefy offerings. Between Carl's Jr. and its sister company Hardee's who share the same menu and logo, the thriving burger joint operates over 3,800 stores nationwide.
Not only does Carl's Jr. offer customers burgers and fries on the fly, but they're also certified philanthropists. Each year, its parent company CKE Restaurants Inc. hosts its Stars for Heroes Campaign, which as of 2021 raised over $10.5 million dollars for active duty military and veterans alike. What's not to love about a company that serves quick and tasty meals and makes the world a better place while doing it? And get this, Carl's Jr. just revealed a game-changing menu hack on Twitter, making patrons even happier.
You can substitute sourdough bread on any burger
While most burgers are held together by a plain or seeded bun, Carl's Jr. is one of the few fast-food chains that offer burgers with sourdough bread. Made from a fermented flour and water mixture that contains "good bacteria," sourdough bread actually offers some health benefits in addition to its unique flavor profile and texture (per BBC). According to Healthline, sourdough boasts higher levels of vitamins, minerals, and antioxidants than most other bread.
Although it's only listed as an ingredient on the sourdough star and the grilled cheese breakfast sandwich, Carl's Jr. confirmed on Twitter "Gonna let you in on a little secret... You can sub sourdough bread on any burger." One Twitter user replied with their own request, "Bout to make a western burger with sourdough."
As for other options, if you want a Santa Fe spicy chicken sandwich on sourdough, Carl's Jr. says you can have it. If you are looking for a plant-based burger on a sourdough bun, you can get one.