The Humble Origin Of Carl's Jr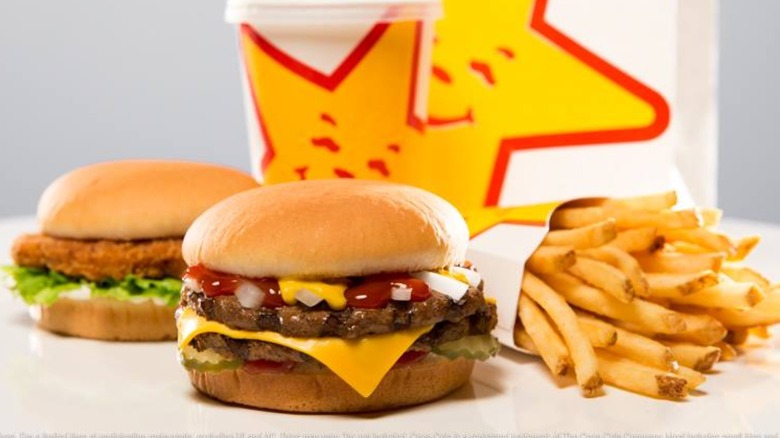 https://www.facebook.com/carlsjr/photos/10156402601345456
To people living in the western half of the United States, it's Carl's Jr. To east coasters, it's Hardee's. To other fans, it's simply the place where they like to order a charbroiled burger or a fried chicken sandwich and a side of fries. Whichever version it is to you, it started with the same man, Carl Karcher. Today, there are over 1,000 Carl's Jr restaurants throughout the U.S., and the chain can also be found in 28 other countries, states Carl's Jr. So, how did Carl's Jr make it big alongside other fast-food giants like McDonald's, Arby's, and Burger King?
In 2021, Carl's Jr celebrated its 80th anniversary and shared details with the public about the chain's humble beginnings. Many successful establishments got their start from bright ideas by risk-takers, and the story of Carl's Jr is no different. Still, it might be a surprise for Carl's Jr fans to learn that the establishment's first products were not its well-known charbroiled burgers at all but instead — roadside hotdogs.
From hotdog cart to burger empire
As the book Fast Food Nation: the Dark Side of the All-American Meal explains, Carl Karcher purchased his first hot dog cart in 1941 with $15 in savings and by mortgaging his car for $311. While this doesn't sound like a lot in today's money, in 1941, this was a risk. Karcher, an Ohio native, had moved to Anaheim, California when he was 20 years old in search of opportunity and was looking for it at every turn. 
While working a stint as a delivery driver for a bakery, Karcher couldn't help but notice the popularity of hotdog carts in town. Because the greater Los Angeles area was already becoming an automobile mecca, the hotdog cart did well with busy travelers. Eventually, Karcher was able to buy more hotdog carts and even open a brick-and-mortar establishment, named Carl's Drive-In Barbecue.
However, it wasn't until over a decade later, in 1956, that Karcher struck gold and opened the first Carl's Jr with the help of his brother (via Nation's Restaurant News.) Not only was Carl's Jr a quick success, but the chain was also responsible for some cutting-edge techniques, styles, and technologies that didn't previously exist, like conveyor broilers, carpeted dining rooms, salad bars, and even the now-ubiquitous self-service soda fountain. Without the legacy of Carl's Jr, it's quite possible that the fast-food dining experience wouldn't be what it is today.