The Best Mandolines Of 2022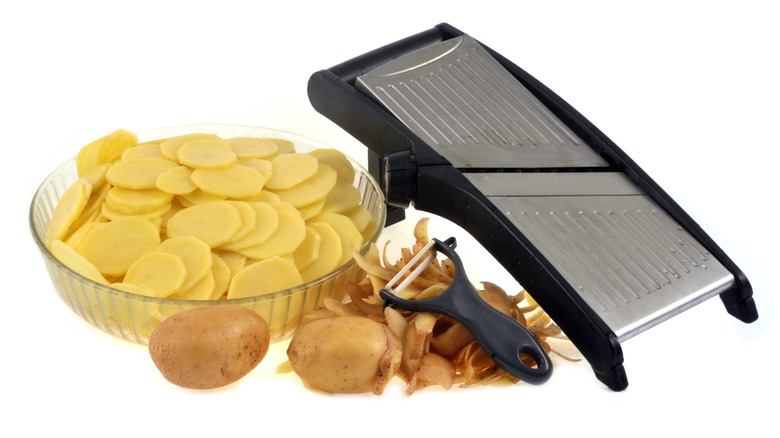 RVillalon/Shutterstock
We may receive a commission on purchases made from links.
Scalloped potatoes, shaved asparagus, zucchini chips — with just a smooth and gentle glide, mandolines can manifest a whole new world of delicious, thinly sliced delights. Sure, you could just bust out that trusty old knife of yours instead, but no knife can compete with the fluid precision and uniformity that's achieved with a mandoline. In fact, some chefs consider the mandoline to be the most underrated tool in the kitchen and highly recommend that home cooks add it to their culinary repertoire (via Bravo TV).
The sight of a mandoline may be a bit intimidating at first, since the device tends to look like a horizontal guillotine for your fingers. But the reality is that using a mandoline isn't any more dangerous than using a knife, and it can often work much more efficiently. Most mandolines also come with a safety guard that secures food in place and creates a protective barrier between your hands and the blade (via BHG). 
Mandolines have a variety of features. Some come with catch trays to store your food after it's been sliced, while others offer multiple blade attachments for differently styled cuts. Whether you're looking for a simple handheld mandoline or a model that's slightly more sophisticated, there are plenty of options that can take the load off your prep work in the kitchen and help you yield some of the most beautifully consistent results you've ever produced.  
How we selected products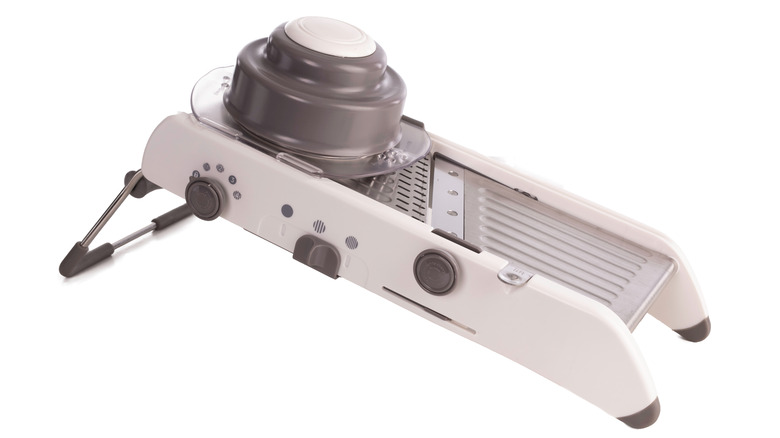 emmanuellegrimaud/Shutterstock
Several factors were taken into consideration during our selection process. Because user feedback is one of the most honest and accurate tools we have at our disposal for a comprehensive product assessment, we carefully combed through customer reviews with verified purchases, taking note of reported strengths and weaknesses. We bolstered our evaluation process by taking press coverage into account along with other well-curated, top-rated recommendations.
Variety was another main focus. To avoid providing a narrow, redundant list, we've selected a wide range of mandolines, each equipped with its own distinctive features. Whether you're looking for one of the cheapest high-quality models on the market or a workhorse that can easily pummel through pounds of fresh vegetables, rest assured there's a mandoline on this list that will suit your needs. Regardless of your budget or level of experience in the kitchen, you're bound to find a model here that will strike your fancy. Here are the best mandolines of 2022.
Best overall mandoline
If you're on the hunt for a mandoline that has it all, then look no further. This model from Gourmia knocks it out of the park in just about every way imaginable. Made with durable stainless steel, this mandoline is adjustable with six different settings, features a wide slicing deck to provide you with ample room, and has a very reasonable price tag considering its high level of quality.
This mandoline also comes equipped with a non-skid bottom to maximize stability and a protective hand guard for optimal safety. With settings to slice, chop, and shred, you can prepare food in a variety of shapes and levels of thickness that suit your recipe's needs. All it takes is a little twist of the mandoline's knob to smoothly adjust between slices that are paper thin to more robust cuts up to nine millimeters thick. This mandoline is decked out with heavy-duty blades, is dishwasher safe, and boasts a rating of 4.4 out of 5 stars after more than 1,300 reviews on Amazon. It also earned a high rating on Don't Waste Your Money for its durability. You'll be hard-pressed to track down another mandoline that's this affordable and well-designed.
You can buy the Gourmia Mandoline Slicer on Amazon for $34.95 as of October 2022.
Best budget mandoline
No one wants to break the bank for some new gear in the kitchen. The good news is that you don't have to. Even if you're on a budget, you can still score a new mandoline slicer for a very reasonable price. This model by Progressive International is exceptionally inexpensive, clocking in at just under $15. It also comes highly rated with 4.6 stars after more than 7,300 reviews.
This mandoline comes with a protective hand guard so that you can keep your fingers safe while you cut food over the slicing deck. With three different settings to choose from — thin, medium, and thick — this mandoline slicer has a simple design that's very easy to use. It comes equipped with an angled blade to assist with the slicing process and also features a sturdy non-skid base to help with stabilization. This mandoline also comes recommended from Reviewed for its affordability as well as how easily it can be stored. Don't mistake this mandoline's cheap price tag for a lack of quality — this model can produce the same perfectly cut results that pricier models can achieve but at a fraction of the price.
Purchase the Prepworks by Progressive Adjust-A-Slice Mandoline on Amazon for $14.97 as of October 2022.
Best mandoline for beginners
We get it. You love the idea of consistently chopped results with a mandoline, but you're also worried that your noble quest for flawlessly sliced vegetables will turn your fingers into nubs. No worries — we have the perfect option for you. This Dash Safe Slice Mandoline Slicer was designed with safety in mind and takes some extra precautions to ensure that your hands are totally protected.
Here's how it works: This mandoline comes with a food chute for you to insert ingredients, and all you need to do is press the pusher down on the ingredients with one hand while operating the lever for the blade with the other. This innovative design safeguards your fingers by preventing them from coming into contact with the mandoline's internal blades. This mandoline slicer also features a compact design and comes with a complimentary cleaning brush. The one drawback we noticed among reviewers is that this model can't cut perfect circles since it slices at an angle, and ingredients may need to be cut down a bit to fit in the food chute. But with adjustable settings and over 30 options to choose from, the model still produces efficient and versatile results. Eating Well also praised this model for its safety and sturdiness. It can slice, dice, and julienne until your heart's content — all while safely keeping your fingers intact.
You can buy the Dash Safe Slice Mandoline Slicer on Amazon for $39.99 as of October 2022.
Best mandoline with catch tray
Having a catch tray attached to your mandoline can be really convenient, especially when you're slicing a large amount of ingredients. Rather than getting another dish out to store all of your chopped food, a catch tray can automatically trap everything in a container, saving you some extra time.
This model by Fullstar also has five interchangeable blades with an adjuster dial that simplifies modifying the thickness of everything you slice. This deal also comes equipped with a blade organizer for storage and a pair of cut-resistant gloves for safety. With 4.6 stars after more than 16,000 reviews, it's clear that people are catching on to what a bargain this is. Did we mention this package even comes with a spiralizer? All things considered, there's no doubt that this is great deal for anyone who loves to easily prep large volumes of food. Best Views Reviews gave this model an impressive rating, noting its dishwasher-safe parts and interchangeable blades. You're just a few clicks away from one of the best mandoline slicer deals on the market. Treat yourself, and see what you've been missing out on.
Purchase the Fullstar All-in-1 Vegetable Chopper, Mandoline Slicer & Cheese Grater on Amazon for $39.98 as of October 2022.
Best rotary mandoline
This model is similar to our pick for beginners, considering it's designed for ease of use and maximum safety. Yet it achieves these goals with a slightly different design, using a food chute with internal blades connected to a rotary grater. With just a simple turn of the handle, vegetables are gracefully and skillfully sliced with impressive precision. While box graters tend to be more laborious to use and often difficult to clean, this rotary mandoline saves time, is a breeze to operate, and can be cleaned on the top shelf of a dishwasher.
This deal comes with three different blades for slicing, shredding, and grating. To ensure a stable surface, this mandoline slicer comes equipped with suction cups so that it can firmly attach to surfaces. It even comes in a wide range of colors so that it can match your kitchen. Eat Delights even called this model the "king of all cheese graters." It's easy to see why this mandoline slicer made with food-grade materials has earned 5-star ratings from 73% of its more than 11,000 reviewers.
You can buy the Geedel Rotary Cheese Grater and Kitchen Mandoline Vegetable Slicer on Amazon for $28.99 as of October 2022.
Best professional mandoline
All the professionals and serious cooks in the house will definitely want to check out this Classic Chef's Mandoline. Built in France and made with durable stainless steel, this mandoline slicer from Bron Coucke may have an industrial look to it, but it's built to last and produces excellent results. Not only is this mandoline well-designed, but it's also lightweight, clocking in at only about five pounds, which makes it very easy to set up and store.
This mandoline model can produce a wide range of different slices such as julienne and waffle cuts. French fries, carrot sticks, and other perfectly cut fruits and vegetables can all be easily prepared with this mandoline slicer. With the slicer having three different, switchable blades that are all adjustable, there's no doubt that you can customize the settings on this mandoline to meet the needs of whatever recipe you're working on. This deal also comes with a protective hand guard and boasts a 4.4-star rating after hundreds of reviews. This mandoline slicer was also highly rated at Appliances Reviewed for its sharpness and durable construction. Hook yourself up with this professional mandoline to experience its ease of use and see what you've been missing out on.
Purchase the Bron Coucke Stainless Steel Classic Chef's Mandoline on Amazon for $156.75 as of October 2022.
Best multi-blade mandoline
There's an old saying that a chef is only as good as his knife. If that's true, then we could also say that a mandoline is only as good as its blades — and this mandoline slicer is exceptionally remarkable since it comes with five different, high-quality, ultra-sharp blade attachments. Constructed with surgical stainless-steel blades and durable plastic, this fully adjustable mandoline comes equipped with a slicer guard to safely secure food and protect your hands.
Blade attachments include a slicer, grater, wavy blade, a coarse shredder for thicker shreds, and a fine shredder for more delicate work. Whether you're prepping up a bunch of vegetables for a big salad, chopping garlic, or slicing cucumbers for homemade pickles, this multi-blade mandoline offers everything you need to pull it off with ease. You'll find it so much easier to eat healthier when you can whip up a pile of prepared fruits and vegetables in a matter of minutes. Southern Living also praised this mandoline for its impressive performance and inexpensive price tag.
You can buy the Mueller Multi-Blade Adjustable Mandoline Cheese/Vegetable Slicer on Amazon for $29.97 as of October 2022.
Best handheld mandoline
If you're looking for a simple, high-quality mandoline that can get the job done, we've found a great match for you. This handheld mandoline slicer has an ergonomic handle to maximize grip and comfort, comes equipped with an ultra-sharp ceramic blade, and has a handguard to protect your fingers. It also features an adjustable dial that lets you choose from four different thickness settings.
While it's true that this mandoline offers only one blade, the reality is that most of the time, we don't really need all of those other fancier cuts. We just need a device that can perform a classic slice at various levels of thickness, and that's exactly what this mandoline delivers. Easy lemon slices for drinks, flawlessly cut tomatoes for salads and sandwiches, or perfectly round onion rings to go with your grilled cheeseburgers can all be expertly yielded thanks to this modest yet mighty mandoline. It even earned a nearly perfect score on Best Products Reviews for its long-lasting ceramic blades and ease of use. Compact, well-designed, and fairly priced, this mandoline is one deal you don't want to sleep on.
Purchase the Kyocera Soft Grip Kitchen Mandoline Slicer on Amazon for $23.46 as of October 2022.
Best mandoline bundle kit
Not only are bundle packages more convenient, but they can also end up being more cost effective. This mandoline bundle kit from Masthome includes several different blade choices (including a special waffle fry blade), a handguard food holder, a dial to adjust thickness settings, and sturdy foot holders to help firmly secure the mandoline to surfaces. The deal also comes with a cleaning brush and cut-resistant gloves.
This mandoline has a sleek, professional look that's bound to add a touch of culinary style to any kitchen. It can be folded down flat, making it a great choice for anyone in need of a model that's compact and easy to store. This mandoline slicer even landed an almost perfect score at Designrfix. Between its razor-sharp blades and the 5-star ratings from 68% of the more than 1,500 reviewers, this mandoline bundle kit is clearly a winner.
You can buy the Masthome Mandoline Food Slicer kit on Amazon for $34.99 as of October 2022.
Best splurge mandoline
If you're in the market for a top-notch mandoline slicer at a reasonable price, then we have a great model for you. The mandoline from Progressive International is made with durable stainless steel and features an extra-wide slicing deck, a hand-safety guard, and an easy-to-use knob to assist with switching blade types.
This mandoline slicer has stainless steel legs that easily snap into place, making it a breeze to set up and secure. The adjustment knobs are conveniently located along the side of this model and allow you to customize thickness and cut style. This mandoline is straightforward to use thanks to the ingredient chute and food holder. The bottom of the slicing deck can also fold out to be extended as needed, providing you with some extra space. This model earned a high rating from Don't Waste Your Money for its sturdiness and versatility, with the site even going as far to call this mandoline "the ultimate slicer for skilled home cooks." All in all, this mandoline slicer is at the top of its game and absolutely worth every penny.
Purchase the Progressive International mandoline slicer on Amazon for $71.99 as of October 2022.
Best compact mandoline
Whether it's due to a lack of space or just a desire for minimalism, having compact appliances in the kitchen can certainly have its charms. And it doesn't get much more simple or compact than this mandoline slicer from OXO. Weighing less than a pound and under 12 inches long, this mandoline slicer still produces impressively beautiful results.
This compact mandoline is also dishwasher-safe and features an ergonomic handle and non-slip feet to assist with stabilization. It has three simple settings: 1 millimeter, 2 1/2 millimeters, and 4 millimeters. This mandoline slices in a nice, fluid motion that makes cutting vegetables feel practically effortless. Cleverly designed, the food guard clips onto the slicing deck of this mandoline slicer to maximize space and help with storage. Don't Waste Your Money awarded this mandoline with high marks, noting its impressive ability to whip up a quick salad. At the end of the day, this mandoline is compact and affordable, and it has a 4.6-star rating among the more than 13,000 reviews singing its praises. Get it while it's hot because deals like this don't last long.
You can buy the OXO Good Grips Hand-Held Mandoline Slicer from Amazon for $18.87 as of October 2022.
Best durable mandoline
Of course, we all want the products we buy to last long-term. It always feels good to get the biggest bang for our buck. But when products are designed with cheaper materials or are poorly constructed, they tend to degrade until they're practically useless. The advantage of stainless steel is that it's incredibly strong and also one of the most hygienic materials available, which is why it's used in so many tools and appliances (via Tampa Steel). Luckily for you, this mandoline slicer from Gramercy Kitchen Company is made with top-grade stainless steel that's built to last.
This mandoline also comes with a food holder for slicing, cut-resistant gloves, a blade guard, and a cleaning brush for safety. Because the blades of this mandoline are constructed with top-notch surgical stainless steel, they are very unlikely to dull or degrade over time with proper care and usage. All blades are built into the device so there's no need to switch out any blade attachments; all you have to do is adjust the dial to change settings. As an added bonus after purchase, you will also receive a downloadable recipe book to get you started. This model was praised by Don't Waste Your Money, noting its blade guards and cut-resistant gloves. With a 4.4-star rating among more than 4,000 reviewers, this mandoline slicer is definitely one sweet deal that won't let you down.
Purchase the Gramercy Adjustable Mandoline Slicer on Amazon for $52.97 as of October 2022.