For Zoodles, One Spiralizer Stands Above The Rest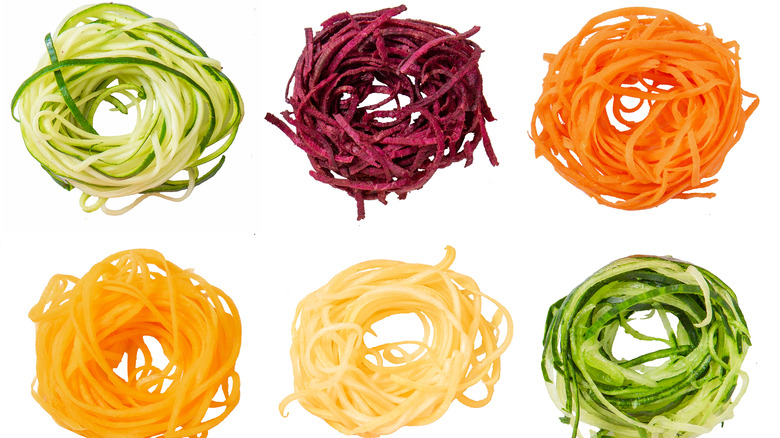 Shutterstock
All prices are current as of time of publication. If you click a link and buy a product from a merchant, we may be paid an affiliate commission.
There's no better feeling than knowing the mouth-watering food you're enjoying is making your body just as happy as it's making you. One of the best examples of this? Zoodles (zucchini noodles) and other thin-sliced vegetable noodles like those made from carrots, cucumbers, or butternut squash.
Veggie noodles offer a gluten-free, nutrient-packed alternative to typical pasta, and once they're smothered in red sauce and parmesan cheese, the outcome is barely distinguishable from wheat-based noodles, per Fix. Veggie noodles are easy to prepare, usually only involving sautéing, boiling, or simmering them in your favorite sauce. Better yet, with the right veggie slicer, the zoodles and similar noodles themselves, can be made faster than their carb-heavy alternatives.
With over 23,000 reviews averaging to 4.6 out of 5 stars, it's no surprise the Spiralizer 7-Blade Vegetable Slicer is one of the best vegetable slicers in the game. And at $24.97, it's practically a steal, too.
The Spiralizer has strong blades for even the hardest vegetable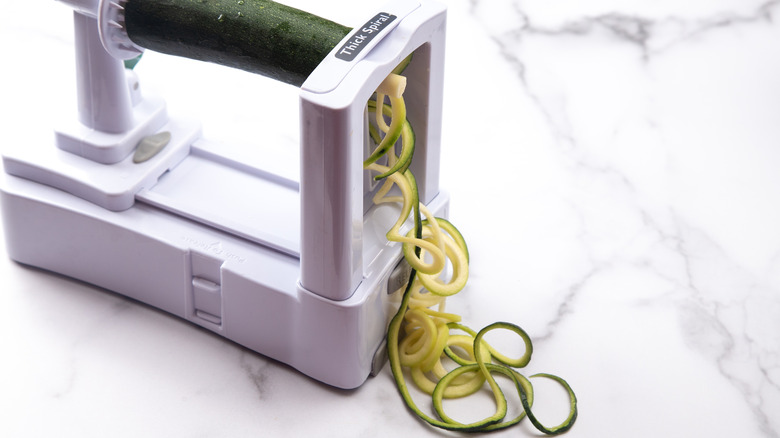 Shutterstock
The Spiralizer stands out against the rest for its 420 high carbon cutlery grade stainless steel blades, making it easier than ever to slice through even tougher root vegetables like turnips and sweet potatoes. All it takes is a couple of cranks to go from zucchini to zoodles.
This is the third generation of this vegetable slicer, so not only is it an improved iteration of an already loved product, the brand guarantees this version is 30%-35% stronger than any other similar ones on the market.
As one reviewer wrote "I straight put cabbage in my spiralizer and it spiraled it. SO FAST. SO EASY. SO SAFELY."
The product includes seven different blades of varying dimensions so you'll be able to get different cuts and sizes including spiraled 2mm noodles, 3mm spaghetti-like strands, 5mm fettuccine-like strands, and 5.5 mm blades for long curly-fries. There is an additional blade container included for safe blade storage.
As the product description says, "It is easier than ever before to use, clean and store. It is now also safer than ever to use."
Purchase the spiralizer, get free ebooks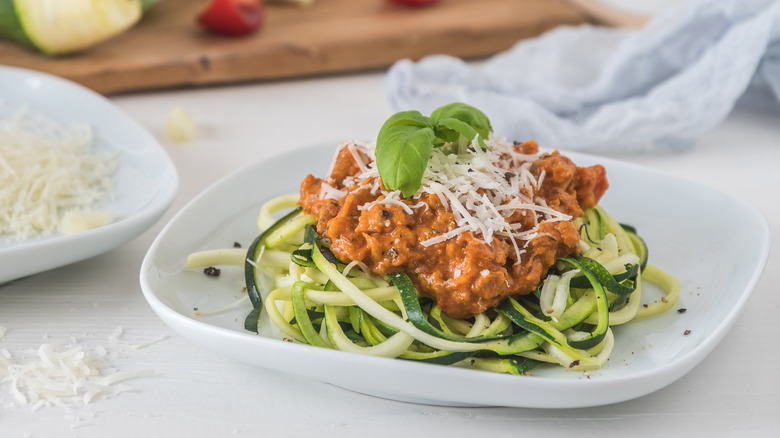 Shutterstock
While the Spiralizer is already considerably cheaper than other similar products on the market (a William-Sonoma spiralizer goes for $43.95 and spiralizing attachment for a KitchenAid mixer is $99), you'll also get four free recipe ebooks with your purchase, including two general recipe books, one paleo recipe book, and a 30 day meal plan.
"The recipes will guide you through what kinds of vegetables to use, how to prepare them, how to spiralize them and how to serve them," the product description reads.
One reviewer share they "made several different kinds of raw pasta with it with daikon radish and zucchini that turned out great," later saying "I made a fabulous raw pad thai recipe, and a few days later I made spaghetti with tomato sauce."
While the ebooks are not exhaustive of every recipe you could make with your Spiralizer, they're a good jumping off point and packed with inspiration. And if you can't find what you're looking for in the ebook, there's always the trusty internet full of thousands of recipes to discover.
What are the other specs?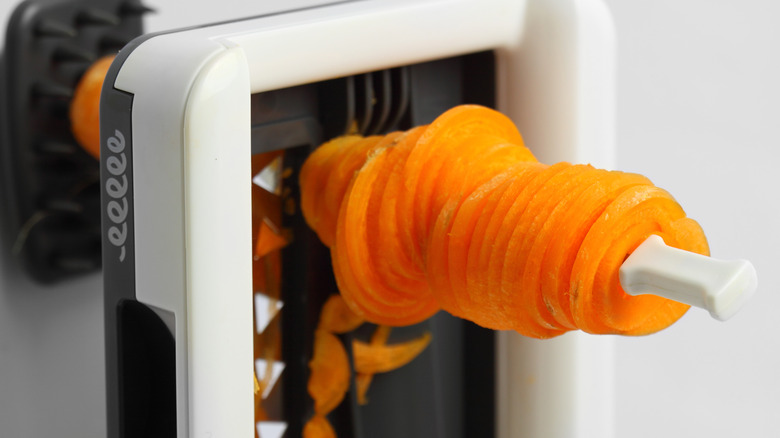 Shutterstock
The spiralizer 7-Blade Vegetable Slicer is 32 x 17 x 24.1 inches and weighs just under 2 pounds. It's a simple white and grey design, making it a neutral product that should match any kitchen.
The bottom of the machine is equipped with strong suction cups to hold the Spiralizer in place while you're using it. Not only does it make it 100% more convenient, but it adds to the safety of the machine. According to the product description, the suction will work best on quartz, granite, glass, or any other non-porous surface.
The Spiralizer comes with a lifetime warranty ensuring you'll get a no-hassle lifetime replacement policy should something go wrong with your machine.
It's been designated an "Amazon's Choice" product, reserved specifically for items that are "highly rated, well-priced products available to ship immediately" (via Business Insider). Overall the Spiralizer stands out from other similar products because of its affordable price, quality and versatility of the blades, thoughtful design, and bonus items like the free ebooks.
Purchase the Spiralizer 7-Blade Vegetable Slicer on Amazon for $24.97.