We Tried Smashburger's New Chicken Wings — Here's How It Went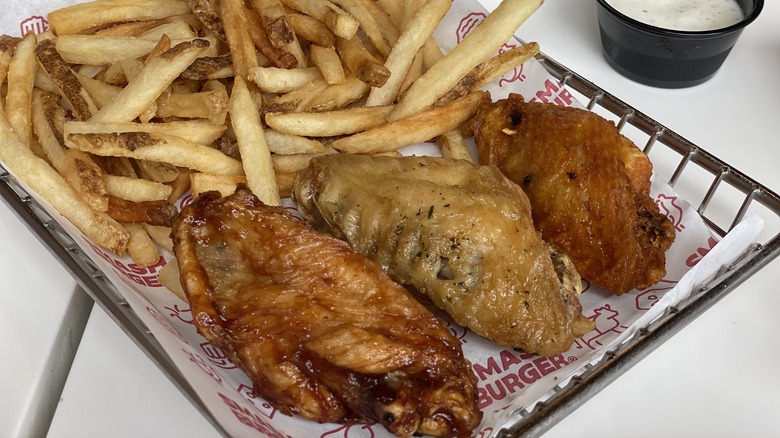 Steven John/Mashed
We may receive a commission on purchases made from links.
There was a time when the chicken wing was treated like trash. Prior to the latter half of the 20th century, chicken wings were not a restaurant menu staple; they were simply discarded in many cases, with breasts, thighs, and drumsticks being the primary parts of the bird seen fit for human consumption. As per The Herald News, when chicken wings were used in cooking at all, it was usually for making stock. Thank goodness we live in a time when people have realized that chicken wings are in fact a source of tender, succulent meat just begging to be paired with a great sauce. (And with a cold soda or beer and a football game, ideally.)
Today, you can find entire restaurant chains built around wings, that delightful albeit messy foodstuff, and you can also find chicken wings as a menu item at other types of restaurants, like seafood spots, pizza chains, burger joints, and more. Smashburger has now joined those ranks, having just added this classic American finger food to its menu, and we headed to our nearest Smashburger to see how its new chicken wings matched up against the many already out there in 'Merica. We'll tell you this right off the bat: these wings do indeed cause messy fingers — grab extra napkins for the BBQ wings in particular. And the hot wings? Yeah, they're spicy, so don't touch your eyes. For all rest of the juicy details on the wings Smashburger now offers, just read on.
What's in Smashburger's new chicken wings?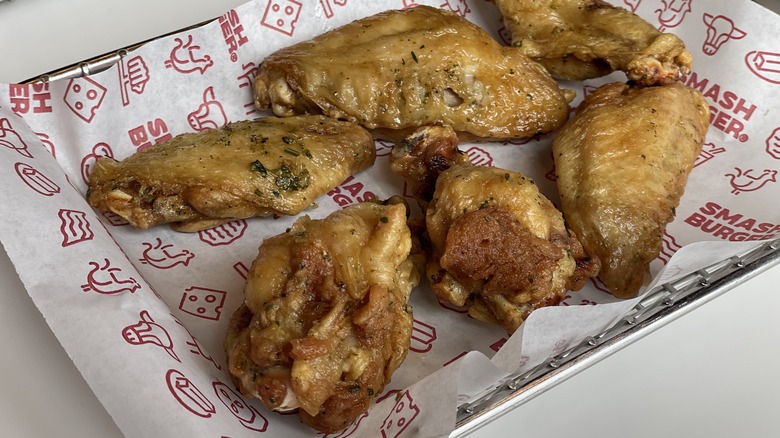 Steven John/Mashed
When it came time to dig into the Smashburger wings, we discovered a good amount of chicken meat and bones, of course, and some skin — and lots of sauce, in the case of the BBQ Wings. The Scorchin' Hot Wings from Smashburger are spiced up with a Nashville hot-style hot sauce, so you can expect chilis, salt, vinegar, sugar, and more. And the Garlic Rosemary Wings feature a lot of garlic and rosemary herbs, but these wings are also made with an abundance of butter, which will come into play more when we discuss nutrition (or perhaps lack thereof) and taste information later.
What you won't find in any of the wings, according to Smashburger's own website, are any hormones or steroids, as all of the chicken the company uses is U.S.-raised and free from potentially harmful ingredients. So, that's some good news to keep in mind as you sink your teeth into wing after wing. If you pair any of these wings with Smashburger's famous proprietary "Smash Sauce" (which you should, especially with the Scorchin' wings), it may interest you to know that Smash Sauce is made from mayo, French mustard, pickle relish, and a bit of lemon juice, per We Want the Sauce.
How much do the new chicken wings from Smashburger cost?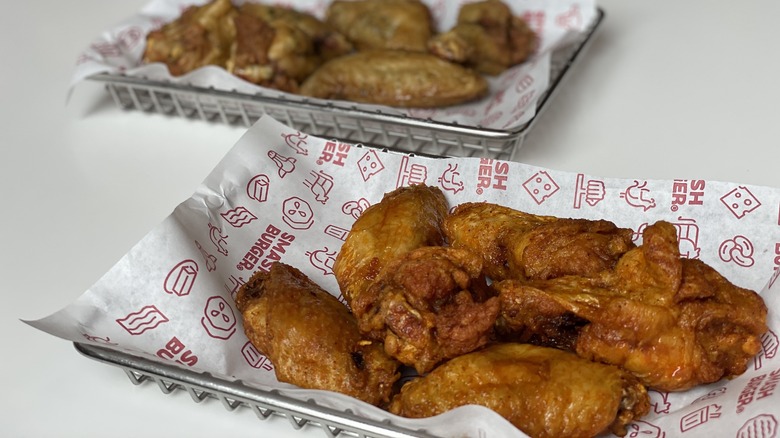 Steven John/Mashed
The Smashburger chicken wings are a little bit on the pricey side, we have to admit. Each of the four types you can get — Scorchin', BBQ, Garlic Rosemary, and Plain — is priced at $10.49, at time of publication. And an order of these wings only comes with six actual chicken wings, which is $1.75 per wing (with slight rounding up). 
In fact, few chains beat Smashburger's pricing. For some perspective, in the even pricier camp, Buffalo Wild Wings costs $12.99 for an order of six at $2.16 per wing, at the time of this writing. And you'll find the same price for a half dozen wings at Hooters for its original-style wings. Wings at KFC are pricier too, when you can find them.
However, Wingstop features a 10-piece order of chicken wings for $14.99, which comes out to $1.50 per wing. (Well played, Wingstop.) If you really want a cheap deal, you'll pretty much have to make the chicken wings yourself. For example, a pack of around 16 wings from the brand Just Bare sells via AmazonFresh for $12.79, at present, amounting to a mere 80 cents each.
How long will Smashburger's chicken wings be available?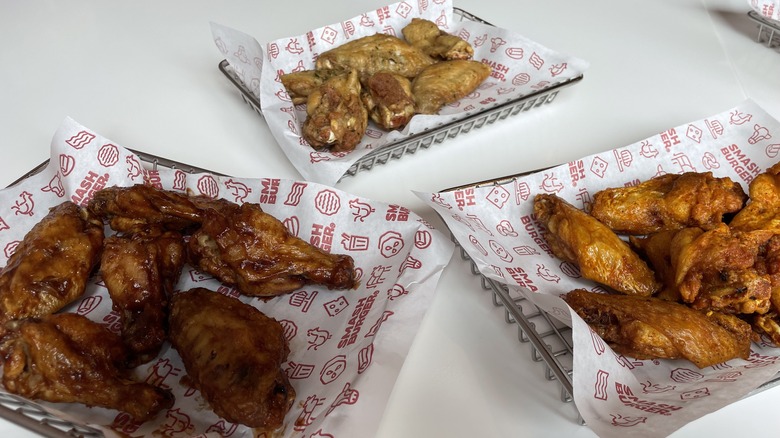 Steven John/Mashed
Smashburger unveiled its new chicken wings on October 4, 2022. The franchise has directly tied the chicken wings to the National Football League's season, as per a press release shared via PR Newswire. Now, technically the 2022 NFL season kicked off nearly a month before on September 8, but we'll let that detail pass.
In that same press release, the company noted that these wings are available only for a limited time, and only at participating Smashburger locations. We don't actually have a specific "sunset" date when the chicken wings will flap away off the Smashburger menu, but we're willing to make a bet that they will remain until at least the last game of the NFL postseason, namely Super Bowl LVII, scheduled for February 12, 2023.
Now, if the new chicken wings are a huge hit for the burger chain, might they become a permanent menu option? Always possible, but here's our (slightly educated) guess: We're going to say these wings will leave the Smashburger menu after football season, but they'll return next year when the teams start duking it out on the gridiron again. If we're right, you heard it here first. If we're wrong, well, then please forget all about us saying that. 
How do the chicken wings compare to other Smashburger menu items?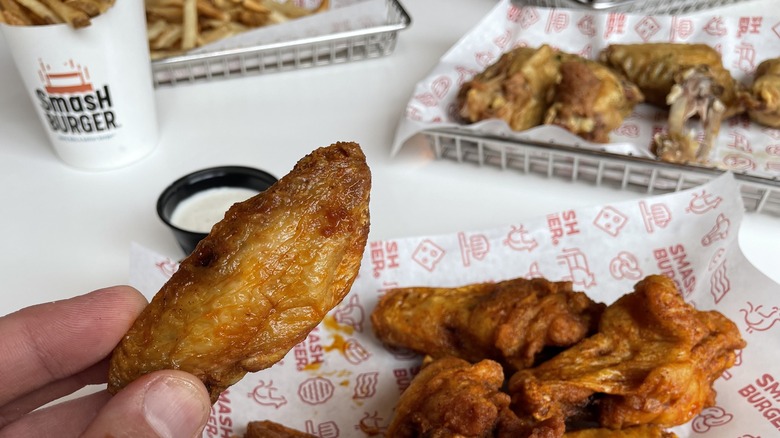 Steven John/Mashed
Considering Smashburger is a burger chain first and foremost, you might think these chicken wings represent a pretty large departure from the restaurant's primary menu items. But ... they don't, really. The new wings are not the first chicken products the brand has offered, just the first bone-in chicken foodstuffs. Smashburger already had chicken tenders on the menu, and these large tenders are still available in both a classic, breaded option at three for $7.29 or five for $8.99, when the new wings were released. In fact, the chain also offered Scorchin' Hot Tenders at the same price, so Smashburger has experimented with chicken finger foods before. 
Also, Smashburger has multiple chicken sandwiches on the menu, including a Classic Grilled Chicken Sandwich, BBQ Bacon Cheddar Grilled Chicken Sandwich, Truffle Mushroom Swiss Crispy Chicken Sandwich, and on it goes. The franchise offers myriad turkey burger options, as well. Long story short, Smashbuger is not new to poultry foodstuffs, though the bone-in wings themselves are indeed a novelty here. 
What's the nutrition info for Smashburger's chicken wings?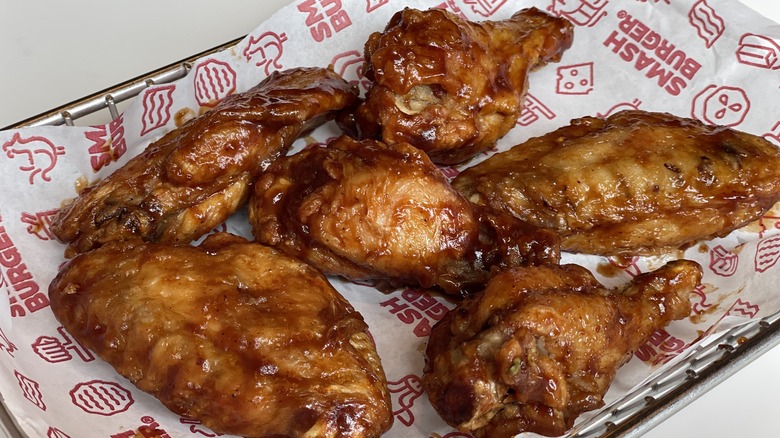 Steven John/Mashed
The first thing to remember when we're discussing the nutrition info of the new Smashburger chicken wings is that an order consists of six wings, which is not a huge serving. Also, unless you are a master wing eater, you probably won't get every little bit of meat off the bones, so these numbers are approximate at best. That said, we still appreciate how the chain makes it easy to find all the Smashburger nutritional information even on limited-time menu items, which is not always the case with restaurants. 
An order of the BBQ wings clocks in at 580 calories, 45 grams of fat, 9 grams of saturated fat, and 460 milligrams of sodium. Also, there are 15 grams of added sugar. The Scorchin' Hot wings have 710 calories per serving, 51 grams of fat, 17 grams of saturated fat, and 560 milligrams of sodium. And the Smashburger Garlic Rosemary wings pack in 740 calories, 54 grams of fat, 10 grams of saturated fat, and 59 milligrams of sodium; but they are free of added sugar, at least.  
If you almost inexplicably opt for the plain wings, you'll face 510 calories, 28 grams of fat, 9 grams of saturated fat, and a mere 170 milligrams of sodium. Also, note that adding ranch dip means 160 more calories. The blue cheese adds 190 calories. 
Did we like the new Smashburger chicken wings?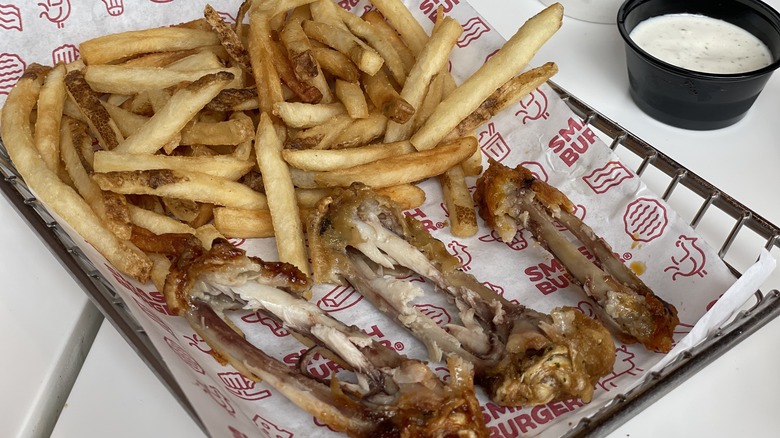 Steven John/Mashed
Yes, we did enjoy eating the new chicken wings Smashburger has to offer. And if you like wings, you will too, especially given the price. They were plenty plump and meaty; Smashburger didn't manage costs there — we're guessing the brand went with a lower price than many competitors to entice people to try these wings. 
Of the sauce-coated options, our top choice was the Scorchin' Hot wings, which has some kick but isn't overbearing, and pairs perfectly with a cooling ranch or Smash Sauce. Our least favorite (but still enjoyed) wing was the Garlic Rosemary because, frankly, the taste was just too mild though pleasant. Our wings needed sauce to make things interesting, but with a honey mustard? Chef's kiss. The BBQ wings tasted exactly like you'd expect, and we can't ask for more than that.
We stopped by a store in Port Washington, New York, to ask Smashburger employees for their recommendations, as well. Manager Steven Pagano said, "My personal favorite is the BBQ wings with a classic Blue Cheese dip; it's just the right mixture." Assistant manager Chris Rivera, shared, "My favorite overall is the Garlic Rosemary wing paired with a honey mustard sauce." So you see? Three opinions and all were different, but we all agreed that the new chicken wings are a great addition to the Smashburger menu. So try them while they're still in season (football season!) just in case we're wrong and they don't stick around.