The Popeyes Biscuits That Are Totally Disturbing Reddit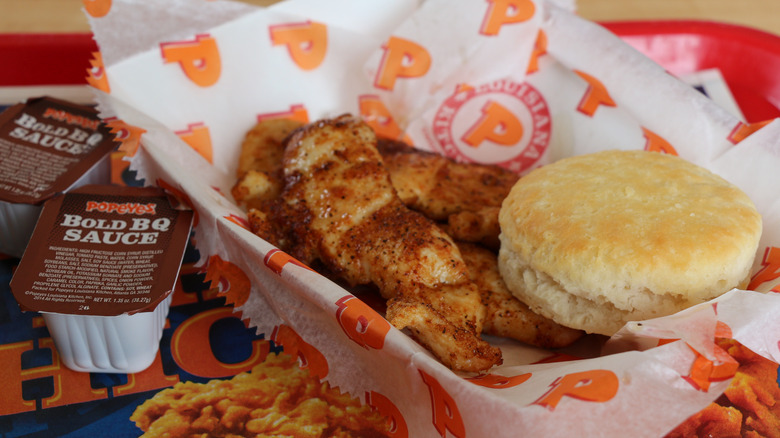 Deutschlandreform/Shutterstock
As of 2021, Popeyes boasted an annual net revenue of 579 million dollars (per Statstic). Their widespread success is a result of their crispy, Louisiana-fried chicken and fast, cajun-style fare. Whether your go-to Popeyes meal is the chicken tender combo with red beans and rice, the famous chicken sandwich, or the recently revived surf and turf meal, there's one Popeyes item that almost everyone eats — their biscuit.
Popeyes' delicious buttermilk biscuit is a certified fan favorite that comes with many of their combo meals. In fact, there are dozens of mock recipes online designed to mimic the buttery, flaky essence of a Popeyes biscuit. The biscuits have even been the subject of a TikTok trend after one user on the platform made a humorous video about the dizzying dangers of eating a Popeyes biscuit without a beverage.
However, Popeyes fans on Reddit are calling out the franchise for serving a not-so-fresh biscuit that doesn't live up its high expectations.
One customer's biscuits were served moldy-green
The subreddit r/Popeyes is dedicated to discussing the chain's best new menu items, customer service, price increases, and more. One dissatisfied Popeyes customer took to the forum to share a disturbing photo of his biscuit.
Crusted with a seemingly moldy char, the biscuit looked dry, aged, and covered in bacteria. The Reddit user captioned the photo with a scorching review: "They serving moldy biscuits now at popeye's."
One comment on the thread claimed that the biscuit's discolored complexion was not actually mold but "from them not properly cleaning their trays they bake the biscuits on." But it was no justification, as the user went on to add that it "still probably shouldn't be eaten."
One current Popeyes employee emphasized the suspicion that it's from a dirty prep tray, adding a comment that reads, "Could be mold but could also be from not washing the pans all the way."
Although Popeyes generally serves fresh ingredients, it's best to double check the quality of your meal when eating at any fast food restaurant.