Trader Joe's Returning Thanksgiving Seasoning Has Fans Excited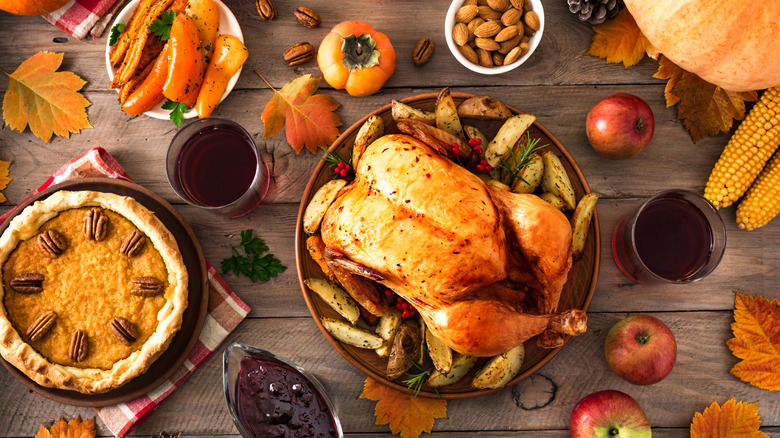 Oksana Mizina/Shutterstock
Trader Joe's is known to send its fans into a frenzy every time a new food item makes the rounds or a favorite is set to make a return. While this is without doubt the case for its snacks, confectioneries, ready-to-eat meals, and seasonal items, the supermarket's spice aisle has a certain reputation of its own.
Trader Joe's' Multipurpose Umami Seasoning Blend has a cult following of sorts; the 21-Seasoning Salute and its lack of salt has been a winner; and the Cheesy Seasoning Blend is a hit amongst those you think that everything tastes better with a little bit of cheese on it (per Thrillist). The store also has seasoning blends that make cooking different cuisines a whole lot easier. Whether it's the Cuban-style Citrusy Garlic Seasoning Blend, the Italian-Style Soffritto mix, or the Japanese Multi-Purpose Seasoning, Trader Joe's seasonings are basically cheat codes in a bottle.
But nothing will ever come close to the Everything But The Bagel seasoning blend. The seasoning has been such a success that most shoppers can't remember a time when Everything But The Bagel didn't exist. It also helps that ever since Trader Joe's got wind of just how big their sesame seed-packed seasoning was becoming, they launched a string of Everything But The Bagel items — crackers, chips, nuts, smoked salmon, you name it. Now, Trader Joe's is set to bring back its Everything But The Bagel seasoning in a festive avatar, and fans are all over it.
Everything can taste like Thanksgiving leftovers if you want it to
Besides the Everything But The Bagel and the Everything But the Elote seasonings that Trader Joe's has in its year-round Everything But collection, there's one other Everything But spice blend that only makes an appearance over Thanksgiving: Everything But the Leftovers. And luckily for fans, it's already back.
According to @traderjoeslist, Everything But the Leftovers seasoning blends are back and going for $2.99 a bottle. The VP of Marketing at Trader Joe's, Matt Sloan, described the seasoning as a "magic powder to make everything taste like Thanksgiving leftovers" and thought that the blend tasted like stuffing (via People). Fans who have tried the seasoning from previous years vouch for its ability to indeed make everything taste like Thanksgiving leftovers. "I bought 8 last year. Time to restock," confessed one fan whereas others suggest adding it to mashed potatoes, soups, pot pies, and all sorts of Thanksgiving-themed meals.
The only problem that some shoppers have with the Everything But The Leftovers seasoning, however, is the citric acid and "natural flavors" that are listed on the ingredients list. Some commenters claim that the seasoning blend has MSG in disguise and way more salt than it needs. As one shopper explains, the seasoning blend contains yeast extract, "which, together with salt, forms MSG — hence the umami taste. It's a flavor enhancer." For fans of umami who don't mind a salty seasoning, though, the returning spice is a winner.