Trader Joe's Latest 'Everything' Seasoning Has A Surprise Twist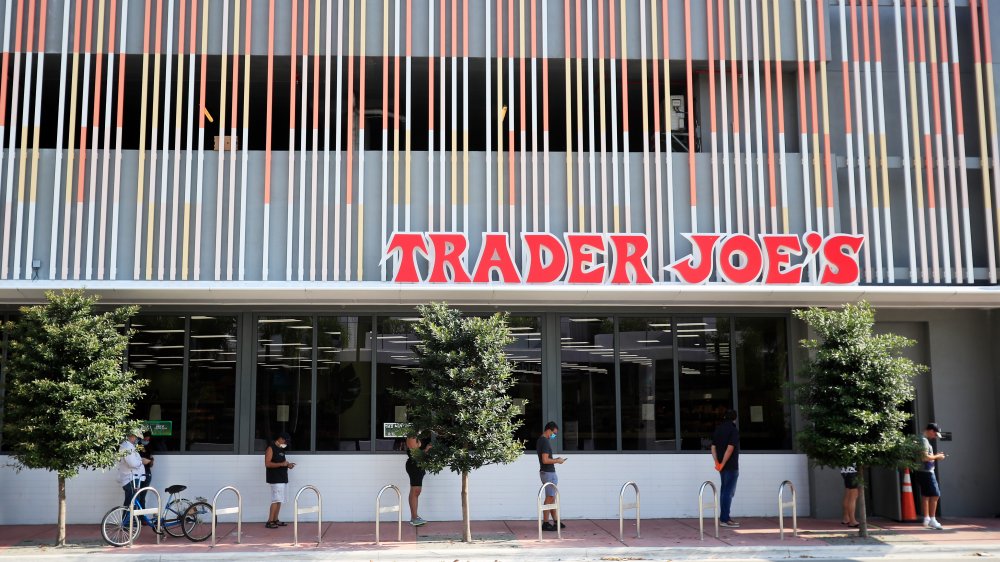 Cliff Hawkins/Getty Images
If you love Trader Joe's, you probably know about their Everything But the Bagel product, a mix of seasonings that customers recently chose as their very favorite Trader Joe's item. Success breeds imitators, of course, so Trader Joe's copied itself and released a Everything But the Elote seasoning earlier this year. Just as Everything But the Bagel contains all the stuff found on top of an everything bagel — sesame seeds, sea salt, garlic, onion, and poppy seeds (via The Kitchn) — the elote version has everything needed to evoke the Mexican street vendor's corn on the cob: chile pepper, Parmesan cheese, chipotle powder, cumin, cilantro, sea salt, sugar, and corn flour (via Trader Joe's).
But wait — there's more! Just in time for Thanksgiving and other food-heavy holidays that occur this time of year, Trader Joe's has come out with Everything But the Leftovers (via People). This latest seasoning blend in the "everything" series can be described in one word: stuffing. "To me it tastes like the archetypal flavor of stuffing," said TJ's vice president of marketing Matt Sloan on a recent episode of the Inside TJ's podcast. "...the classic stuffing flavor," he continued, "like if you wanted to make stuffing-flavored popcorn, or if you wanted to make stuffing-flavored mashed potatoes, or if you wanted your stuffing to taste that much more like stuffing."
Everything But the Leftovers has all the classic stuffing seasonings
So what's in Trader Joe's Everything But the Leftovers seasoning? The ever-alert Trader Joe's shopper and Instagrammer @traderjoeslist posted the front and back of the new blend's label, so their 1.3 million followers could see for themselves. Everything But the Leftovers consists mostly of onion, salt, yeast, black pepper, turmeric, celery seed, sage, rosemary, thyme, and parsley.
Sloan teased another new Trader Joe's product with a Thanksgiving twist on the Inside TJ's episode. If you thought Thanksgiving leftovers flavor in a bottle was creative, then keep an eye out for Trader Joe's new turkey pumpkin mole burrito. It's one of those popular microwave-in-two-minutes-and-it's-done burritos TJ's sells. The mole sauce is made with green pumpkin seeds, and the burrito also has turkey (obviously), cilantro rice, black beans, cheese, and roast sweet potatoes. Sloan even hinted that the turkey burrito might be available well after the holidays are done. Hopefully the same is true for their Everything But the Leftovers seasoning, because you never know what time of year the urge for savory fall stuffing flavors will hit.