Dunkin's Most Nutritious Donut Is A Sugary Staple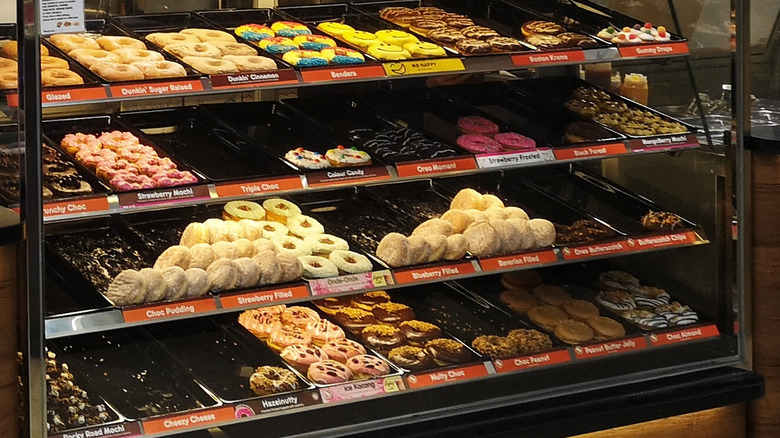 Zety Akhzar/Shutterstock
Having first branded itself as "Dunkin' Donuts," the popular coffee chain literally took America by storm with its selection of baked goods and specialty coffee drinks. Since dropping the "donuts" part from its name in 2018 though, don't be fooled into thinking its donut selection has shrunk. Dunkin' still boasts over 70 different kinds of donuts to customers, offering a wide selection of flavors and cravings to just about anything you can think of to pair well with your cup of coffee.
With such a large selection, it can be hard to pick just one donut to top off your caffeinated fix. During the fall season, you can choose from a number of pumpkin-inspired flavors or opt for chocolate, glazed, jelly-filled, or sprinkled donuts. We wouldn't blame you if you wanted one of each. While you might feel somewhat guilty in indulging in one (or two, let's be honest here), you don't have to be. Did you know there's actually a relatively healthy donut option on the Dunkin' menu?
Dunkin's Sugared donut is the 'healthiest'
Don't let the name "sugared" scare you off. Because it's actually the healthiest donut you can get at Dunkin'. Yeah, we were surprised by this one too. But actually, it makes sense. According to the Dunkin' website, the classic sugared donut is only 210 calories, which is a stark difference compared to the chain's other donut options. It also contains 11 grams of total fat, 270 milligrams of sodium, 24 grams of carbohydrates, and only 4 grams of added sugars, marking only 8% of your daily value intake. The sugared donut also includes 2 milligrams of Iron, accounting for 10% of your daily intake.
In simple comparison, the Dunkin' Vanilla Frosted Sprinkles Donut amounts to 270 calories, 37 grams of carbohydrates, and a whopping 15 grams of added sugars, making it 30% of your daily intake of sugar. The same is true for the classic Sour Cream Donut which chimes in at 360 calories, 17 grams of total fat, 49 grams of carbohydrates, and an astounding 25 grams of added sugars, amounting to 50% of your daily intake. Even Very Well Fit has deemed the coffee chain's Sugared Donut the "most nutritious" option you can get among all other sweet treats. The Apple n' Spice, French Cruller, and Bavarian Kreme come in close rankings after.