Deion Sanders And Tracey Edmonds Go Head-To-Head In A New Guacamole Challenge - Exclusive Interview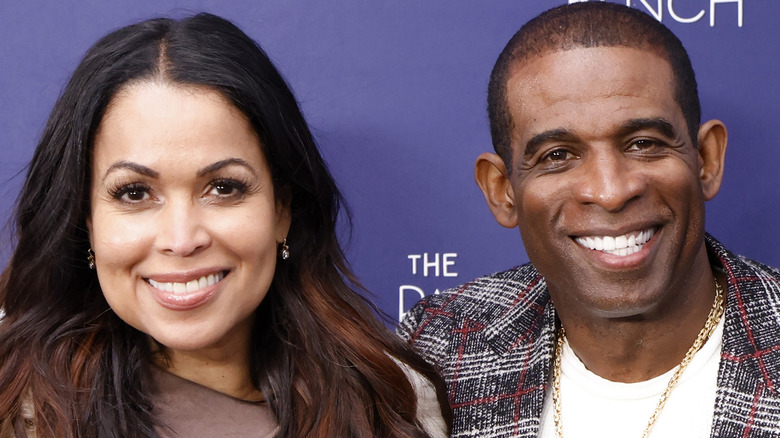 Fred Hayes/Getty Images
Deion Sanders is no stranger to competition. Over his impressive career in the sports world, Sanders has been to the World Series and has won two Super Bowls. Now, we think it is safe to say Sanders has finally met his toughest competition yet: a head-to-head cooking battle with fiancée and TV personality Tracey Edmonds.
The two have partnered with Avocados From Mexico to face off in a guacamole showdown of epic proportions. Each of them is creating a next-level guacamole worthy of the big game. Edmonds — who among her other accomplishments, runs a health and wellness website — has opted for a healthier guacamole, leaning into the natural benefits of the fruit. Sanders, on the other hand, is never afraid to dive in and has taken a unique approach sure to be a crowd-pleaser. It's up to the consumer to decide, though, which will reign supreme.
We had the opportunity to speak with Sanders and Edmonds to find out more about their guacamole, their competition, and how they plan on watching the Super Bowl. 
Working with Avocados From Mexico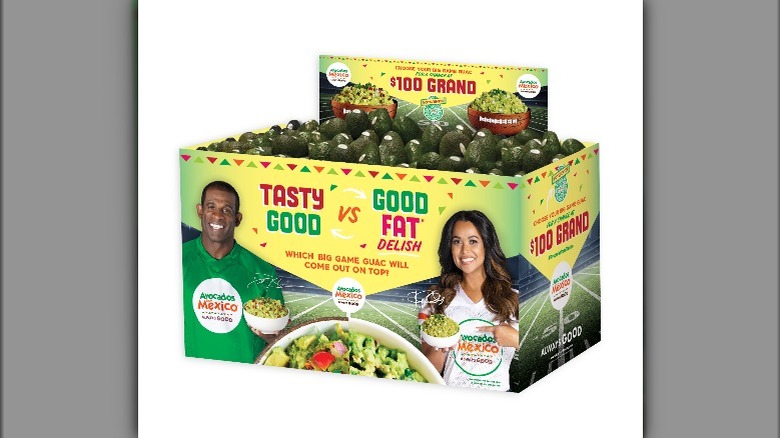 Avocados From Mexico
You've teamed up with Avocados From Mexico for this new promotion. Could you tell me more about it?
Tracey Edmonds: We are super excited to be partnered with Avocados From Mexico. Deion and I coincidentally love avocados. I've loved avocados ever since I was a little girl, and I put them on everything — my eggs, my sandwiches, my tacos — and I love making guacamole. This was really an organic partnership.
When they reached out to us, we were super excited because we like to keep it real with our lives. We like to be authentic, and the fact that both of us love avocados so much and have the opportunity to talk about avocados and guacamole and things that are organically in our lives was a blessing. The people of Avocados From Mexico [are] amazing to work with.
Deion Sanders: Avocados From Mexico is always good. Let's note that first and foremost. Tracey and I are ... That is not only my lady, my baby, who I love for life, but we're competitive with many things. We found a way to have a contest that involves the general public with our different recipes. Mine is decadent as well as delicious, added with a little bacon to it. Tracey's is somewhat different, but I want Tracey to ... Can you expand on our fan base? Not the fans, but that the consumer would get an opportunity to win $100,000. That is awesome.
Edmonds: We have two recipes that both of us are super passionate about. Deion's got some bacon flavor, and mine is light and fresh and delicious. It's two different styles of guacamole. Mine is super, super healthy and tastes great. We're going to let the fans decide which recipe they like the best.
Starting in January, when people go into the grocery stores and they're looking for avocados, they're going to see our faces and big platform, and there's going to be a QR code. You can scan the code. You can get our recipes — you can try our recipes and decide for yourselves whose recipe you like the best. Everybody that is part of the contest also has a chance to win $100,000. It's going to be super fun, and we are very excited about it.
How will fans get the opportunity to vote?
Edmonds: If you scan the QR code, it's going to lead you to all the instructions of how the contest works. It'll walk you through everything, and it's going to be a lot of fun. It's tied in with the big game, which is coming up in February, and the big game is when people get their guacamole on. They'll have a chance. Once they decide which recipe they like the best, they can show off my recipe at the big game.
Making next-level guac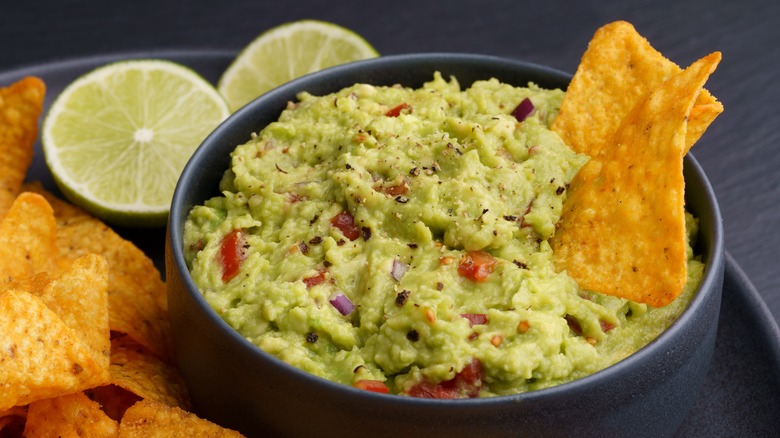 Creative Cat Studio/Shutterstock
What makes a guacamole recipe next-level?
Sanders: Those little secret things that you may add. The bacon is what does it for me, and I like a little spice. I like a little spice to mine, but a lot of people don't tell that little special something that's inside those recipes. They keep those things a secret.
Edmonds: Mine has some lime, which gives it some zest, and also some jalapeño. That gives it a little spice, so that lime and jalapeño combination really works.
How did you approach creating your recipes?
Edmonds: From my end, I am a health nut, and I have a health and wellness website. It's called Alright Now. It's all about living your best life and healthy living and stuff. I watch what I put into my body and make sure that I'm feeding my body with things that are good for me.
Avocado is a healthy, good fat. It's one of the superfoods. I'm already starting my recipe with an amazing foundation, and then everything in my recipe has to be healthy. My recipe has the lime juice and the jalapeños and all healthy things. When I mixed it all together and came up with the right combination, I felt really good about it because it's still light and fresh tasting. People are going to feel good eating it and they're going to like what I put together.
Sanders: Well, we're getting up there in age. We like to stay healthy and eat healthy and train healthy and live a healthy lifestyle. Tracey actually introduced me to avocado guac, and I was thankful because I'm an older guy that's stuck in my ways and I'm happy with that introduction. I hadn't looked back there. I take on where she is and where she stands on healthy eating, because I pretty much eat clean. Maybe on holidays, we cheat. Once a week, sometimes, I would cheat, but other than that, I eat clean and healthy.
The heat is on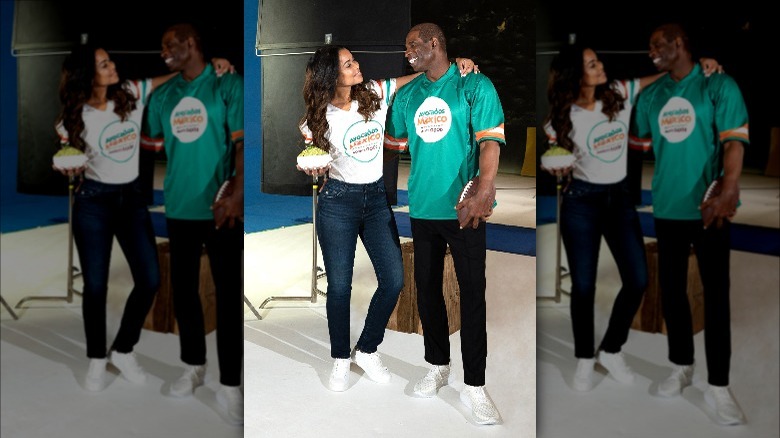 Avocados From Mexico
You both mentioned that you're competitive. What's it like going head to head with your fiancé?
Sanders: I like to win. I'm not going to let her win just because she's a woman. That's not going to happen. Bragging rights at the crib, movie rights, whoever gets to choose the movie that we're going to watch that night — the winner gets the spoils. We are very competitive at a numerous amount of things.
Edmonds: He doesn't know this, but I'll propose this. Whoever wins gets to pick the next vacation, the next trip. I like adding that in too. That'll be on the side that we'll have that little thing. How do you feel about that, babe?
Sanders: And pay for it.
Edmonds: I don't like that part.
Do either of you have a go-to pre-game or post-game food?
Sanders: Post-game, we have this cook named Bettina that's unbelievable here in Jackson, Mississippi, so we can enjoy the game. Tracey can enjoy the game. She don't have to worry about cooking and preparing meals for once we get back home with several people. It's a little bit of everything that we like, so [Bettina] puts it down and we're happy with what she brings, what she cooks, what she prepares for us.
Tailgating experiences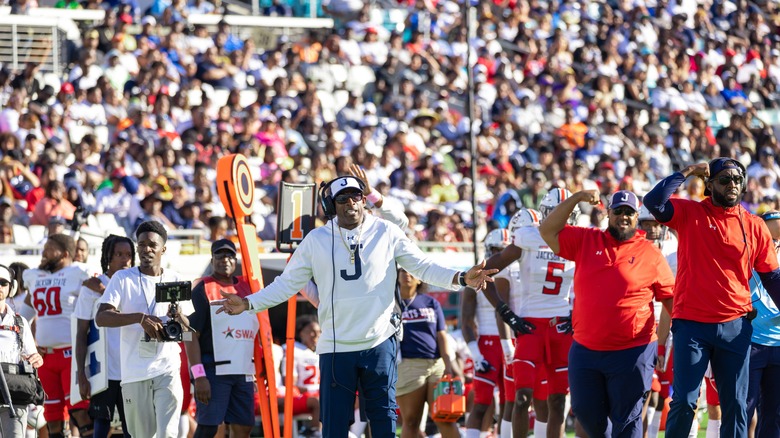 April Visuals/Shutterstock
Deion, you have Super Bowl wins, you've been to the World Series, and you've never tailgated.
Sanders: No. That's a dream; that's a desire. I haven't even chosen the close friends that I would love to tailgate with, but I know Tracey's definitely the number one choice. I want to get a big mobile home or mobile kitchen, and they do all the cooking, and we watch the pre-game shows with a television out there and sit back in some lawn chairs with some good company and have a good old tailgate time. I've never done it before. That's a bucket list.
Tracey, have you been tailgating?
Edmonds: In college — it's been years, but I went to Stanford, actually, so we were really big on tailgating. I had four years of all that fun. It's good times. We had great music in our tailgates and great food. There was always the guacamole and chips and maybe some buffalo wings up in there. It was a lot of fun, and it's been so nice for me to see different styles of tailgating.
We've been working a lot with HBCUs who also have their own flavor and style of tailgating and stuff. It's a beautiful thing to see this whole national American tradition of tailgating, because it's a lot of fun. I'm looking forward to tailgating with Deion one year, hopefully soon.
The big game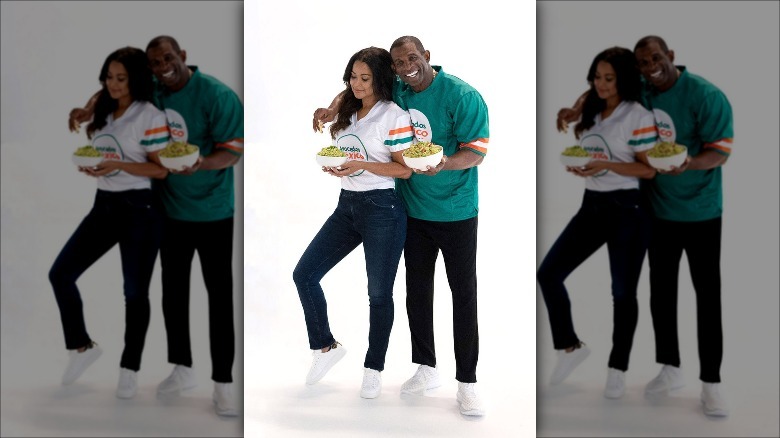 Avocados From Mexico
Do you two have any plans for the big game?
Sanders: No, but we would love to watch it at home. I don't want to have responsibilities. Usually, I have television responsibilities or some type of appearance or responsibilities, and I don't get to enjoy it. I could remember year after year after year, I worked with the NFL Network for, I think, 14 years. I would leave Tracey at the hotel and say, "Baby, I'll be back. It'll probably be late, late, late after the game, but I'll be back." She would either come to the Super Bowl or watch it on television in the hotel, but I would love that we spent that time together and had a good old time watching the game.
Edmonds: I have to add every now and then, if the hotel was close enough to where the game was, remember, you would go back to the hotel for halftime. We'd watch all the halftime performances together and stuff. [I'm] looking forward to one day when we can just chill together and watch the whole show.
What every guacamole needs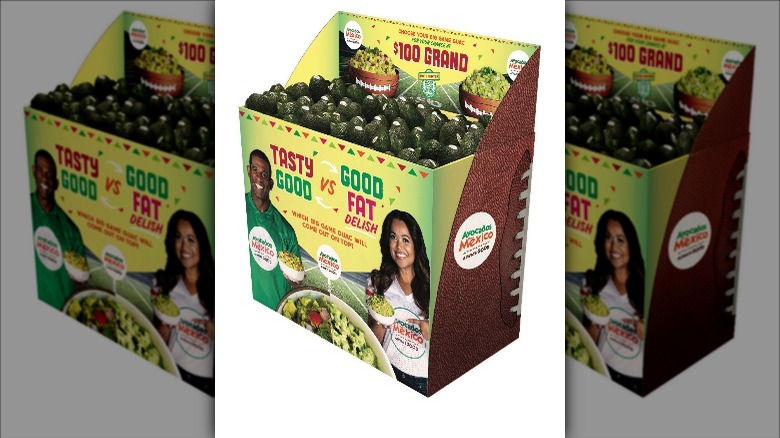 Avocados From Mexico
Is there one ingredient that all good, next-level guacamole needs to have?
Edmonds: I'm going to be basic, because it starts with great-tasting avocados, and the best are Avocados From Mexico. They are always, always good. You can always count on the right consistency, which is important, and flavor. It starts with the right avocado.
Sanders: I agree.
You mentioned that the voting process for your guacamole is going to start in January. What is the timeframe in which people can vote?
Edmonds: The way it's going to work is in January, when you go into your grocery stores and you're looking for the avocado section, you're going to see my face and Deion's face and a big standup, and there's going to be a QR code. You take your phone and you scan the QR code, and it enters you into the contest and gives all the rules and the deadlines and how you can win $100,000. It explains it all. I'm super excited, and I can't wait to see who wins the $100,000, but if you scan the QR code, it'll give you all of the directions.
To try Edmonds' and Sanders' guacamole recipes and vote on your favorite flavor, visit your local grocery store during the promotional period and scan the QR code on the promotional stands.
This interview was edited for clarity.