NFL Legend Deion Sanders Stars In This Hilarious Oikos Super Bowl Ad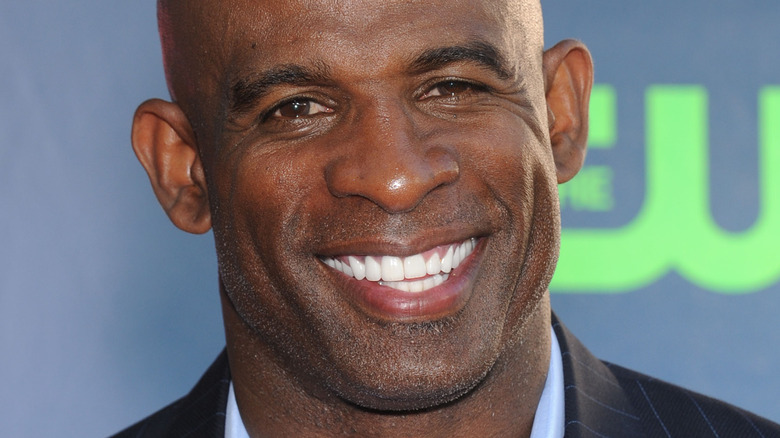 DFree/Shutterstock
Aside from pigging out on a range of delicious Super Bowl snacks, the best part of watching the big game at home is, for many viewers, the commercials — and given that Super Bowl commercials are prime advertising opportunities, it only makes sense that many brands tap top tier talent for starring roles. After all, if you're paying millions for a commercial to air during the big game, you want a star that will catch the public's eye, not some unknown actor or actress.
Oikos decided to feature not one, but two incredible athletes whose names will likely be familiar to any football fan: NFL legend Deion Sanders and his son, Shedeur Sanders, a quarterback for the Jackson State Tigers, as per ESPN. "Prime Time" himself starring in a prime time Super Bowl commercial, with his son by his side? It's a match made in advertising heaven.
The focus of the commercial is all about the added strength that the high protein content of Oikos' Triple Zero and Oikos Pro products claim to bring to consumers, and has the two men squaring up against one another in a variety of household competitions, from raking leaves to splitting wood to lifting cars. The Oikos team even opted to thrill fans with a twist ending, showing that the ultimate strength in the Sanders household rests in the hands of the family matriarch, Mamma Connie.
A fun giveaway for fans
For football (and yogurt) fans who love the commercial and get swept up in the competitive atmosphere that Deion Sanders and son Shedeur Sanders established, there's some good news — the commercial also comes along with a fun giveaway featuring the chance to win a limited-edition Strong Bowl, so you can work on your own strength training at home.
Obviously, Oikos aren't just giving away a regular bowl to go along with the strength-focused theme of the hilarious commercial. The Strong Bowl may be a little more challenging to carry around from room-to-room during your morning since the item itself weighs 15 pounds. There's an opening in the middle of the bowl that's just big enough to nestle a yogurt container in, and the added weight could be just the ticket you need to tone up those biceps.
Anyone eager to get their hands on the limited-edition Strong Bowl — as well as a potential year's supply of Oikos Triple Zero and Oikos Pro — just needs to visit the brand's Instagram page, like the post related to the giveaway, and then comment how much the limited-edition vessel weighs, including the #oikosstrong hashtag for good measure. It just might be the perfect addition to your pre-workout snack.