The Parchment Paper Hack You Need To Use With Leftover Cake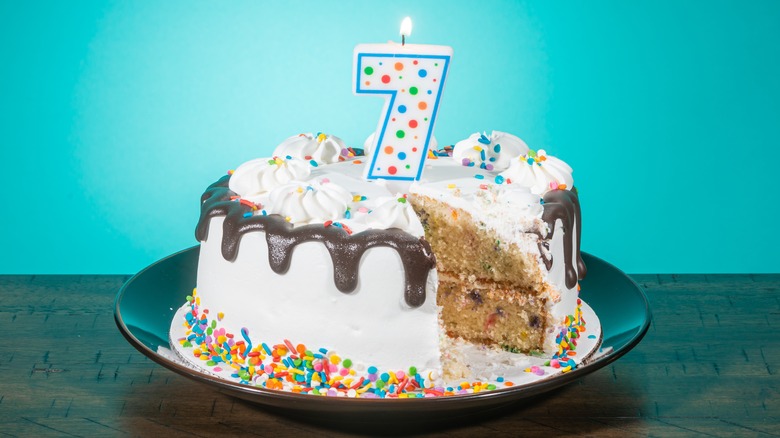 Nic Neufeld/Shutterstock
A delicious tradition passed down since the ancient Egyptians, the ritual of sharing a cake appears globally in many celebrations. Birthdays, weddings, retirement parties, and religious ceremonies are just some of the events where we enjoy a slice of yellow cake with chocolate frosting. Julia Child understood and once declared, "a party without cake is just a meeting."
We add candles to a cake thanks to the ancient Greeks who lit moon-shaped cakes in honor of Artemis, the moon goddess (per Reader's Digest). Although the cake we enjoyed as children may still be our favorite confection today, options have gotten more sophisticated. Fueled by social media, Bake Magazine says today's cake trends are bold and bright, incorporating different textures and metallics. A dive into Pinterest will show out-of-this-world galaxy cakes, '70s carpet-inspired shag cakes, and realistic food-looking cakes.
Although 2021 delivered an individually portioned and mini cake trend that popped up at weddings (thank you, COVID cooties), bakeries, supermarkets, and the birthday cake you made at home are likely 8-inch or 9-inch layer cakes, meant to serve 12 people. To keep the leftover cake as fresh as the day you blew out the candles, there's a simple parchment paper hack that cleverly prevents cake from drying out — a real tragedy.
Prevent cake from drying out
According to MasterClass, as bakers, we should strive for a moist, tender crumb in a cake that should be light, unless it's pound cake. At the beginning of the baking process, avoid over mixing and baking the cake for too long. Once it's baked and cooled, rush to frost it to limit the amount of time the cake comes into contact with the air. At every stage of the baking process, we are trying to create a moist cake, so it's a shame to let it dry out once we finally get to eat it.
Unless you eat cake like Bruce from "Matilda," there will be leftover cake in your kitchen at some point this year. One TikTok user showed how using a rectangular piece of parchment paper to cover the exposed leftover cake, pressing the paper into the corner. The wedge-shaped piece of parchment seals to the cake layers, acting like a barrier to the dry air circulating in the refrigerator. Cover the cake with a dome or oversized bowl and enjoy moist cake for up to five days, or store it in the freezer for longer (via The Kitchn).