The Stunning Cake Trend That Had Instagram Mesmerized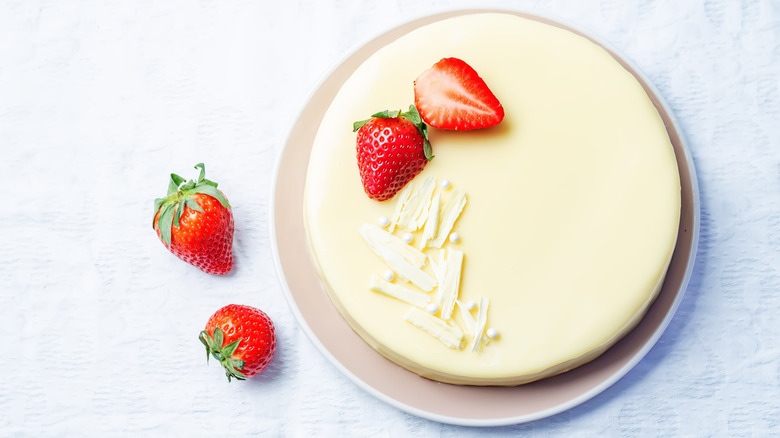 Nataliya Arzamasova/Shutterstock
History has shown that when a cake is as much a feast for the eyes as it is for the taste buds, the internet instantly falls in love. The unicorn cake, which was created by a baker in Canada, first appeared online in 2016 per The New York Post. However, the magical-looking treats are still gracing our Instagram feeds and making appearances as the glamorous (and delicious) centerpieces of celebrations.
In 2021, images of frog cakes filled Pinterest aesthetic cake boards. These sweets often involved little amphibian friends sitting together in nature scenes made of icing, and thanks to being as sweet to look at as they were to eat, the frog-focused desserts were a fast social media favorite. Korean bento cakes, or mini lunch cakes, were another major internet success. These small baked sweets had countless people searching to recreate the small cakes that often boast delicate pastel designs for themselves. However, a new cake trend with some serious style has made its way onto Instagram and lovers of tasty desserts with beautiful details can't get enough of it.
Dome cakes offer a slice of environment-inspired surrealism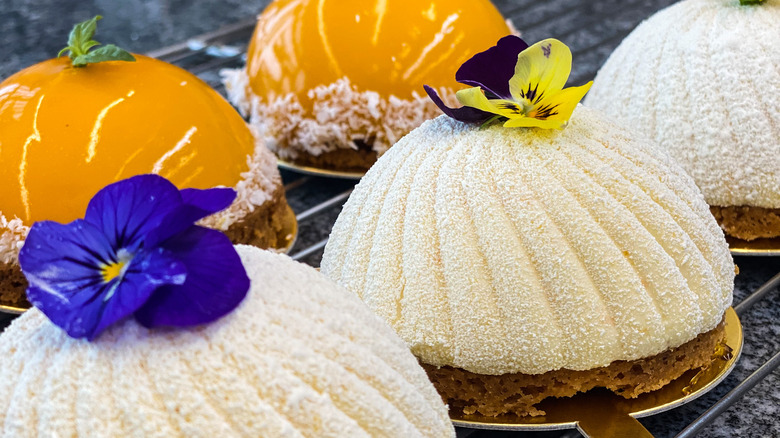 Sweetdoso/Shutterstock
If you've been on Instagram lately you have probably come across pictures of stunning nature-influenced, round-shaped cakes. With their elegant look and muted yet eye-catching color palette, you may have thought that these beautiful cakes look like they are not of this world. According to Eater, the idea of making an unreachable world is what the founder of the trend, Instagrammer Hyun Jung Jun, who posts cakes they bake under the username @dreamcaketestkitchen, had in mind when creating the first dome cake in 2020. For the baker, the dome cake was only one of their ventures in baking cakes inspired by the concept of outlandish scenes. Two years later, chefs across the internet caught wind of Jun's ethereal creation and have been adamantly recreating it.
Instagram users have been showing their adoration for the otherworldly cake trend in the comment sections. Under a post @labakerista made to showcase their red and yellow dome cake decorated with flowers they grew themselves, one user wrote, "Ahhhh so perfect!!! The flowers! All the florals! And these flavors." Another user commented on a post shared by the trend's founder, Jun, of their most recent flower-topped dome cake, stating, "Love, love, love these dome cakes!" Considering this recent baking trend's interesting background and romantic look, dome cakes are sure to be cemented as one of the darlings of the internet's baking world.