Ina Garten Made Taylor Swift See Cooking As 'Self-Care'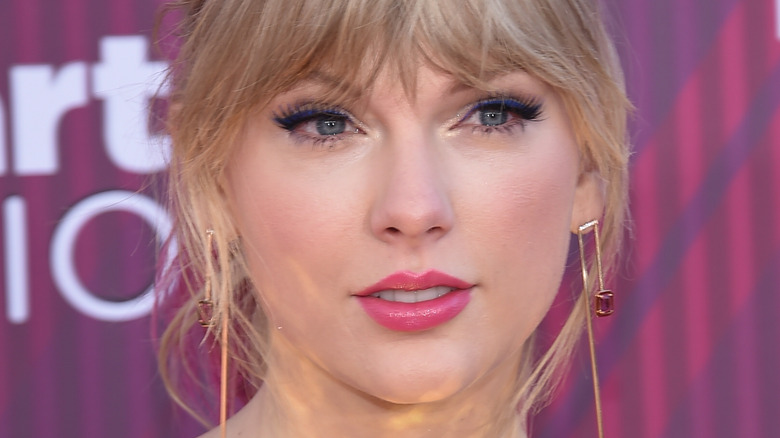 DFree/Shutterstock
Singer-songwriter Taylor Swift has made no secret about her devotion to culinary queen Ina Garten. As Delish notes, the songstress has admitted to having purchased every single one of Garten's cookbooks over the years (and there are a substantial amount of them). Not to mention, when Garten was honored by Time in 2015, Swift penned a tribute to the cookbook author and television personality, highlighting how she first discovered Garten as well as waxing poetic about the culinary icon's many accomplishments over the years.
The relationship between the two stars isn't one-sided, either. There seems to be mutual respect for one another's expertise between the talented duo. In a 2016 interview with W, Garten confessed that not only did she attend one of Swift's concerns with her team, but she also frequently has Swift's music playing while she's cooking, praising her album "1989" in particular.
Just as Swift's music has a place playing on the speakers in Garten's kitchen, it seems that Garten's influence reached Swift in her kitchen — namely, by influencing her attitude towards cooking.
A change in how Swift views cooking
There's no denying Taylor Swift has a busy schedule, with performances, press commitments, and penning songs for new albums. It would make sense that she might opt to outsource all cooking to someone else, whether that be a personal chef or some type of meal delivery system. In fact, as Swift told Food Network, that's exactly the stance she took in her younger years — as a teenage pop star, with precious few days off available, cooking "always felt like a chore."
However, seeing Ina Garten at work, with the love and passion she brought to cooking, changed the game for how Swift viewed spending time in the kitchen. "She made cooking feel like self-care," Swift said to Food Network. As a result, rather than being a chore that she avoided amidst her busy schedule, cooking became something Swift purposefully made time for. It refreshed her and made her feel better after a long, stressful day of stardom and all the responsibilities that come along with it.
Of course, Swift isn't the only one whom Garten has influenced over the years. Food Network's tribute to 20 years of "The Barefoot Contessa," Food Network gathered memories from numerous stars, including Julianna Margulies and Nathan Lane (in addition to Swift), who spoke about the impact Garten had on them.