Blue Diamond Almonds Gets Into The Holiday Spirit With New Snickerdoodle And Peppermint Cocoa Flavors
We may receive a commission on purchases made from links.
Ask any dietitian or nutritionist for the best healthy snacks, and almonds will likely be somewhere on their list of recommendations. According to Healthline, almonds are a great source of healthy monounsaturated fats, protein, fiber, nutrients and antioxidants, and vitamin E. They can also help reduce cholesterol and blood pressure. While you can enjoy almonds plain or roasted with sea salt, you can also find tons of fun flavors at the grocery store these days, including both sweet and savory varieties.
Blue Diamond, one of the best-known almond brands out there, recently released two new nut flavors just in time for the Christmas season. The "naughty and nice" flavors are inspired by all of the deliciously indulgent foods we love during the holidays: Snickerdoodle (after the popular Christmas cookie) and Peppermint Cocoa (after the cozy drink). Here's an in-depth look at the seasonal Blue Diamond flavors, including where you can buy them for yourself right now.
The seasonal flavors are available for a limited time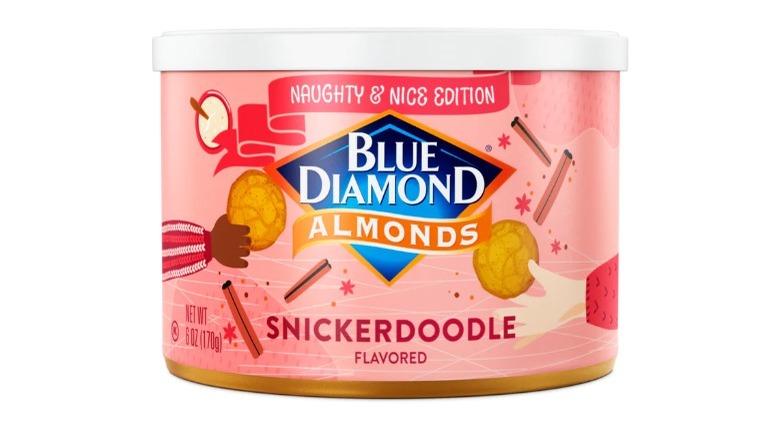 Blue Diamond
If you want to try the new Blue Diamond holiday flavors, you can find them online via two different options. You can buy them straight from the manufacturer via Blue Diamond's online store. There, for the price of $41.40, you can order an entire case of the product, which comes with a total of 12 six-ounce cans. 
If you're not prepared for that level of bulk, you can also buy the flavored almonds on Amazon, where they are selling for $3.48 per can. That number averages out to about 58 cents per ounce. Of course, you'll also be able to purchase the product at grocery stores and retailers across the country. Note that the 6-ounce cans will only be available from October to December 2022. 
According to Blue Diamond, the Snickerdoodle almonds "deliver the indulgent taste of a seasonal cinnamon sugar cookie" while the Peppermint Cocoa almonds have a "delicious chocolatey flavor with a hint of peppermint." So far, only one person has reviewed the Snickerdoodle almonds on Amazon. "[Blue Diamond] outdid themselves with Snickerdoodle," the shopper raved. "Just the right balance of cinnamon sugar."
People who have enjoyed some of Blue Diamond's other flavored almonds — like Honey Roasted Cinnamon, Korean BBQ, or Sriracha — say that the almonds are as good on their own as they are as a topping or mix-in for other dishes. Many Amazon reviewers recommend chopping them up for oatmeal or salads, while others suggest adding them to yogurt or cookie dough.