What You Need To Know About Taco Bell's White Hot Ranch Sauce
Whether you love it or hate it, you have to admit, Taco Bell has some iconic condiment options. The chain's hot sauces, which range from diablo to mild, have even been anthropomorphized as group Halloween costumes in recent years. And come on, who doesn't keep a spread of unused Taco Bell sauce in their kitchen's miscellaneous sauce drawer? In addition to its lineup of classic hot sauce, the Mexican-inspired fast-food chain also offers creamy jalapeño sauce, avocado ranch, chipotle sauce, nacho cheese dip, chipotle sauce, and red enchilada sauce.
Adding to their repertoire of sauces, Taco Bell recently revived its white hot ranch sauce. The condiment was initially released in 2021 as a featured sauce on Taco Bell's white hot ranch fries — an iteration of their nacho fries which also rotate in and out of season (per Thrillist). Brought back in April of this year, Taco Bell once again promoted the white hot ranch fries and took it up a notch by offering the entree as a burrito — sinfully delicious.
The seriously spicy ranch is discontinued once again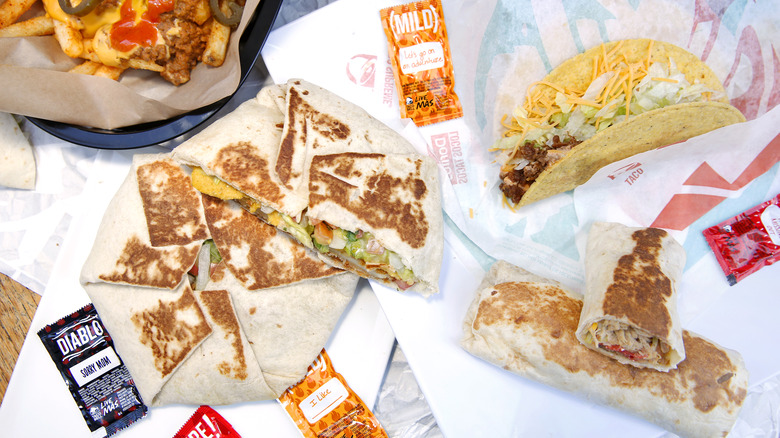 Rachel Murray/Getty Images
Although ranch is typically used as a sauce to combat spicy flavors, this Taco Bell variant clocks in at a whopping 1,041,427 on the Scoville scale (per Thrillist). In simple terms, the chain's white hot ranch fries are pretty dang hot, and perfect for customers who like a little sting in their burrito. Yet, despite its triumphant return to the spotlight in April, Taco Bell's website no longer lists the item for purchase. This isn't entirely surprising considering the chain's tendency to remove and revive specialty items on a regular basis.
Although white hot ranch fries and the sauce itself aren't available for the time being, Taco Bell is currently collaborating with popular hot sauce brand TRUFF to offer customers loaded TRUFF nacho fries (per Restaurant Business). While it's not as spicy as the uber-hot ranch with a Scoville ranking of only 2,500, it's nothing a little diablo sauce can't fix. Unfortunately, Taco Bell hasn't confirmed whether or not the white hot ranch will return anytime soon, marking some tough times for Taco Bell's spice enthusiasts.