What A Typical Breakfast Looks Like In Hawaii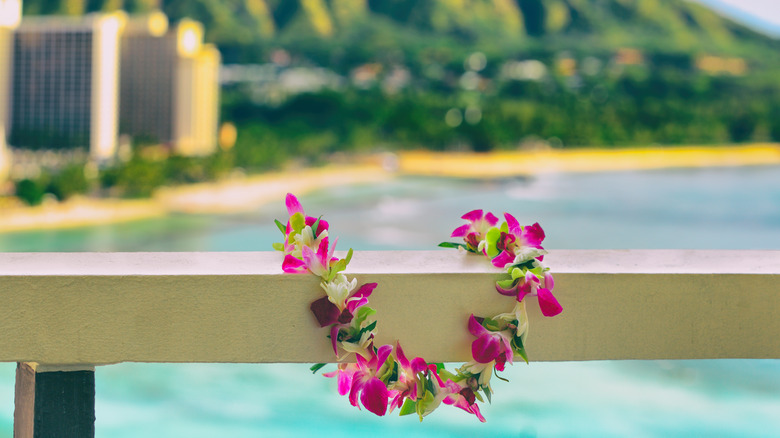 Maridav/Shutterstock
Oh, Hawaii, that dreamy, tropical place that's on many a bucket list. If you've never visited this beautiful archipelago, you probably want to, at least once in your lifetime. And who could blame you? Hawaii is famous for its divine beaches, surf culture, colorful aloha shirts, and, of course, traditional flower leis. While visiting Hawaii, most people opt for walking near the volcanoes and visiting landmarks such as the Pearl Harbour memorial (via Travel Drafts). 
But Hawaii has even more to offer, and it comes in the form of delicious food. If you're already thinking about that tasty slice of Hawaiian pizza, don't, because pizza topped with pineapple is actually a Canadian invention (via BBC). However, Hawaii has many other local foods to obsess over, such as SPAM musubi, a snack consisting of sushi rice, a slice of SPAM, and nori seaweed. It's an acquired taste, that's for sure. 
After a long swim or a cool surf session, locals like to indulge in a dish that's actually a full lunch served on a single plate, called plate lunch. Yum. And if you wake up in Hawaii, take a look at a typical Hawaiian breakfast, so you know what to expect.
Enjoy Loco Moco, scrambled eggs, acai bowls, and malasadas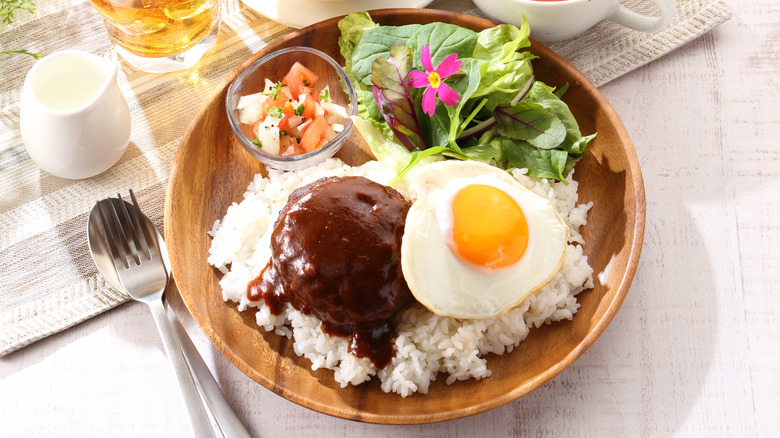 ao nori/Shutterstock
No, Hawaii doesn't have a traditional breakfast with set ingredients, but it has many foods that are often eaten in the morning. Insanely Good Recipes reported on some of those, such as Loco Moco, a Hawaiian staple that consists of rice, burger patties, fried eggs, sautéed onions, and gravy to top it off. This hearty breakfast might be a bit too much for some people, but don't worry, you can opt for some lighter foods while in Hawaii. 
Hawaiian scrambled eggs are enriched with tomatoes and pineapple, making the meal slightly sweet, but delicious nonetheless. Acai bowls are also popular, made with acai berries and various toppings such as nuts, fruit, and yogurt. This Hawaii Life reveals even more Hawaiian breakfast foods, such as the malasadas, donut-like treats that are often filled with cream or fruit. Malasadas can be bought at most bakeries, and they're often enjoyed with a steaming cup of coffee. 
And if all of that doesn't satiate you, you can always have some tropical fruit, a slice of banana bread, or a healthy congee rice porridge. When in Hawaii, life should be a breeze, so be sure to eat whatever you like.