Traditional Sushi Rice Recipe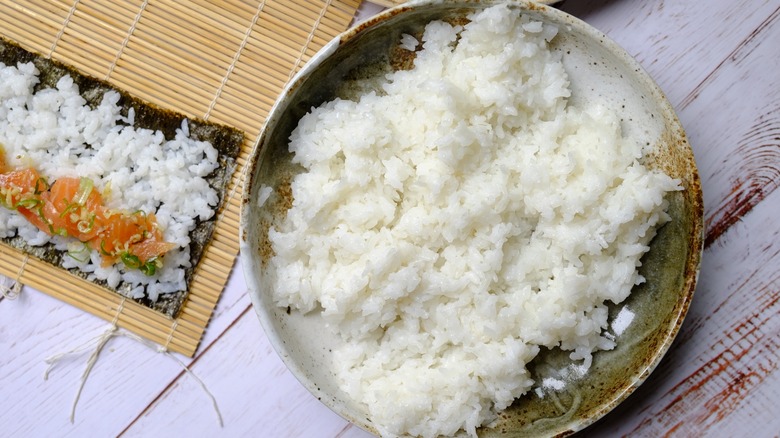 Eric Ngo/Mashed
Some people think they need to go out to eat in order to enjoy their favorite sushi — mainly because not many people know how to make sushi rice. We're here to inform you that sushi rice is straightforward to make and it will be a breeze for most people with basic skills. Save the money and eat at home because sushi rice is a breeze to make. All you need for this recipe are four ingredients, 20 minutes of prep time, and 20 minutes of cooking time. Then, you will have sushi rice that is just as good as the stuff you would order at a restaurant.
Recipe developer Eric Ngo of Frenchie the Toast came up with this easy and delicious recipe that will have you making homemade sushi in no time. "Making your own sushi rice allows you to control the acidity and sweetness to your own personal preference," Ngo shares. "I think this is more of an intermediate level because if you overcook the rice or if the ratio of rice to water is off, it will result in mushy rice." 
Gather the ingredients for this traditional sushi rice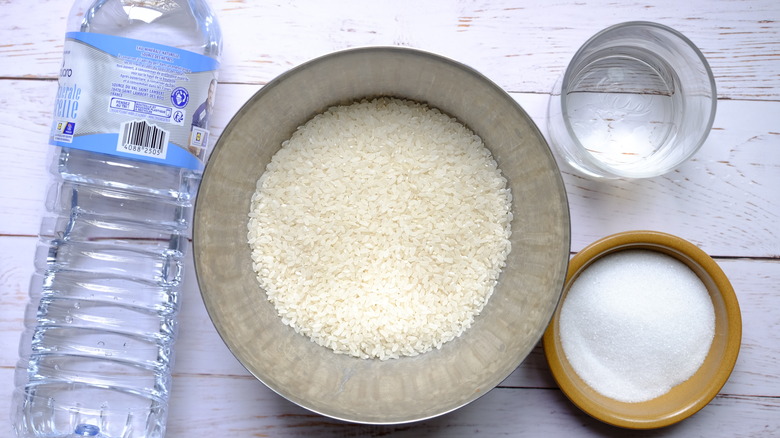 Eric Ngo/Mashed
The first thing you will need to do is gather the ingredients for this recipe. You will only need four things: Japanese short grain rice, water, rice vinegar, and sugar. Of course, you should already have water at home, which means you only need to purchase three things. "If you don't have short grain rice, you can also use medium grain rice," Ngo shares. 
Once you have those items, you can make this traditional sushi rice.
Wash and strain the rice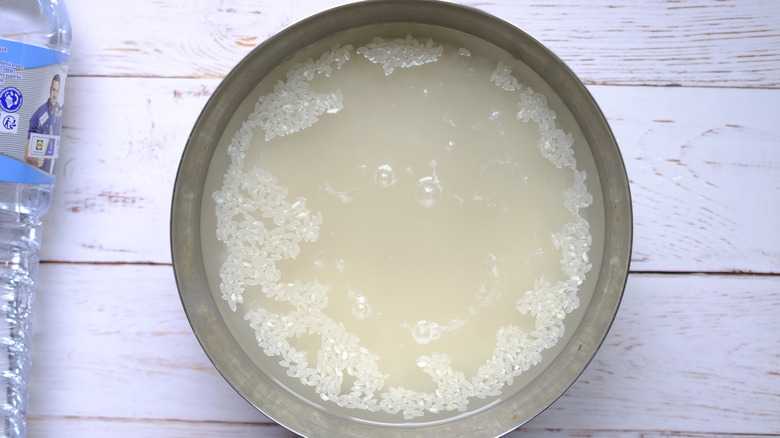 Eric Ngo/Mashed
Grab the Japanese short grain rice and put it in a bowl. Wash the rice in cold water at least five times, making sure that the water is clear enough to see the rice grains, indicating that it's rinsed well enough. 
Then, move the rice grains to a strainer, add the rice to a cooker container or bowl, and add 3 cups of water. Let it sit for at least 15 minutes.
Cook the rice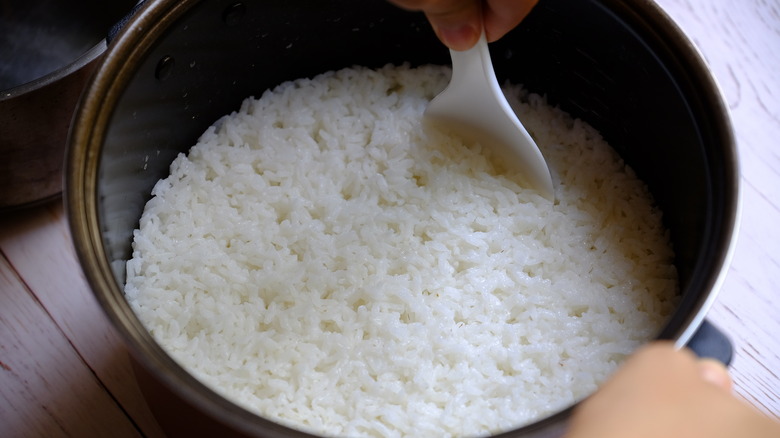 Eric Ngo/Mashed
There are two options to cook the rice. For option one, you can use a rice cooker.
If you don't have a rice cooker, you can always use option two to make the rice. Just take out a medium-sized pot and add the rice and water. Place it on your stove and turn the heat to medium. Put a lid on the pot and allow the rice to cook for about 20 to 25 minutes or until the water is fully evaporated.
Mix sugar and vinegar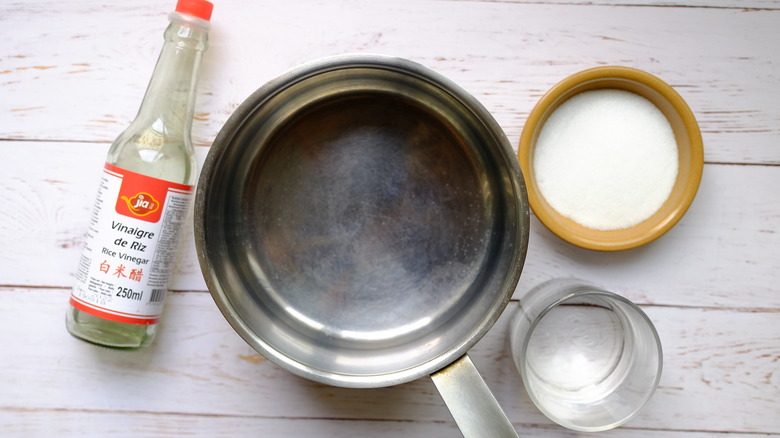 Eric Ngo/Mashed
In another pot, add the rice vinegar and sugar and place it on your stove. Turn the heat to low and allow the mixture to simmer until the sugar has fully dissolved. Once it dissolves, take it off the heat and set it to the side to let it cool off.
Combine rice and vinegar mixture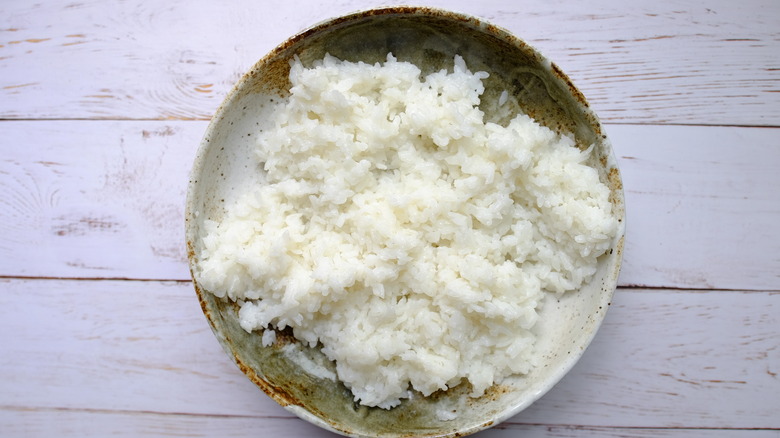 Eric Ngo/Mashed
When the rice finishes cooking, spread it into a large bowl or a large flat plate and pour the cooled vinegar mixture over the top. Carefully mix the rice and liquid mixture together with either a rice paddle or a spatula. This will help season the rice while also helping it to cool.
Continue mixing the rice until it's cool to the touch. You can also fan the rice as you mix to help it cool faster.
Serve and enjoy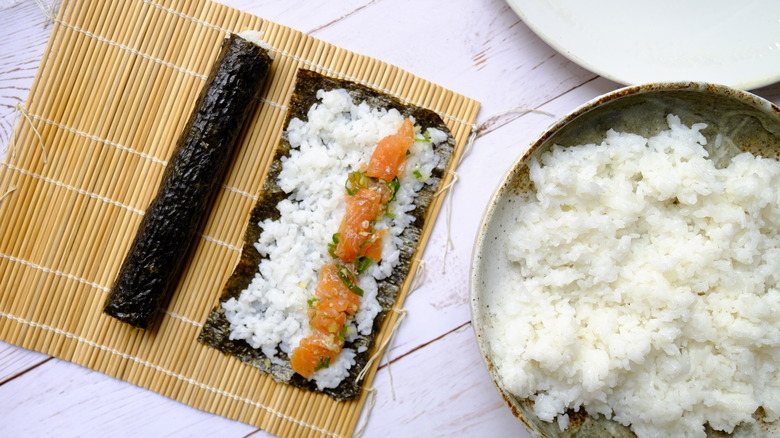 Eric Ngo/Mashed
Now, you can enjoy the rice! Of course, you can use this sushi rice to make your favorite sushi rolls, or Ngo has a few other serving suggestions that you may enjoy. "Aside from making hand rolls, and sushi, you can also make a chirashi bowl," Ngo suggests. 
If you have extra rice, you can save it for a short time. "You can keep leftovers up to 1 day. Any longer and it will dry out and get hard," Ngo notes. "Sushi rice should be kept at room temperature before using it, and if you store it in the refrigerator, you can microwave it to bring it back to room temperature."
We hope you enjoyed this recipe! 
Traditional Sushi Rice Recipe
If you're a sushi lover, learn how to make traditional sushi rice at home with this quick and easy recipe that only requires four ingredients.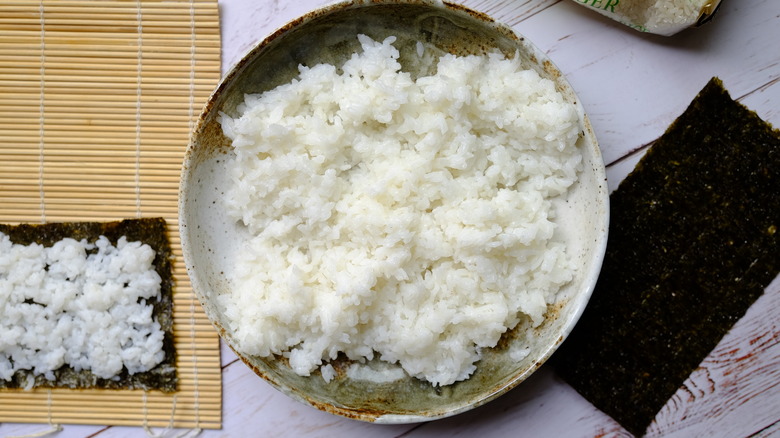 Ingredients
2 cups of Japanese short grain rice
3 cups of water
½ cup of rice vinegar
¼ cup of sugar
Directions
Wash rice in cold water 5 times or until water is clear enough to see rice grains.
Strain washed rice grains and add to rice cooker container/ bowl and add 3 cups of water. Let it sit for 15 minutes before cooking.
Option 1, use a rice cooker to cook the rice. Option 2, in a medium pot, add rice and water and cook on medium heat for 20-25 minutes (or until water is fully evaporated) covered with a lid.
In a pot, add rice vinegar and sugar and bring to a simmer and stir until sugar is fully dissolved. Set aside to cool down.
Once the rice is cooked, spread hot rice into a large bowl, or large flat plate and add sweetened rice vinegar.
Delicately mix rice with sweetened vinegar with a rice paddle or spatula in order to season rice and cool down the rice. Mix until rice is cool enough to touch, you can speed up the process by fanning the rice while mixing.
Serve immediately or cover with a damp paper towel until ready to use.
Nutrition
| | |
| --- | --- |
| Calories per Serving | 405 |
| Total Fat | 0.6 g |
| Saturated Fat | 0.2 g |
| Trans Fat | 0.0 g |
| Cholesterol | 0.0 mg |
| | |
| --- | --- |
| Total Carbohydrates | 89.9 g |
| Dietary Fiber | 0.0 g |
| Total Sugars | 12.5 g |
| Sodium | 8.8 mg |
| Protein | 6.4 g |