Poke Nachos Recipe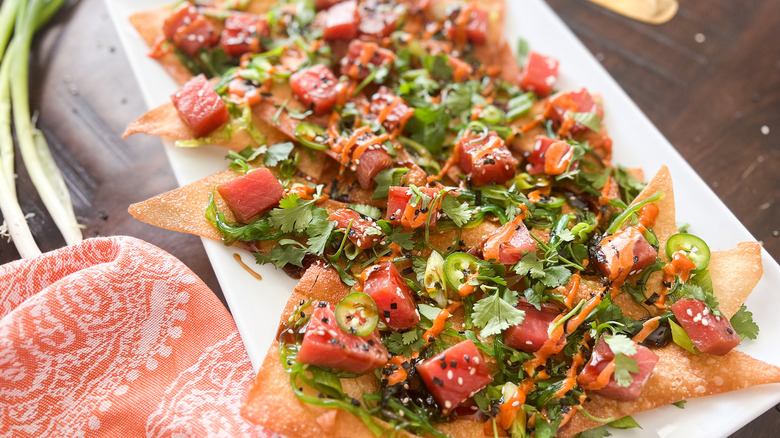 Erin Johnson/Mashed
There are so many variations of nachos out there, it's easy to lose track. There's classic nachos, which typically only includes tortilla chips and queso. You could upgrade this basic fare to something a little more loaded, adding on crumbled beef, jalapeños, sour cream, chili, or maybe even some fresh cilantro. We also live in such a world where dessert nachos are a thing. Guy Fieri has popularized the ever-appealing Trash Can Nachos, and really, there's simply no limits to what goodies — savory or sweet — you can layer onto a bed of chips.
Recipe developer Erin Johnson knows a thing or two about getting creative with nachos, which is exactly what she does with her poke nachos recipe. "This twist on nachos is one of my absolute favorites," Johnson says. "They are spicy, sweet, and savory all in one." These nachos are also perfect for people who are fans of sushi, or for those who love an ahi tuna poke bowl. You won't be using tortilla chips as the base here, but instead, fried wonton wrappers that really round out the dish, and make it truly poke-inspired from start to finish. 
Gather the ingredients for poke nachos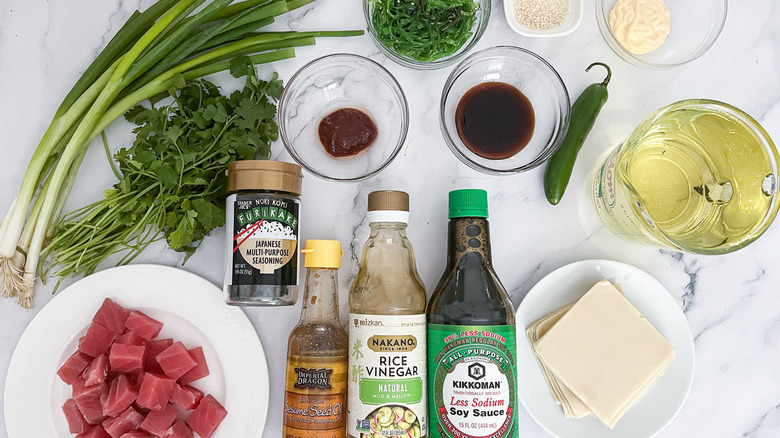 Erin Johnson/Mashed
As we've already covered, wonton wrappers will serve as the chip-like base for these nachos. As for toppings, you'll need some cubed, sushi-grade ahi tuna, soy sauce, rice vinegar, sesame oil, sesame seeds, gochujang, kewpie mayonnaise, seaweed salad, green onions, 1 serrano chili pepper, eel sauce, cilantro, and furikake. Finally, you'll also need about 2 cups of vegetable oil to fry the wonton wrappers. 
"This recipe is very versatile, and you can substitute lots of things to be able to use what you have on hand or prefer," Johnson says. "If you don't have serranos, or want a milder heat, try jalapeño. If you don't like cilantro, use parsley." 
Marinate the tuna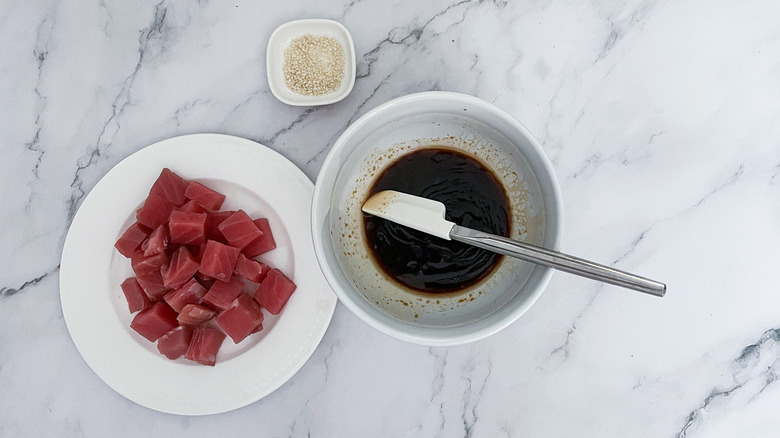 Erin Johnson/Mashed
Before you build the nachos, you'll want to pack some flavor into the ahi tuna. Mix the soy sauce, sesame oil, rice vinegar, and sesame seeds together in a bowl, then add in the cubed ahi tuna. Make sure that all of the tuna chunks are evenly coated in the marinade, then place the bowl into the fridge as you work on the next steps.
Fry the wonton wrappers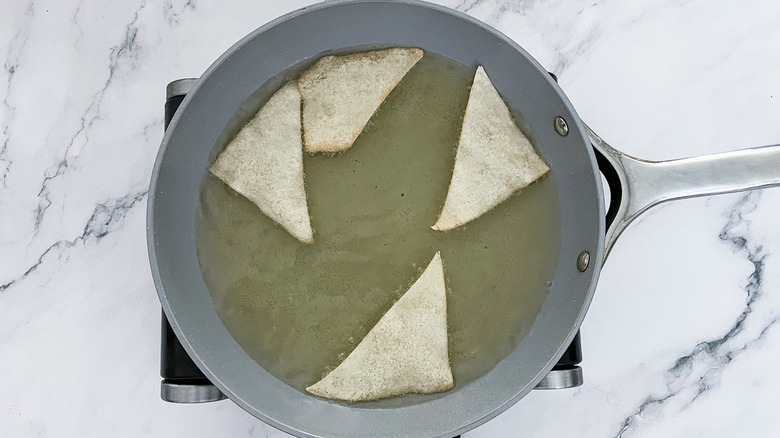 Erin Johnson/Mashed
As the tuna marinates in the fridge, turn your attention to the wonton wrappers. First, heat the vegetable oil to 360 F in a skillet, then make sure your wonton wrappers are halved, so each piece is a triangle. Work in batches to fry the wonton triangles, until they're golden brown and perfectly crisp.
While the wontons fry, mix together the gochujang and kewpie mayo, and optionally transfer the mixture to a piping bag. "I like to put my gochujang mayo into a plastic bag and use it like a piping bag to drizzle it across all the nachos," Johnson explains. Otherwise, simply set the spicy mayo aside for now.
Assemble the poke nachos, and serve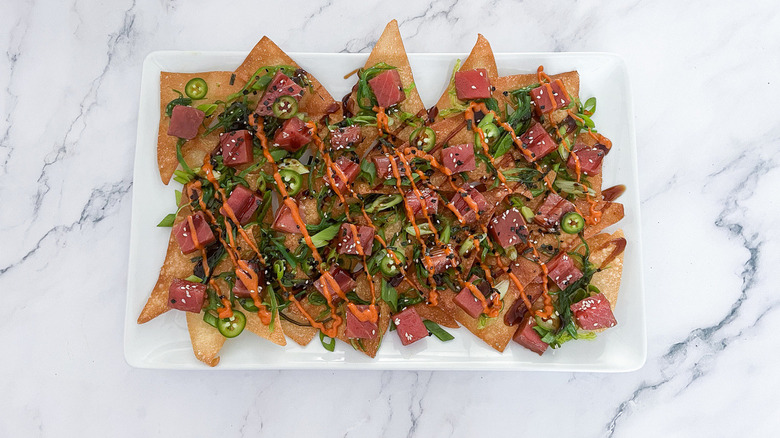 Erin Johnson/Mashed
Once all of the wonton chips are fried, layer them onto a serving platter. Follow those up with the seaweed salad and sliced green onions on top, then grab the marinated tuna from the fridge, and evenly distribute it onto the chips. Next, sprinkle on the sliced serrano chile pepper, then top the nachos off with eel sauce, the gochujang mayo, chopped cilantro, and furikake. "If you don't have eel sauce, you could skip this, or use a teriyaki glaze," Johnson notes.
With the nachos fully assembled, the only thing left to do is dive in! "This is best eaten when you make it, as the chips will get soggy," Johnson says. "If you want to make this in advance, fry the chips, store in a plastic bag ... chop and prep all the ingredients, and wait to assemble when you're ready."
Poke Nachos Recipe
Get experimental with these avant-garde tuna poke nachos that are sure to be a slam dunk at your next party.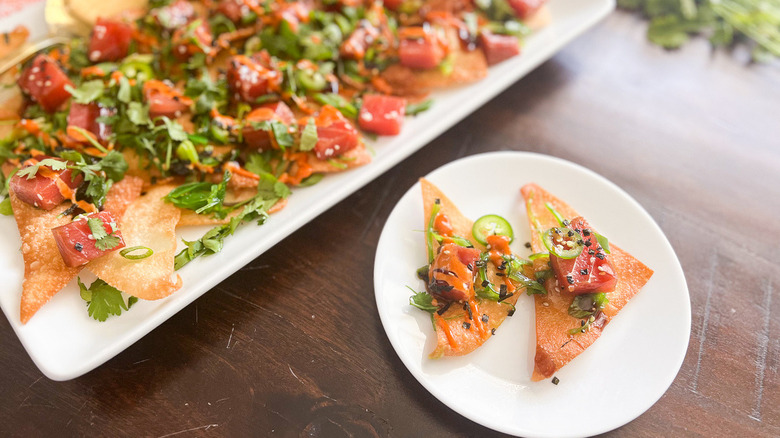 Ingredients
¼ cup soy sauce
1 ½ teaspoons sesame oil
1 teaspoon rice vinegar
½ teaspoon sesame seeds
½ pound sushi-grade ahi tuna, cubed
2 cups vegetable oil, for frying
6 ounces wonton wrappers, halved into triangles
1 teaspoon gochujang
1 tablespoon kewpie mayonnaise
½ cup seaweed salad
3 green onions, chopped
1 serrano chile, thinly sliced
2 teaspoons eel sauce
¼ cup cilantro, chopped
1 teaspoon furikake
Directions
Combine the soy sauce, sesame oil, rice vinegar, and sesame seeds in a bowl. Add the tuna. Refrigerate, and allow to marinate while proceeding to next steps.
Heat the oil in a skillet until 360 F. Fry the wonton wrappers in batches, until golden brown.
Mix together the gochujang and kewpie mayonnaise. Set aside.
Layer the wonton chips onto a platter. Scatter the seaweed salad and green onions across the chips.
Add the tuna and sliced serrano. Top with eel sauce, gochujang mayo, cilantro, and furikake. Serve immediately.
Nutrition
| | |
| --- | --- |
| Calories per Serving | 451 |
| Total Fat | 28.1 g |
| Saturated Fat | 2.4 g |
| Trans Fat | 0.2 g |
| Cholesterol | 27.3 mg |
| | |
| --- | --- |
| Total Carbohydrates | 29.0 g |
| Dietary Fiber | 1.4 g |
| Total Sugars | 2.0 g |
| Sodium | 1,344.0 mg |
| Protein | 20.5 g |