Guy Fieri's New Trash Can Nachos Take Junk Food To A New Level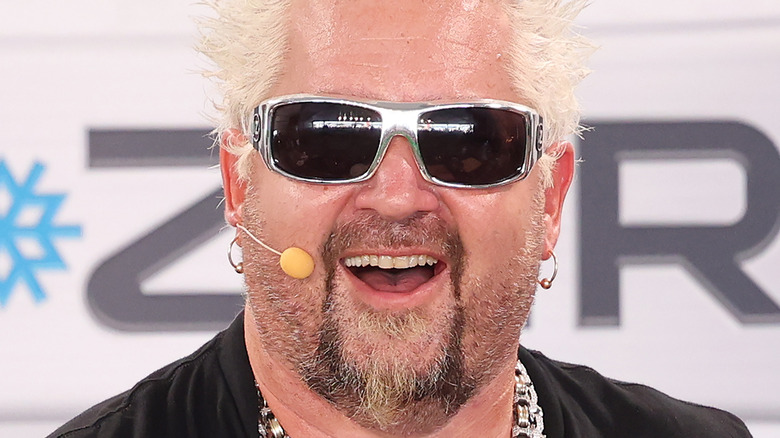 Alexander Tamargo/Getty Images
When did people become fans of foods that come in trash cans or imitate toxic waste? We must've missed that moment in history, yet here we are, witnessing foods hitting the market that come in weird packages. For example, at the 25th annual Sweets & Snacks Expo 2022 in Chicago, there was one intensely sour candy that had TikTok captivated — Candy Dynamics' Toxic Waste Hazardously Sour Candy, which comes in barrels and looks like toxic waste, as the name suggests. 
On the other hand, in 2020, there was the opportunity to test out the Mayor of Flavortown's BBQ Trash Can Nachos for the steep price of $69. The nacho kits were shipped across the U.S. in a can and included items such as already-baked tortilla chips, black beans, cheese sauce, Cheddar, BBQ sauce, sour cream, pico de gallo, cilantro, onions, and spicy jalapenos (per Thrillist). And now, Guy Fieri has created a new version of Trash Can Nachos that take junk food to another level. But is that level more trashy or more decadent? It's up to you to decide.
The new version of Trash Can Nachos are a dessert
For this new venture, Fieri has again partnered with Goldbelly, an innovative company that brings iconic American flavors right to your doorstep via mail orders. But this time, the Trash Can Nachos got a sweet, sweet upgrade. Yes, the celebrated restaurateur, author, and TV show host made Dessert Trash Can Nachos for all of those with a sweet tooth. This bizarre concoction also comes in a can and features "mascarpone cream, cannoli chips, mini-pretzels, chocolate toffee pieces, brownie pieces, whiskey dark chocolate sauce, and whiskey salted caramel" (via Twitter). Although the sweet treat might look like a hot mess, it doesn't sound all that bad. 
Per Goldbelly's website, the dessert ships with ice packs that might thaw while being transported to your house, and the company warns that "some chips might break during transit," but they plan to add more chips into the bag to make up for all of the possibly broken ones. You can indulge in Guy Fieri's signature dessert trash can for a whopping $79.95. Twitter users are enamored with the looks of this dessert and some want to travel to Flavortown, with one user wanting to know "what are the beige goo layers and why aren't they in my mouth?" Goldbelly tweeted back that the beige goo is the mascarpone cream and suggested to the user, "Go for it."