Here's What Happened To Drip Drop Cone After Shark Tank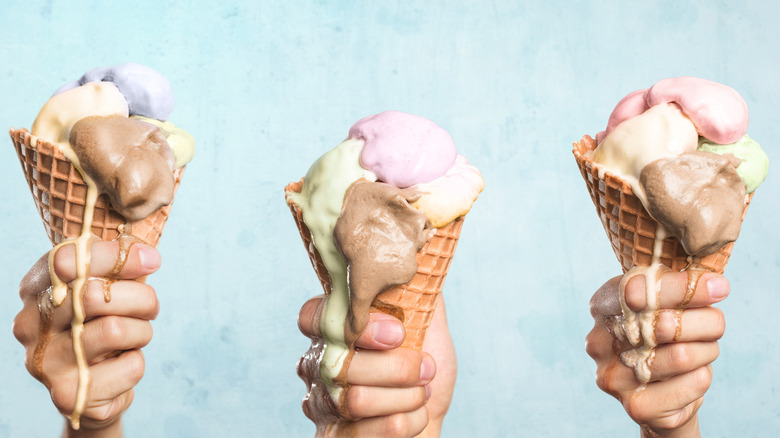 photoschmidt/Shutterstock
"Shark Tank" is a little different than other reality shows on tv. Sure, its hosts have all become celebrities in their own right, but what's even more exciting than seeing the Sharks in action is seeing a product go from a simple small business or concept on the show to a hugely successful company, like what happened with the people behind Scrub Daddy and some of the other best kitchen tools we've seen on "Shark Tank."
But not every business that goes on the show manages to succeed, not even those that do end up securing funding from the Sharks. Some of the businesses seem to disappear entirely, while others continue on, just not becoming household names. Drip Drop Cone is one business from "Shark Tank" that managed to secure $50,000 in funding from Barbara Corcoran in exchange for 33.3% of the business (via Shark Tank Tales).
The company's invention was a waffle cone ring that could slide onto an ice cream cone, acting as a shelf to catch any drips from the melting ice cream or any sprinkles or other toppings that slide off the cone as it's being eaten. The product was developed by the two teen boys behind the company, who were the youngest contestants to ever appear on the show without an adult. Because of their age and the fact that they did score an investment, we've been wondering: What happened to Drip Drop Cone?
Where is Drip Drop Cone today?
Drip Drop Cone appeared on Season 13, Episode 22 of "Shark Tank" (via Shark Tank Tales). The founders' invention was unique and sounded legitimately useful for those who like eating ice cream cones in warm weather, right up there with the tip to always add a marshmallow to ice cream cones to stop them from dripping out the bottom. But even after securing funding from Barbara Corcoran, Drip Drop Cone ended up going out of business.
So, what happened? Apparently, the young entrepreneurs Oliver Greenwald and Sam Nassif were unable to finalize their deal with Corcoran, and also had trouble finding a manufacturer who could mass-produce their product. The fact that they were so young, and lacked the experience and connections that older entrepreneurs might have, may have also factored into the company's demise. Drip Drop Cone's last Facebook post was in 2019, and their Instagram page hasn't been active since then either. But they made a real push to get their business off the ground, even after the deal with Corcoran fell through.
Kickstarter couldn't save the business
After Drip Drop Cone's deal with Barbara Cocoran from "Shark Tank" fell through, the teens behind the business didn't give up. The duo headed to Kickstarter to try to crowdsource some funding for their idea. They did manage to raise a fair bit of money — about $7,000 from 82 backers — and baked and sent out Drip Drops to everyone who pledged $15 or more. They also created merchandise, including t-shirts and sweatshirts, that featured the brand's name and colorful images of the Drip Drop in action.
Eventually, Oliver Greenwald left the company, leaving Sam Nassif to figure out how to salvage their business at just 18 years old (via the Wharton Global Youth Program). He managed to get the Drip Drops into three Denver-area ice cream parlors, and made and sold 1,500 Drip Drops over the summer of 2019. He was getting enough leverage that Joy Cone, one of the biggest ice cream cone manufacturers in the world, was allegedly interested in learning more about the product (you can find Joy Cones in Costco's ice cream party boxes).
Nassif was hopeful he might be able to secure a licensing deal with them for Drip Drop Cone, but the partnership failed to materialize. These days, he is a student at Chapman University, where he's studying business (via LinkedIn). And who knows — maybe his next big idea is just around the corner.