TikTok Can't Get Enough Of The Ramen Bar At This Wedding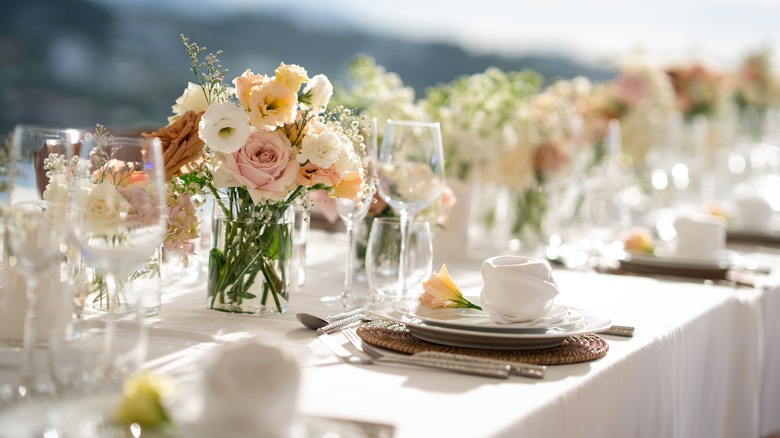 Wassana Panapute/Shutterstock
Weddings are a beautiful part of life that celebrate the joining together of two lovebirds. Anyone who's attended a wedding knows the wedding reception has the potential to be a total success, but also an utter failure. According to 7 Centerpieces, three pillars can guarantee a successful reception: good food, good drinks, and good music.
When it comes to what's on the menu, there are endless options for how to feed guests at the wedding. Some people choose a fancy sit-down meal, catered by the venue or a private chef, while others opt for a buffet style with guests serving themselves. Food Fire + Knives even claims that a private chef "elevates your wedding."
While the classic trio of chicken, steak, or fish are the tried and true choices, not every couple wants to stick with tradition. Actress Lana Candor flipped the script by having In-N-Out food trucks cater her wedding. Couples that are merging two cultures, like Priyanka Chopra and Nick Jonas, may choose to serve food that pays respects to each person's heritage. Jonas and Chopra chose to serve American and Indian dishes at their lavish affair.
For a couple in Korea who recently tied the knot, serving up a traditional buffet of proteins and veggies was just not in the cards.
Instant ramen stole the show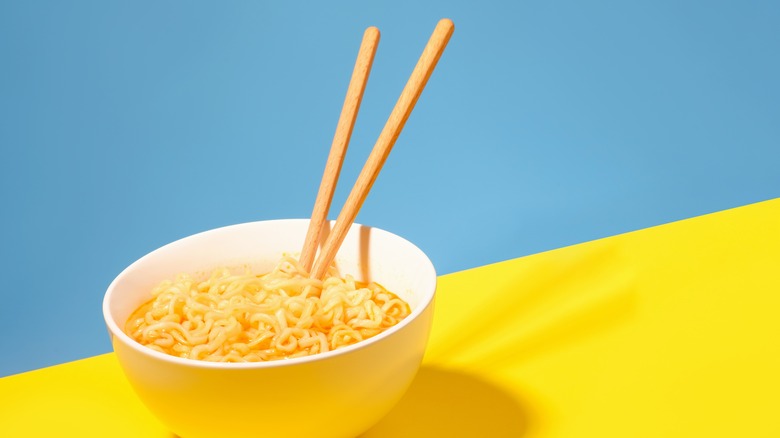 TanyaKim/Shutterstock
According to a Tiktok video shared by @chefchrischo, he and his wife had an instant ramen bar to feed their guests. In the video, Cho shares videos of smiling family and friends happily slurping their favorite flavors of ramen. It appears that the ramen was served in its original plastic bowls, complete with wooden chopsticks. Cho credited his wife for the unique dinner menu and added that ramen was a great way to cure any post-wedding party hangovers.
It appears that many of his commenters loved the idea of ramen at a wedding. Comments on the video included, "This is the only way I'll say I Do" and, "Lmaooooo this a vibe." As with anything on social media, there is always going to be at least one negative comment. One user chimed in to say the ramen wasn't "real" and there were no fresh toppings (for example, Hakubaku suggests ingredients like American cheese or baby bok choy). It doesn't appear that any guest of the wedding was fazed by this.