How To Upgrade Your Thanksgiving Pumpkin Pie, According To Zac Young - Exclusive
Thanksgiving without pie is like a year without sunshine. That may be a bit melodramatic, but the holiday would be pretty lackluster without that apple crumble and pumpkin dessert. Although most of us could agree that we look forward to the iconic Thanksgiving stuffing and a variety of sweets, it can get a bit tiresome to cook the same classic foods in the kitchen every year. But Zac Young, a professional pastry chef, is here to tell you that there are ways to upgrade your Thanksgiving table.
In an exclusive interview with Mashed, the "Halloween Baking Championship" host dished about his favorite parts of the show and his baking dos and don'ts. For example, putting lemon zest or rosemary in your apple pie crust can take your dessert from good to great — or, if you're a contestant on the show, never coat your desserts in chocolate. While Young recommended going savory for Halloween and leaving out the candy classics in a bowl for your guests' sweet fix, he also had no shortage of tips for your Thanksgiving pumpkin pie this year.
Add black pepper to your pumpkin pie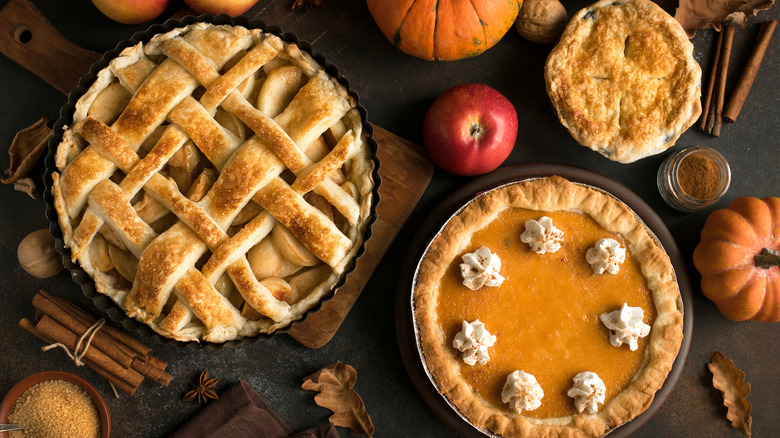 Oksana Mizina/Shutterstock
If you are looking to impress your family this holiday season, Zac Young has you covered. The Food Network personality told Mashed that as pumpkin spice continues to take the forefront of fall, there is one spice that deserves more attention.
"I feel like black pepper adds a little bit of spice, a little bit more heat, and a little nuance to those warmer spices," he said. He described black pepper as "the edgier cousin of the fall spices" and emphasized that using the finely ground version of the spice is crucial.
Young advises that you add "a little bit of it [black pepper] in a pumpkin pie, [rather than] cloves. It just gives a different dimension to the warmth." However, he recommends not adding too much black pepper to the dessert to avoid it being too "hot." Now that you know exactly what your pumpkin pie is missing, you can be ready to try something just a little bit different for Turkey Day.
Food Network's "Halloween Baking Championship" airs Mondays at 9 p.m. ET. Check out Zac Young's Instagram page for his latest projects.