The Swiss Miss Holiday Sweater Is Officially Back For The Season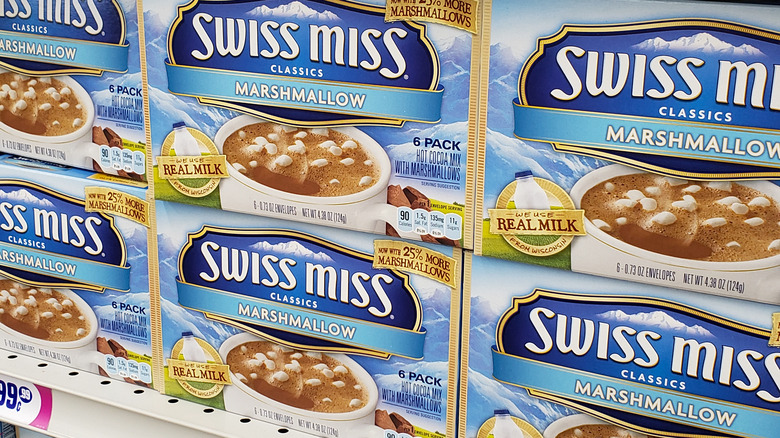 The Image Party/Shutterstock
When winter hits and you need to get warm, you could reach for a scarf or a jacket. However, reaching for a cup of hot cocoa is undeniably a sweeter, tastier way to get nice and cozy. Swiss Miss has been warming bellies since the 1960's when the company first introduced instant cocoa powder (per Branding Source). Swiss Miss has expanded quite a bit since its early days — according to its website, the brand sells regular hot chocolate, flavored hot chocolate, reduced-calorie hot chocolate, simply hot chocolate with only 5 ingredients, and single-serve pudding packs.
Along with its regular line-up of chocolatey products, Swiss Miss also releases special holiday and seasonal flavors, as well as collaborations with other brands. In 2021, Swiss Miss collaborated with Redi-Whip to create a hot chocolate-flavored whipped topping. Swiss Miss also released a salted caramel hot chocolate flavor just in time for fall. Since hot chocolate is practically synonymous with winter, it's not surprising that Swiss Miss also sells a gift pack of four seasonal flavors like peppermint and marshmallow, all in boxes decorated with holiday-themed illustrations (via Walmart). That's not all — this year, Swiss Miss is bringing back a creative holiday gift that's different from the usual drinkable options.
Nothing says happy holidays like a cozy sweater
Swiss Miss' ugly holiday sweater — which first dropped in November 2021 — is officially coming back in time for the 2022 holiday season. According to a press release, the Swiss Miss sweater has a new sequin design on the pocket this year. You can swipe the sequins up and down to read, "I am Sweet," or "I am Hot." The sweater is adorned with the classic blue mountain Swiss Miss logo and the insulated zipper pocket aims to keep your tumbler of hot cocoa nice and warm. This year's sweater is truly embracing all the senses by adding a hot chocolate scent to the sweater. Instead of just looking like a box of Swiss Miss, you can smell like it too.
The sweater comes in a variety of sizes from S-3X and sells for $59.95. The price is up significantly from 2021 when each sweater was $44.95, but this year's sweater does technically come with additional features. The sweaters will be released for purchase on November 3 at UglyChristmasSweater.com. There's no word on how many sweaters will be available, just that there will be limited quantities. If you're needing a cocoa-themed holiday gift or something to wear to an ugly sweater party, it's best to get a jump on the sweater asap.