Swiss Miss' Ugly Holiday Sweater Has A Pocket To Warm More Than Just Your Hands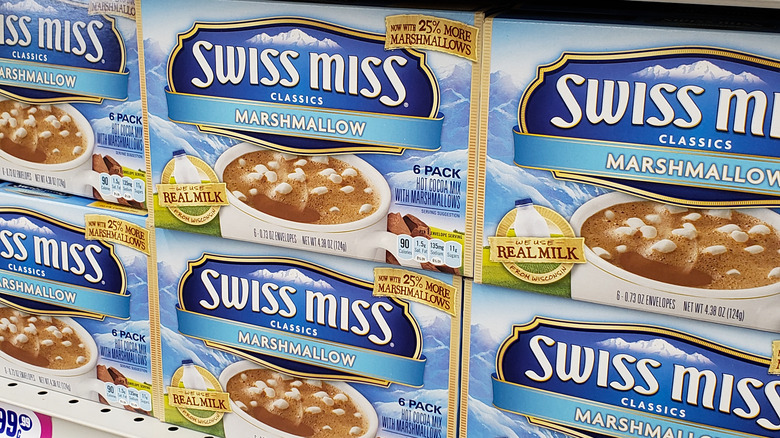 TonelsonProductions/Shutterstock
With the holiday season just around the corner, it's time to start looking for the perfect gifts for your family and friends. There are plenty of food-themed advent calendars you can get at Sam's Club to start off the holiday season as soon as possible, and when in doubt, Aldi has great holiday treats if you're searching for some stocking stuffers.
But if you're looking for a gift for anyone who loves hot chocolate, Swiss Miss might have the ideal present. Cocoa Puffs Swiss Miss cereal might wow their mouths and stomachs, but Swiss Miss' latest release might be even better at keeping you warm. According to PR Newswire, Swiss Miss, which is part of Conagra Brands Inc., just put out its own ugly Christmas sweater. The best part is that it has an insulated pocket for you to keep a thermos of hot chocolate to keep you warm all winter long.
Where can you buy Swiss Miss' ugly holiday sweater?
If you want to grab one of these ugly Swiss Miss sweaters yourself, purchase one at uglysweater.com. The holiday top comes in the brand's classic light blue and has a large cup of hot chocolate front and center. The cup of cocoa is where the insulated pocket is, and to make things extra festive, there are snowflakes all over the sweater. It also has text that reads, "I'm only here for the Swiss Miss," so fans can declare their love for their favorite winter (and even year-round!) drink.
The sweater is $44.95 and comes in sizes from small to 3XL. PR Newswire says the sweater is "available in limited quantities while supplies last," so if this is on your shopping list, make sure to buy it sooner rather than later! Of course, if you want to drink and wear your Swiss Miss, you can get a box of hot chocolate while getting (or gifting) this ugly sweater, or make some spiced hot chocolate and learn the secret to making the best hot chocolate.