The 'Pungent' Cheese You Should Use For Richer Burgers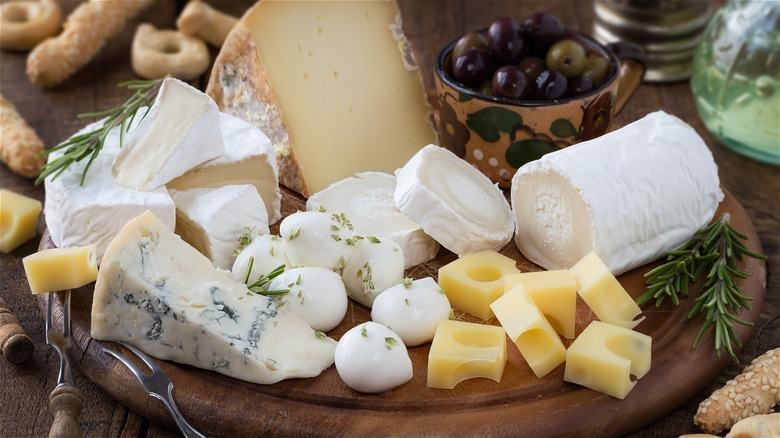 kuvona/Shutterstock
Not all cheeses are made the same. Some are richer, some are creamier, and some pair better with certain foods than others. Undeniably Dairy lists 39 different types of cheese, including smooth-tasting gouda, mild Monterey jack, and tangy Romano. Cheese also comes in different varieties, such as semi-hard, semi-soft, hard, blue, processed, soft and fresh, and soft-ripened.
When it comes to cheese pairing, there are some essential rules you should always follow. For one, strong cheese shouldn't be combined with delicate spirits, wines, and beers (per Wisconsin Cheese). If you're a fan of white wine, Riesling is the best choice due to its sweet, dry, and acidic properties. On the other hand, fans of red wine should choose pinot noir because it's more fruity than acidic. In general, contrasting flavors work well when creating a cheese board.
Cheese is also often paired with meat. Examples include ham and cheese, chili cheese dogs, and cheesesteaks. Cheeseburgers, meanwhile, have their own set of rules (per Food & Wine).
It's similar to Gorgonzola and hails from the United Kingdom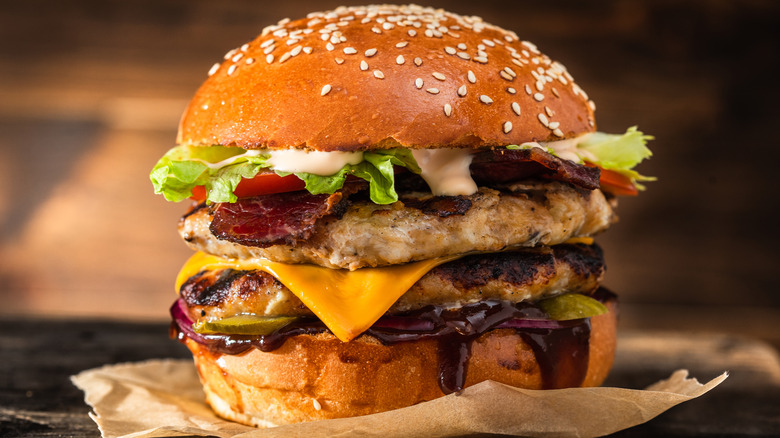 GoncharukMaks/Shutterstock
In much the same way that all wines don't pair well with all cheeses, cheeseburgers are similarly dependent on their ingredients. Food & Wine recommends that rich burgers be combined with Stilton cheese for the best taste. Created by Adam Fleischman, the umami burger is one such option where Stilton gets the job done. It's made with ruby port (acting as a condiment), mixed ground beef brisket, skirt steak, and sirloin steak topped with salt, pepper, and something called "umami dust," which is made from dried kombu seaweed and shiitake mushrooms. It should then be served on brioche hamburger buns.
According to Castello, Stilton cheese is soft and crumbly with a creamy, salty taste. Only produced in England, it's made of preservative- and filler-free pasteurized cow's milk. After creating the cheese, it's placed on a shelf and turned daily for a week before being smoothed and sitting for five additional weeks. If Stilton is not available in your area, a good substitution is Gorgonzola, a type of blue cheese that also pairs well with rich burger patties.