Michael Symon's Veal Dish Is Changing Lives On Twitter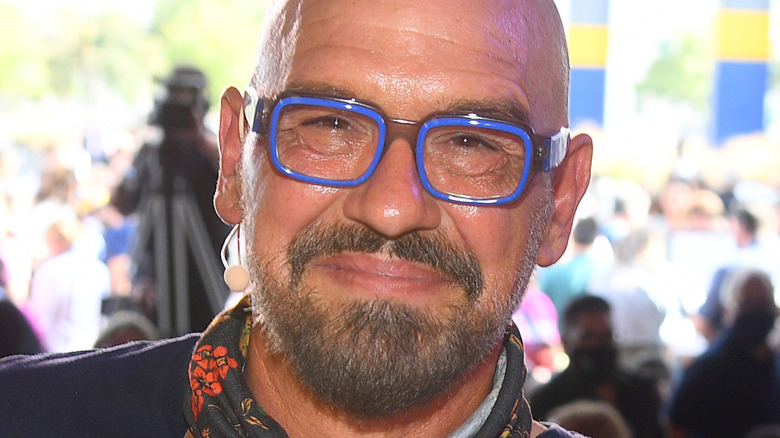 Dave Kotinsky/Getty Images
When Mashed published the story, Michael Symon Named the Most Underrated Meat, Symon humbly posted the article's headline on Instagram with the comment, "Thanks?!!" and fellow celeb chef Alex Guarnaschelli wrote, "Oh for god's sake, can we get a recount?" Despite the perplexing headline, the article was actually about Symon naming goat as an underused meat in the United States. Hey, here at Mashed we can poke fun at ourselves.
This time, Symon is getting attention on Twitter for his (apparently) life-altering dish that uses a different "underappreciated" meat. It started when a fan praised Symon's veal recipe for upping his cooking game, saying, "My life has never been the same."
A restaurateur, celebrity chef, and cookbook author, Symon is a former co-host on "The Chew." He currently shares his cooking expertise on the Cooking Channel and Food Network ("Burgers, Brew & 'Que," "Iron Chef America," and "All-Star Academy"), as well as social media. Despite his love for meat, Symon, whose wife is vegan, eats vegetarian twice a week.
Symon's aforementioned recipe uses veal shanks, which comes from the lower leg region of a young cow. Symon likes braising this cut in a rich sauce because the long, slow process tenderizes the meat and releases its flavor. Veal shank is the main ingredient in a classic ossobuco recipe, but it is also the star of a similar dish that's considered among Symon's best.
Symon's braised veal shanks with gremolata are a labor of love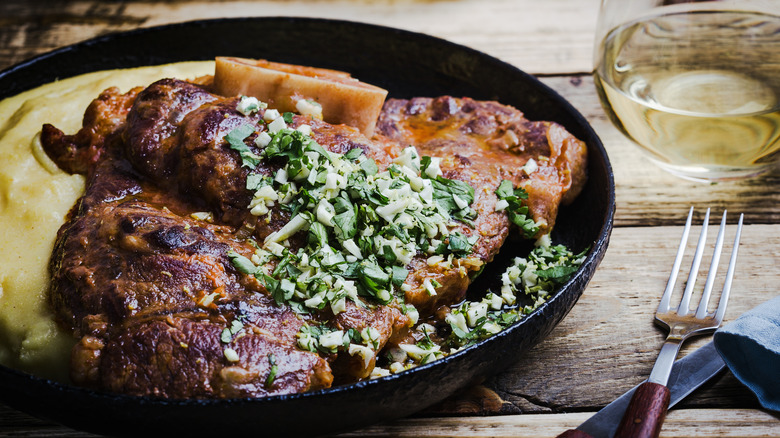 istetiana/Shutterstock
The recipe is for Symon's braised veal shanks with gremolata. "My dude @chefsymon introduced me to this veal shank gremolata combo on Symon's Suppers and my life has never been the same!!!!" gushed Symon's Twitter fan, who served it with mashed potatoes. "I feel like shank in general is an underappreciated cut," another tweeter commented on the thread. "I've never eaten one that was anything other than fantastic."
In his Symon's Suppers video, Symon begins the recipe by seasoning the shanks generously and searing them in a hot pan. Don't rush the caramelization process, says Symon, who recommends browning the meat thoroughly for maximum flavor. He adds a mirepoix and the rest of the ingredients to the pan to make a sauce, scraping the skillet to get "those little goody nuggets on the bottom of the pan." The dish cooks in the oven for several hours.
Symon's number-one tip for this dish: When adding hot chicken stock to the roasting pan, only allow the liquid to come about three-quarters up the meat. "It's not a boil. It's a braise," says Symon, explaining that leaving the top of the meat exposed allows it to caramelize further. Gremolata, a combination of parsley, lemon, olive oil, and garlic, is the final touch.