Looking To Upgrade Your Chili? Try Maple Syrup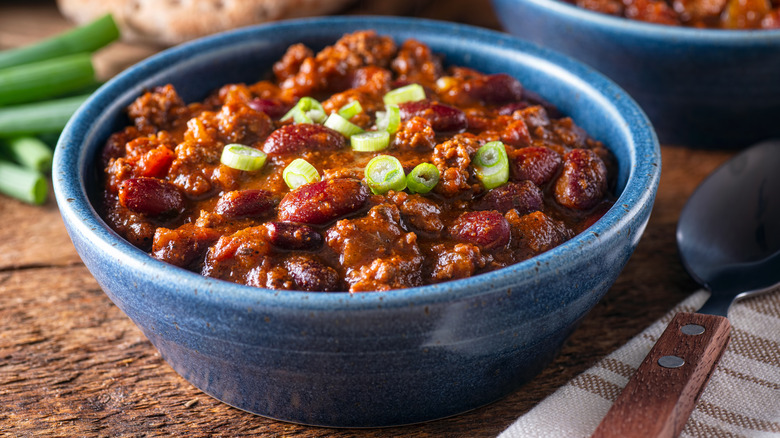 Foodio/Shutterstock
The cold weather is coming, and with frigid temperatures come warm, home-cooked meals for dinner. This time of year, nothing says comfort food like a good bowl of homemade chili. 
The original chili recipe is said to be centuries old and used venison or antelope rather than the ground beef we're used to today, per Delishably. Though most modern recipes include similar combinations of meat and spices, just about every home cook has their own version of the dish. Some recipes have no beans, while others double up on kidneys and pintos. Certain versions are meat-heavy and rich brown in color, but others are a deep scarlet from lots of tomato.
Because of all the recipe hacks out there, it can be hard to decide what to include in your own chili. In fact, there are a lot of ingredients you never thought to put in chili, from soy sauce for umami to balsamic vinegar for acidity. You may already know how coffee can upgrade chili (by adding a layer of complexity that brings out the spices), but yet another trick should help if you're looking to spice up your chili — or rather, sweeten it.
Maple syrup balances out the savory, spicy, and acidic flavors in your chili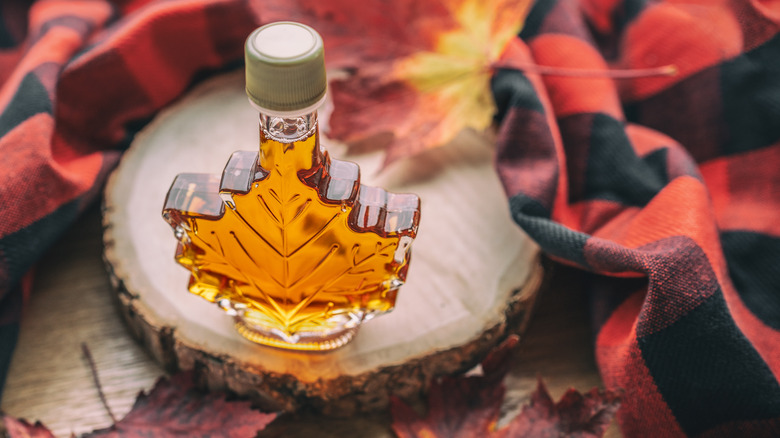 Maridav/Shutterstock
How can you make the spicy, savory flavors in your homemade chili stand out? By adding something sweet. While many chili recipes call for brown sugar, Allrecipes points out that maple syrup is another creative way to add dimension to the dish. Besides adding a complex, molasses-like flavor to the chili, maple syrup should also balance out the tanginess of the tomatoes in the recipe. It's a similar trick to adding sugar to a homemade tomato sauce recipe, which Mashed recipe developer Jaime Shelbert says "cuts the acidity of the tomatoes and makes the sauce more balanced in flavor."
Feel free to use any brand of maple syrup you like, but just be sure it really has maple in it, as products by Log Cabin or Mrs. Butterworth's are mostly high-fructose corn syrup and best reserved for pancakes. And if you still need convincing to reach for the sweet condiment, know that Heinz makes a can of maple-flavored beans that one Influenster reviewer called their "favorite beans to put in homemade chili."