Beat Bobby Flay Has A Family-Style Format Change For Holiday Throwdown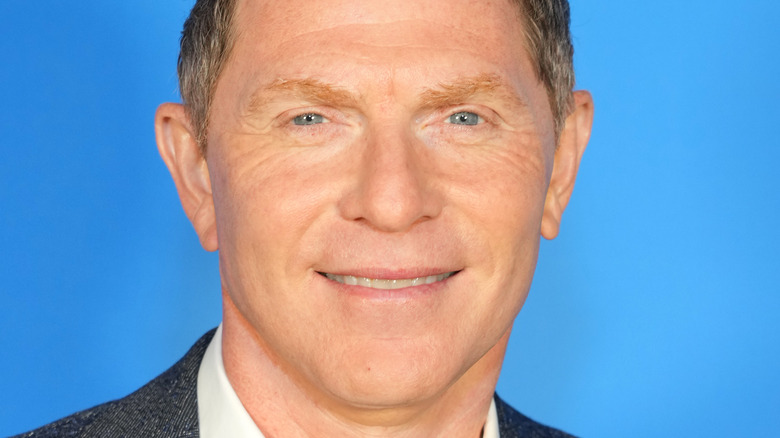 Kevin Mazur/Getty Images
Even if your nightly dinner is usually eaten solo on the couch while watching something on television, during the holidays you'll probably find yourself elbow-to-elbow peeling potatoes with family, friends, or that random neighbor who invited you over for Thanksgiving. Even the grumpiest of home cooks has to admit that nothing quite brings on the warm fuzzies like cooking and eating with friends, family, and loved ones during the holidays.
What doesn't seem warm and fuzzy? The sharply lit culinary battlefield where chefs compete on "Beat Bobby Flay." Not only is the competition pretty cutthroat, but Bobby Flay's guests on the show can be pretty aggressive, even heckling the chef or distracting him with props as he cooks (via Facebook). But all of that's about to change. Well, some of it. Chances are Flay's competition isn't going to cut him any slack, but the show will be taking on a new format for the holiday season that will remind you of your own family dinners, and just might bring on the warm fuzzies for Flay and his competitors, too.
The Beat Bobby Flay holiday special changes things up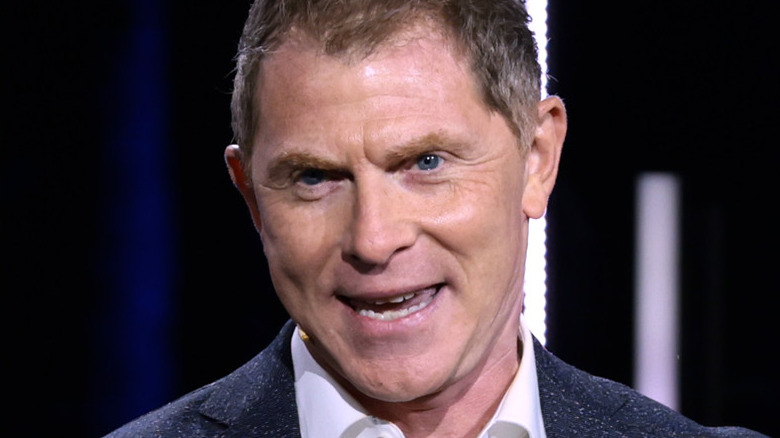 Dimitrios Kambouris/Getty Images
Episodes of "Beat Bobby Flay" are usually only 30 minutes long, but there's a "Beat Bobby Flay: Holiday Throwdown" miniseries on Food Network that will begin airing on November 8 at 9 p.m. Those episodes are going to last an hour. And that's not the only thing that will be different about this limited-time spin on the competition — Bobby Flay said he wanted the whole "Food Network family" to be involved. In a trailer for the first episode shared on Twitter, chef Scott Conant explains that Flay's cook friends will have to battle it out over two rounds, and the winner will face off against Flay in the final. Even more excitingly, for the final round, each competitor will assemble a team of other chefs to work with.
"It felt very holiday to me," Flay explains to Conant. "You start cooking with people that maybe you haven't even cooked with before," he said, "that you've known for a long time, but you've never actually buckled up to the stove next to them." Fans on Twitter seemed eager to view the holiday series. "I'll be watching & live-tweeting along," shared one enthusiastic user. "I know I'm going to enjoy it," said another.