Ree Drummond Mourns The Loss Of Ladd's Father In Touching Tribute
When it comes to The Pioneer Woman, we don't know whether to laugh or cry. That's because ever since celebrity chef Ree Drummond began her blog in 2006, she has been chronicling both the highs and the lows that accompany life on a farm in Pawhuska, Oklahoma (via Forbes). When her brood of four became a brood of five — after Drummond and her husband, Ladd, took in a foster son – we cheered. When Ladd broke his neck in a serious accident on the ranch, we gasped (and hit refresh on our browser repeatedly, waiting for updates). If you come to The Pioneer Woman for recipes, you stay for the side dish of wholesome family content; Drummond happily ladles out photos, stories, and behind-the-scenes chit-chat about her family, her job, and what it's like to live with her "Marlborough Man," raising family, herding cattle, and managing a mega empire like the one she's built since that fateful day in 2006.
Judging by Drummond's recent Instagram posts, she and Ladd are as close as ever, swapping ranch duties and recipes with all the love and funny asides that we've come to know and love from the Pioneer Woman. Ladd even appears in several new episodes of Drummond's Food Network show (via Instagram). But behind the scenes, Drummond and her husband are mourning the loss of Ladd's father, Chuck Drummond; and Drummond recently wrote the kind of tribute to her late father-in-law that only a Pioneer Woman can.
See Drummond celebrates a kind, supportive man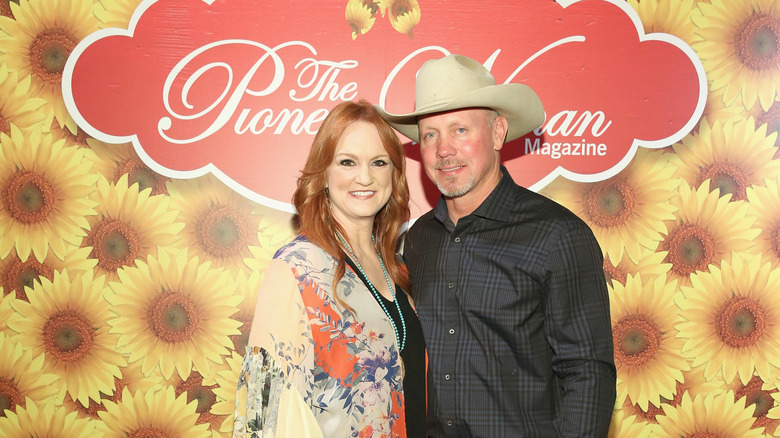 Monica Schipper/Getty Images
"My father-in-law was so kind to me," Drummond wrote on The Pioneer Woman, in a moving tribute to her husband Ladd's father, who recently passed away. "In the twenty-six years Ladd and I have been married, we've never had a moment of conflict." She goes on to say that her late father-in-law championed her culinary and entrepreneurial success, handing out her cookbooks to fans and supporting Drummond's shop, The Mercantile, in Oklahoma. But more than that, "his heart was open and generous, and his family meant everything to him," Drummond says.
According to The Pioneer Woman, Chuck Drummond led a full life, having passed away in his sleep at the age of 79, after a few months of decline. And while he leaves behind his son Ladd, and Ladd's brother, Tim, Drummond says she is "glad they have each other," as the brothers have already lost their older sibling and their mother. The comments section on Drummond's post is filled with condolences from fans and friends, eager to share their prayers and thoughts for "Pa-Pa" with the television star. "I just loved his dry humor when on your show," one commenter wrote of the late Chuck Drummond. "You all have seen photos and read stories about Chuck since the beginning of my blog," Drummond wrote. And so, like so many highs and lows fans have witnessed on "The Pioneer Woman" through the years, "I knew I wanted to share with you."