Why You Should Make Bagels In Your Air Fryer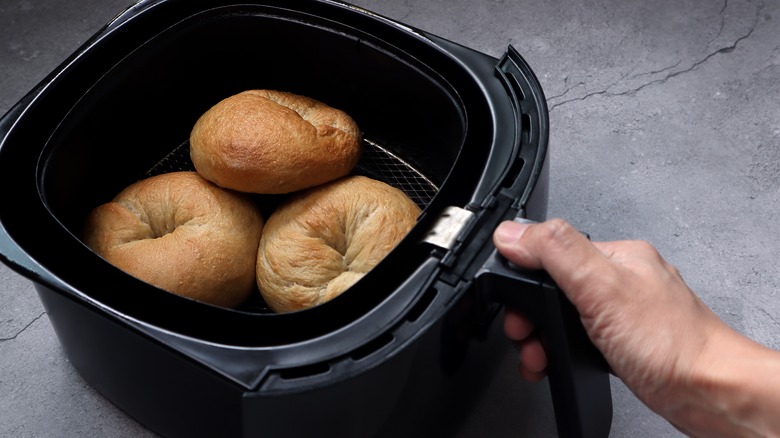 Enjoy The Life/Shutterstock
Raise your hand if you've heard that breakfast is the most important meal of the day. According to the Victoria State Government, your mom wasn't wrong when she pushed you to eat the morning meal. Consistently enjoying breakfast not only boosts your energy levels, but it can also lower your risk of developing type 2 diabetes. Some people prefer a hearty spread complete with eggs, bacon, and sausage, or a big stack of pancakes. A bagel, however, comes in clutch for those days when you want something satisfying but don't have time to make a whole meal.
Bagels originated in the United States in the 1800s after Jewish immigrants arrived and sold this breakfast bread throughout New York, per Smithsonian Magazine, though they were eaten in Poland hundreds of years earlier. It's now common to find bagels topped with lox and cream cheese, butter and jam, or even nothing at all, sold all over the U.S. from grocery stores to specialty shops. According to Ibis World, there are 1,598 bagel stores throughout the country, meaning it's relatively easy to grab a poppyseed with scallion cream cheese when the craving hits. For those who don't have a solid bagel source nearby, they can very easily be made at home with an air fryer.
These air fryer bagels take just 15 minutes to cook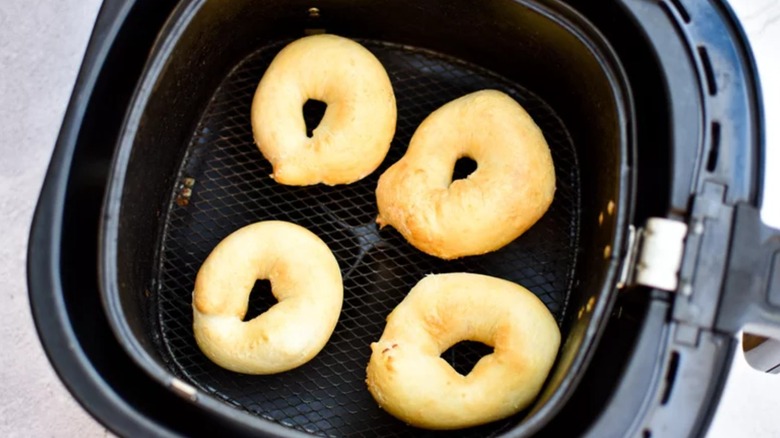 Stephanie Rapone/Mashed
Making a bagel the traditional way is quite laborious. A New York-style bagel is typically made with yeast dough, meaning it needs time to rise before it's boiled in a water bath and baked in the oven (via KERA News). When you're pressed for time, there are simpler methods, including Mashed's five-ingredient air fryer bagels recipe.
Air fryers are great for making tons of unique recipes, and a bagel is no exception. Instead of yeast, this handy recipe uses Greek yogurt, an egg, salt, baking powder, and all-purpose flour. The dry ingredients are mixed, then the yogurt is added and mixed until a shaggy dough forms. The dough is kneaded and shaped into small rings, then baked for 12 to 15 minutes at 280 degrees Fahrenheit. Mashed recipe developer Stephanie Rapone says, "I think the air fryer is way easier than baking and the results are better," adding that the inside of each bagel "seems to retain more moisture and stay chewier than in the oven."
Rapone suggests customizing your air fryer bagels with your favorite flavors, from cinnamon raisin add-ins to Everything But the Bagel Seasoning. The hardest part of the recipe will be the 15-minute wait for your bagels to bake, which you can spend brewing some coffee and picking out your cream cheese.