Grilled Porterhouse Steak And Creamy Mushroom Sauce Recipe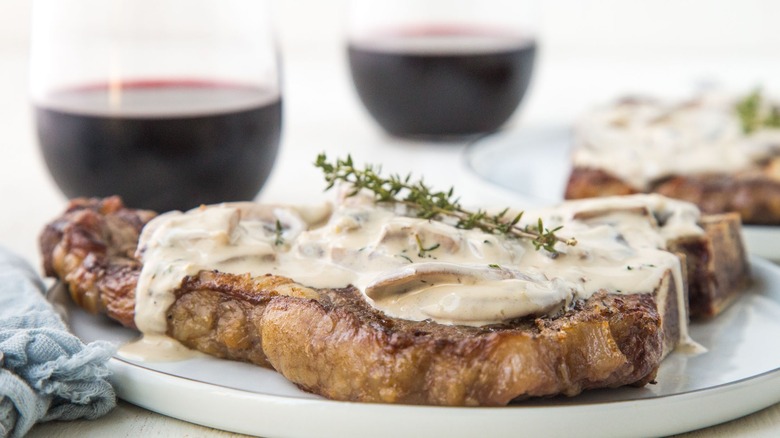 Kate Shungu/Mashed
Sitting down to enjoy a hearty steak dinner is a very specific type of experience. It's luxurious, indulgent, meaty, and often happens at a steakhouse, whether it's a chain like Outback or a high-end local spot chosen to celebrate a special occasion. Going out for steak is an undeniably worthwhile experience if you're a beef lover, but the cost of all those cuts of beef can certainly add up, especially in today's inflation-filled economy. Well, we've got good news: It's quite easy to cook up a thick, savory steak at home for a fraction of the cost that you'd pay at a swanky restaurant.
Don't believe us? Look no further than Kate Shungu's recipe for grilled Porterhouse with sauteed mushrooms and cream sauce. It's exactly the type of classic dish you'd be served on a night out, but in this case, you're whipping everything up at home, and the whole process takes less than 30 minutes. "This recipe provides a steakhouse-style experience at home! The sauce is rich and velvety, and the steak is tender and juicy," Shungu says. Here's how to make it happen.
Prepare your steak ingredients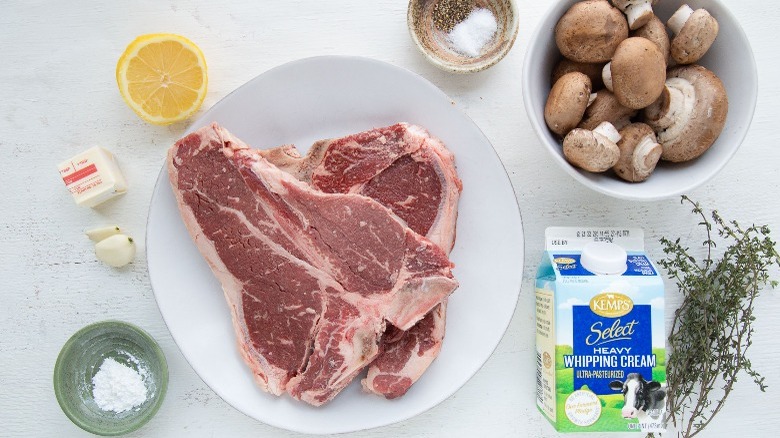 Kate Shungu/Mashed
The stars of the show here are two Porterhouse steaks — each of them should weigh a pound. There aren't a ton of other ingredients required here, and many are pantry staples, like butter, minced garlic, lemon juice, heavy cream, and cornstarch. You'll also need sliced mushrooms ("I prefer cremini mushrooms for their hearty flavor," Shungu says) and fresh thyme.
Grill the steaks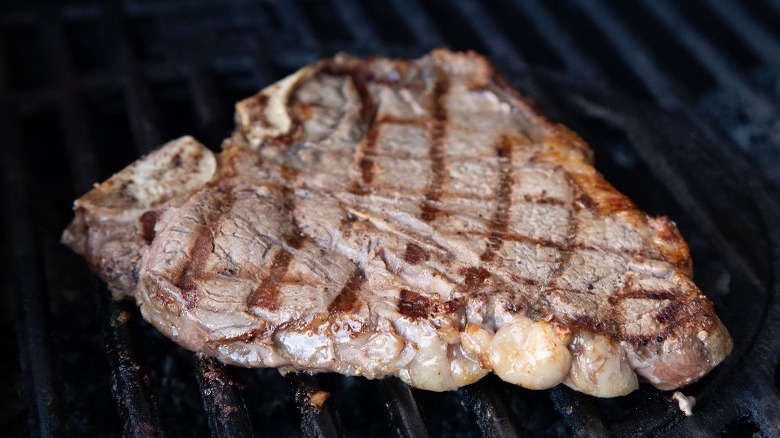 Kate Shungu/Mashed
It's time to get grilling! Preheat your grill to medium-high — if you don't have one, Shungu says a cast-iron or grill pan works too — and give your steaks a nice scattering of salt and pepper. Then, put them on the grill for a few minutes, rotate them once, and flip them until they're cooked to your liking. "Turning the steak 45 [degrees] on the grill provides that gorgeous crosshatch pattern that you see in restaurant steaks," Shungu notes. Take your cooked steaks off the grill and place them in some foil so they can rest.
Cook the mushrooms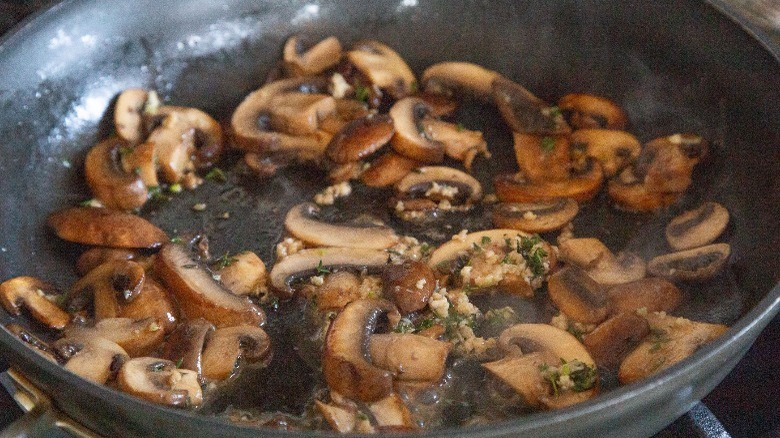 Kate Shungu/Mashed
While your meat is resting, heat a skillet on the stove. Add the butter and saute your sliced mushrooms until they're soft, slightly browned, and cooked down. Right before they're done, add in the garlic, followed by the thyme and lemon juice.
Finish the creamy mushroom sauce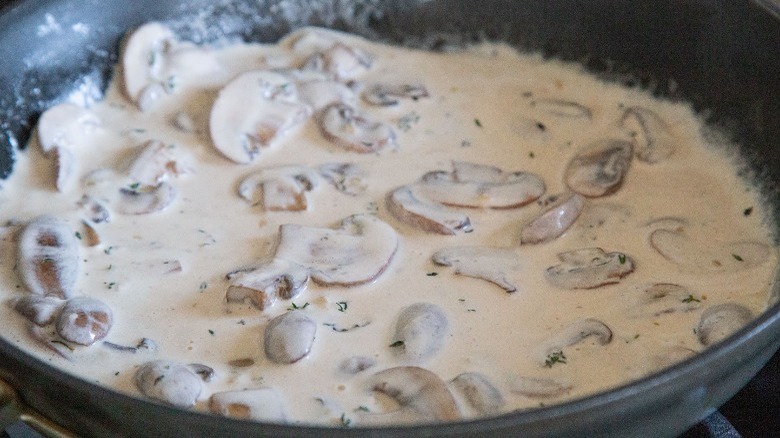 Kate Shungu/Mashed
The last step of this process involves creating the rich, creamy sauce. If you have a jar with a lid, place the cream and cornstarch in it and shake it vigorously. If you don't, no problem: Simply stir the two ingredients together with a whisk. Once that's done, pour the mixture into the skillet with the mushrooms and let it cook and thicken for a couple minutes, then add some salt and pepper as you see fit.
Enjoy a hearty steak dinner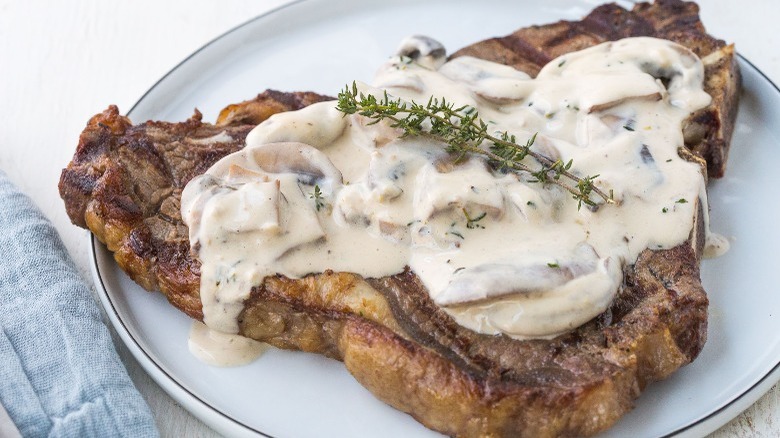 Kate Shungu/Mashed
Plate your Porterhouses and ladle a hearty amount of mushroom sauce on top, plus some more thyme if you're feeling fancy. Now, all that's left is to enjoy. "This recipe pairs really nicely with mashed potatoes or roasted potatoes, with a leafy green salad on the side," Shungu says, which are exactly the kind of sides you'd get at a steakhouse.
Porterhouse steaks are quite large, so it's understandable if you and your loved one can't finish it all in one go. "Leftovers can be kept in a covered container in the refrigerator," notes Shungu. "You can reheat the steak on the grill or in the microwave, and the sauce can be reheated in the microwave."
Grilled Porterhouse Steak And Creamy Mushroom Sauce Recipe
Skip the expensive steakhouse and make these delicious grilled porterhouse steaks at home instead — and don't forget the creamy mushroom sauce!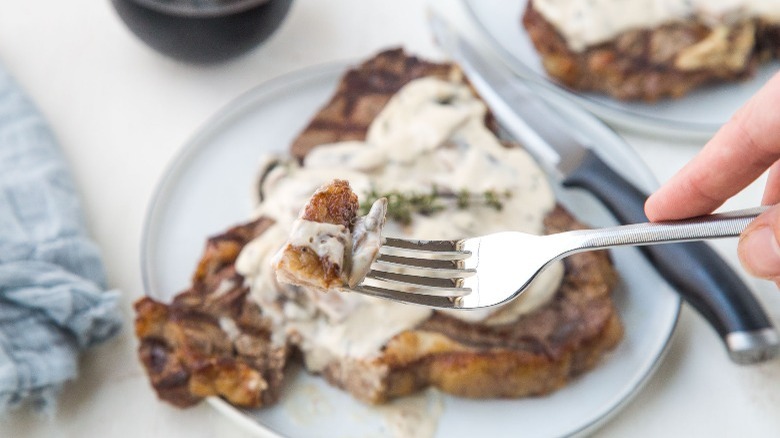 Ingredients
2 (1-pound) Porterhouse steaks
salt, to taste
pepper, to taste
2 tablespoons butter
8 ounces cremini mushrooms, sliced
2 cloves garlic, minced
2 teaspoons fresh thyme leaves
1 tablespoon lemon juice
¾ cup heavy cream
1 teaspoon cornstarch
Directions
Preheat the grill to medium-high heat. Season steaks with salt and pepper to taste.
Grill the steaks for 3 minutes per side, then turn 45 degrees (without flipping) and grill for another 2 minutes. That creates a crosshatch pattern in the steaks. Flip and cook until desired doneness is reached. Cover with foil and let sit for 5 minutes.
While the steaks are cooking, place the butter and sliced mushrooms in a large skillet. Cook, stirring occasionally, until the mushrooms are almost soft, about 6–8 minutes. Add the garlic and let cook for 1 minute more.
Stir in the thyme leaves and lemon juice. Place the cream and cornstarch in a jar with a tight-fitting lid, and shake to combine. Pour the cream mixture into the skillet. Let cook for 2–3 minutes, or until thickened slightly. Season with salt and pepper (start with ¼ teaspoon and add additional to taste).
Serve the steaks topped with the creamy mushroom sauce. Garnish with additional fresh thyme if desired.
Nutrition
| | |
| --- | --- |
| Calories per Serving | 607 |
| Total Fat | 47.8 g |
| Saturated Fat | 24.7 g |
| Trans Fat | 1.7 g |
| Cholesterol | 182.9 mg |
| | |
| --- | --- |
| Total Carbohydrates | 5.8 g |
| Dietary Fiber | 0.7 g |
| Total Sugars | 2.3 g |
| Sodium | 796.8 mg |
| Protein | 38.2 g |