Guy Fieri Graciously Accepts His Flavortown Re-Election On Twitter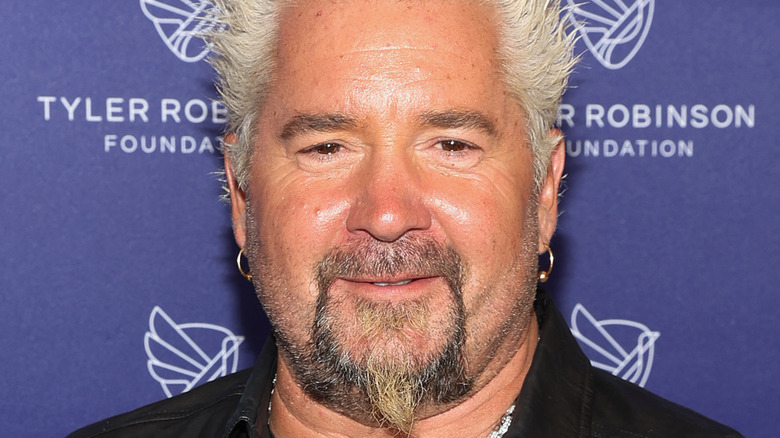 Jesse Grant/Getty Images
Many Americans were glued to their TV and phone screens earlier this week as they anxiously awaited to hear the results of this year's midterm elections. As CBS News explains, there was a lot at stake on November 8 this year, as all 435 seats in the House of Representatives, as well as 35 seats in the Senate, 36 governorships, and several other state legislature positions were up for grabs. The outcomes of these races will not only determine which political party will be in control of the respective chambers of Congress for the next few years but could also have a major effect on the upcoming 2024 Presidential election.
Per The New York Times, the polls began closing at 6 pm EST on Tuesday night, with the last of them finishing up close to 1 am. Currently, we're still waiting on the results of a few key races. However, we do already know the outcome of several of the elections, including that of the mayoral race that took place in Flavortown USA. "BREAKING: @GuyFieri has been re-elected Mayor of Flavortown," Twitter user @TRHLofficial announced at 9:44 pm on Tuesday, which is relatively early for election night.
The news was cause for serious celebration amongst foodies on the social media platform and was even addressed by Guy Fieri himself, who very graciously accepted his re-election as mayor of the fictitious town.
Guy Fieri's message to those who voted for him: 'Thank You'
Foodies everywhere collectively let out a sigh of relief on Tuesday night after Twitter user @TRHLofficial announced that Guy Fieri would retain his position as the Mayor of Flavortown for yet another term. "Oh good, I was so worried!" one person tweeted in response to the news. "This was the only race I was following. Phew," quipped another (via Twitter). The Food Network star also addressed his victory on November 9, responding to @TRHLofficial's tweet with a GIF featuring a clip of Michael Scott from "The Office" taking a bow and the words "THANK YOU" in bold white lettering.
The spikey-haired chef campaigned hard for his re-election, firing off a single tweet on the official Flavortown Twitter account at 4:45 pm on election day reminding supporters to "Vote @GuyFieri for Mayor of Flavortown." The strategy is a bit risky, and probably not one that campaign managers would advise to those hoping to secure a real position in government. However, considering the "Diners, Drive-Ins and Dives" host was running unopposed for Mayor of the fictitious town he made up himself nearly 15 years ago (via The Wrap), we're not entirely surprised it was able to secure him the win.
As for what to expect during Fieri's upcoming term, his plans are a bit unclear, though we think we can rightfully assume that he will continue to uphold the laws of Flavortown until his position is up for re-election again.