Aldi's 2022 Christmas Commercial Hilariously Spoofs Home Alone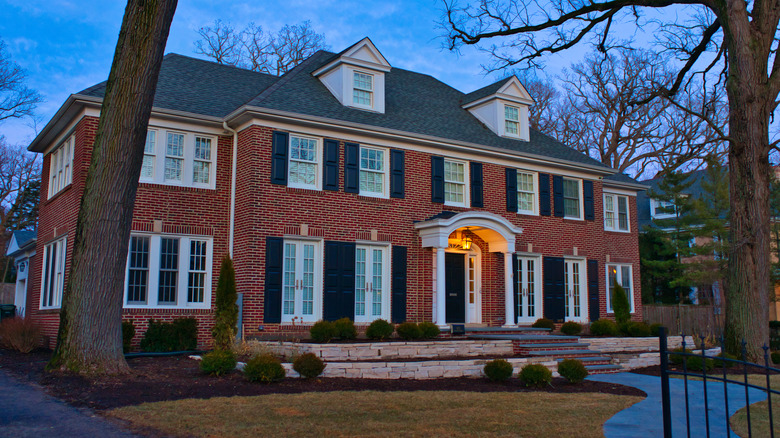 Sharon Wildie/Shutterstock
It's almost time to immerse yourself into the holiday season with your favorite Christmas movies. It's highly likely that one of these will be "Home Alone," the John Hughes film that starred the precocious Macaulay Culkin as a child accidentally left at home by himself while his family traveled abroad. It makes sense that this would be part of your festive viewing as it's a perennial American favorite. 
After all, a 2020 YouGov survey showed that "Home Alone" is the nation's favorite Christmas movie with 15% of the votes, beating out runners-up "It's a Wonderful Life" and "National Lampoon's Christmas Vacation" — each with 12% of the votes. When Preply examined internet search trends, they yielded the same results, placing "Home Alone" ahead of "The Grinch" and "Elf." And Gold Derby reveals that the Hughes film is the highest grossing holiday movie in history when "adjusted for inflation." This is likely why this film has spawned a legion of sequels and an illustrated storybook by Penguin Random House.
Even Aldi is giving a nod to this Christmas classic with its latest holiday commercial. Be warned American viewers: Kevin is a carrot.
Aldi's Home Alone parody changes the intruder
Aldi Ireland and U.K. are celebrating "Home Alone" in their annual Christmas advertisement for 2022, placing their famed Kevin the Carrot mascot in the lead character's shoes. The commercial shows Kevin's carrot family seated on an airplane, when his wife discovers that he has been left at home (via YouTube). Sound familiar? Meanwhile, Kevin has prepared a lavish feast (filled with an array of scrumptious Aldi fare, no doubt) and is interrupted by an intruder. In true Kevin McCallister fashion, this carrot-of-small-stature is seen drawing up a crayoned plan-of-attack, swinging down the staircase, accidentally electrocuting himself with a string of lights, and ziplining directly into the front-yard snowman. After landing in an awkward spot on the snowman, Santa (who was the intruder) appears and Kevin is happily reunited with his wife and kids. 
This isn't Kevin's first turn at a holiday advert. According to The Sun, the beloved Aldi veggie has been entertaining shoppers for years with previous advertising installments featuring a Coca-Cola truck, a fighter pilot in a parody of "Top Gun," and a visit to a Scrooge-like banana in an ode to "A Christmas Carol." 
If you need more of Kevin the Carrot this year, plush toys will also be available on Aldi's UK website starting November 17. According to Metro, the chain sells out every year.