The All-Too-Real Restaurant Nightmare In Bobby Flay's Christmas Movie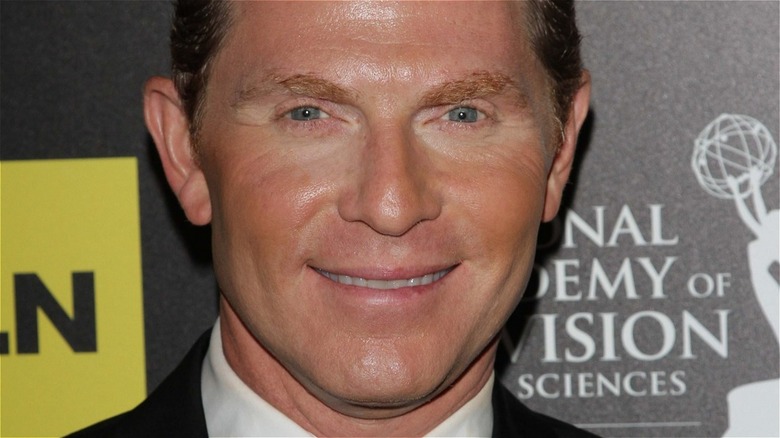 s_bukley/Shutterstock
You heard the song: It's the most wonderful time of year. That is to say, the time of year when our Bobby Flay meter goes from "Sou-flay" to "Flay-ming hot," with all the Christmas content that the chef will be putting out in 2022. If you find yourself constantly flicking between a Hallmark Christmas movie and a cooking show, or if your TV gets mad because it can't record "It's a Wonderful Life" and "Beat Bobby Flay" and a rerun of HGTV's "Fixer Upper" all at once ... dear reader, have we got good news for you.
According to The Pioneer Woman, Food Network has kindly thrown all your interests into the same bowl, hit mix, and then baked at 350 degrees until the temperature read "heartwarming." After the network's inaugural scripted feature success, "Candy Coated Christmas" (starring the Pioneer Woman herself) last year, the network is icing the cake with two more holiday movies in 2022, to marry the two scripted holiday movies that HGTV is also releasing; all in the one happy home of streaming service Discovery+. But if you thought that Food Network's "One Delicious Christmas" would feature a fearless Flay, you'd be wrong. Flay plays a food critic in the feature, and he recently revealed that while his storyline might be totally made-up, the inspiration for his cameo touches on a very real fear.
The scares (and the food) are real
The Pioneer Woman explains that "One Delicious Christmas," Food Network's made-for-TV movie, is about a woman who finds herself managing the Vermont inn and restaurant that her parents used to own. Our leading lady, Abby, must figure out how to get investors interested in her struggling business over the holidays, with a little help from a (presumably cute) professional chef. Bobby Flay makes an appearance as food critic Tom Kingsley and, according to a recent tweet from Food Network, the role reminded him of a recurring nightmare.
Touring Haven Restaurant and Inn, where "One Delicious Christmas" is set, in a behind-the-scenes video, Flay points out the table where his character sits down to dinner before his identity is revealed. "I basically finish my entire meal. Which I have to tell you, as a chef, is a nightmare, if we don't recognize the food critic until the very end." He goes on to explain that recognizing a food critic "when they walk in the door" is paramount for professional chefs, who want to make sure their secret shopper has a hallmark (or shall we say Food Network) experience. Kingsley is outed as the anonymous food critic when he has "basically finished dessert," which doesn't bode well for Abby and her quest. The good news? All the food on set is very real and very delicious, according to Flay. "I've eaten a lot of pumpkin apple pie today ... And it was great," he says.