How Food Network Fans Feel About Ree Drummond's Christmas Movie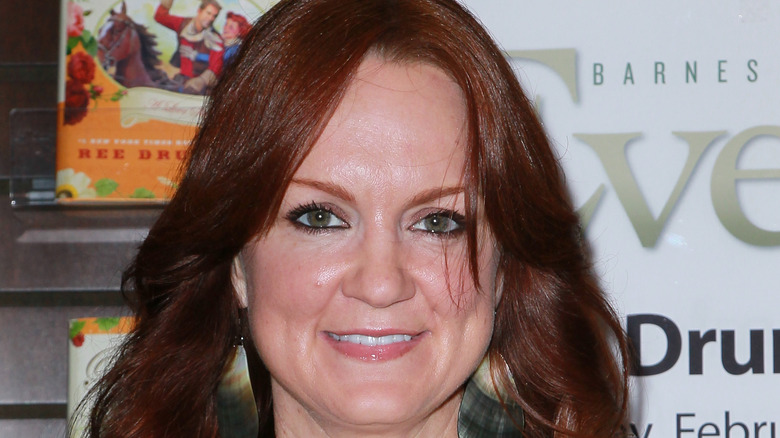 David Livingston/Getty Images
Nothing screams the holidays like feel-good Christmas movies, and Food Network's first scripted and much anticipated film, "Candy Coated Christmas" has finally hit the Discovery+ streaming service. This movie has received a lot of hype from foodies, especially because Ree Drummond makes a special appearance in the film as Bee, the bakery owner. In fact, The Pioneer Woman's social media followers recently expressed their excitement when she announced on her Instagram page on November 20 that the big day had finally arrived for fans to take in all of the movie's cheery vibes. 
"Candy Coated Christmas" is described as a rom-com about a woman named Molly who shuns the holiday (via TVInsider.com). Financial circumstances push Molly to return to her late mom's hometown, Peppermint Hollow, in order to sell her mom's childhood home (conveniently being rented by Molly's soon-to-be love interest). While there, she meets the town's bakery owner — Drummond's character Bee — and holiday magic casts it spell. Per Variety, John McCook, Aaron O'Connell, Lee Garlington, and Landry Townsend star in this holiday flick that Drummond said she jumped at the chance to be a part of; however, according to a Reddit thread, some Food Network fans think she should have passed.
Not many people are loving the story or script
Redditors are always forthcoming when it comes to sharing their opinions, and unfortunately, they're just not feeling this Food Network film. One Redditor cautioned others in the online community that if they were even "remotely" considering watching "Candy Coated Christmas," they should reconsider. As they wrote, "Trust me. I fell in the hole. It was awful." That seems harsh, but they go on to explain, "There was zero candy, nothing candy-coated, the title makes no sense. It was simply awful, and Ree was thrown in like an afterthought. She mostly says Merry Christmas a whole lot. The whole thing just falls flatter than a pancake."
Another Redditor couldn't even get past the commercials, writing, "Just from the annoying commercials it looks terrible. Hard pass." And still another person thought the writers put little to no thought in the story, posting," It's not even like they were trying to be like Lifetime and Hallmark movies, but instead went the route of having a bot watch 1,000 hours of Lifetime Christmas movies and wrote a script."
So, we have to ask, is this thread being brutally honest or mean-spirited? Turns out it's probably a little more of the former. An IMDb reviewer gave it 6 stars (out of 10) and wrote, "The leads are generic, the story is generic, the plot arc is generic, and the town is so unremarkable it may as well be CGI. The only thing that pops are the many cooking vignettes and tasty edibles." Might be better to table this movie and watch episodes of Drummond's other shows instead.