What Tia Mowry Has To Say About Her No-Bake Mac And Cheese Recipe- Exclusive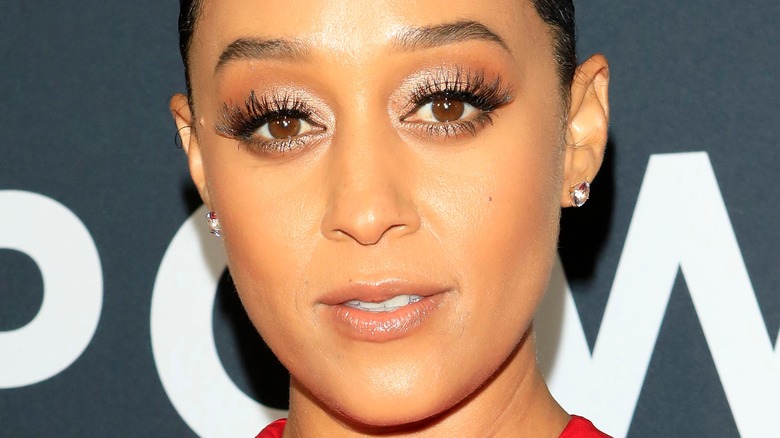 Kathy Hutchins/Shutterstock
It concerns us that there are actually some people in the world who dislike macaroni and cheese. Cheese and pasta are some of life's most delicious pleasures, and let's be real—the cheesier it is, the better. Thanksgiving is the time to showcase your cooking skills and this side dish is no exception. As a mom of two kids, Tia Mowry is familiar with serving some tasty mac and cheese that everyone in the household can enjoy.
In an exclusive interview with Mashed, the "Sister, Sister" actress revealed her struggle with lactose intolerance, which doesn't exactly go hand in hand with a meal like macaroni and cheese. That's why Mowry collaborated with LACTAID, a brand that offers 100% real milk, just without the lactose, to introduce new recipes that fit into her and her children's diet. The social media personality often takes to Instagram to promote her new dinnerware line, "Spice By Tia Mowry," and post her recipes. Let's just say one of those recipes, being a no-bake mac and cheese, for sure threw the internet for a loop.
Mowry says don't knock it until you try it
In an Instagram video, Tia Mowry featured a no-bake mac and cheese recipe that included pasta, broccoli, chicken stock, shredded cheese, and some LACTAID. The comments were not exactly open-minded about it, as one user wrote, "Nah ... bake it. That's how you get your top browned and crisp," and another said, "Friend, we're def baking it," with another follower agreeing, "Baked is a must for me." 
What does Mowry herself have to say about these opinions? The "Family Reunion" star told Mashed, "I'm all about practicality. I'm a mother with two kids, I wear so many hats, and I'm all about still getting amazing dishes, recognizable dishes on the table for the family." Mowry continued that baking the traditional macaroni and cheese dish can take hours between the prep and bake time. 
The social media personality's recipe only calls for a stove top that allows for a quick and easy dinner. Mowry describes the meal as "creamy, "delicious," and "a winner in the house," as she throws in vegetables like carrots and broccoli for her son and daughter. She added, "People are used to seeing it being baked, but don't knock it until you try it." The internet never rests when it comes to people's opinions, even when it's as simple as a no-bake mac and cheese. Like Mowry says, try it for yourself!

Learn more about LACTAID on its website and keep up with Tia Mowry's latest projects on her Instagram page.